Loyalty Programs: The Complete Guide.
Loyalty Programs: The Complete Guide
By Philip Shelper
Co-created by Stacey Lyons, Max Savransky, Scott Harrison
With contributions by Lincoln Hunter, Michael Smith, Stuart Dinnis
Written by industry experts, Loyalty & Reward Co.
Loyalty Programs: The Complete Guide combines a wide range of academic research, loyalty psychology and industry expertise to deliver a comprehensive and global view of all aspects of loyalty programs.
Supported by over 150 case studies, it features:
The history of loyalty programs
Do loyalty programs work? An academic research review
Loyalty psychology, biases and heuristics
Loyalty program design frameworks and rewards
Business-to-business (B2B) loyalty programs
Member data capture, analysis and usage
Loyalty technology and emerging capabilities
Member lifecycle management
Games and gamification
Monetisation and commercial modelling
Security and fraud risks, and legal considerations
Loyalty program operations
The future of loyalty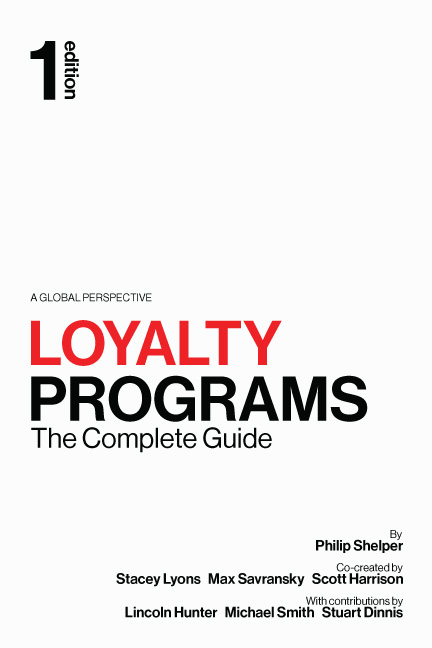 Shelper has conducted painstaking research to build out an impressive body of knowledge on loyalty programs. The book covers literally everything relevant for managing a loyalty program or considering implementing one. It is likely to be viewed as 'the bible' for loyalty professionals everywhere.


Paul
Loyalty is a such a niche, its not easy to find up-to-date thinking from an independent source. This book doesn't try to sell you anything, just a good combination of academic background and practical skills. Happy to recommend with 5 stars.


Andrew
As someone who has worked in the loyalty industry for many years, I've never come across a book which provides such a comprehensive overview of everything there is to know about loyalty programs. This book covers everything. It's an amazing resource.


Oliver
Need to level up your loyalty program? Want to tap into our expertise? Let's talk!