I'm in Japan now and I feel I'm in "loyalty Disneyland". Every store has a loyalty program. And when I say every store, I mean EVERY store!
Every shopping centre, fashion retailer, pharmacy, convenience store, supermarket, petrol station, I've walked into has one, plus the railway, parking lot, the butcher or fish shop, the dry cleaner, every restaurant… you name it.
Whether it is their own program, the shopping village's program, a coalition or the payment service they use… every business rewards customers for their purchase. And there is a lot of double dipping since payment services also have their own loyalty programs.
It's fantastic! Without fail, when paying you will be asked whether you have a punch card, a member card, a points card, a pass or a gift voucher of some sort.
There is a lot of choice and companies focus on quality over quantity. Attention to detail makes products thoughtfully convenient, or pretty. Plus, customer service is deeply rooted in tradition. Customers are spoiled and have equal expectations. This makes a very competitive market.
Understandably, loyalty programs are prevalent. It seems that a business must have a program or an offer because everyone else does. However, businesses do focus on value and differentiation and creativity is remarkable.
Here are some interesting things I came across. 
JR-East
JR-East is responsible for the railway network in the east of Japan, including Tokyo. The company has a major coalition points program in the country. Including shopping centres they operate or are aligned to, convenience stores, hotels and vehicle rental companies.
Their program features card-linking with Suica. The Suica card is JR-East's payment method which can be used also to pay in a wide range of businesses and to earn points. Everyone is quite familiar with JR-East points. Points can also be used to pay for shopping at JR-East partner businesses and shopping centres, JRE online mall, as well as to recharging Suica and pay for fares, train upgrades, car rentals and taxis or transfer points to family members.
The company uses their advertising space at train stations and within the train quite well. Passengers can easily learn about the latest campaigns. Bonus points, new partners and ways to earn or use points are always advertised. What I like about it is that they know very well how to communicate with Suica card holders and how to let passengers know about the program.
Besides the outdoors program advertising at train stations and within trains, JR-East leverage any possible touch point. You can find QR codes to scan and learn more about Suica and JR-East at POS's where Suica is accepted, on train ticket dispensers and even some railway workers are wearing t-shirts or lanyards promoting the program.
The piece that most excited me was their Manga book which I found when I took a green wagon. The Manga is about a girl who's given a Suica card and taught how to earn points. A point (a character) suddenly appears and takes through a journey on where and how to earn and redeem points and even transfer them to family and take advantage of JR-East network of businesses.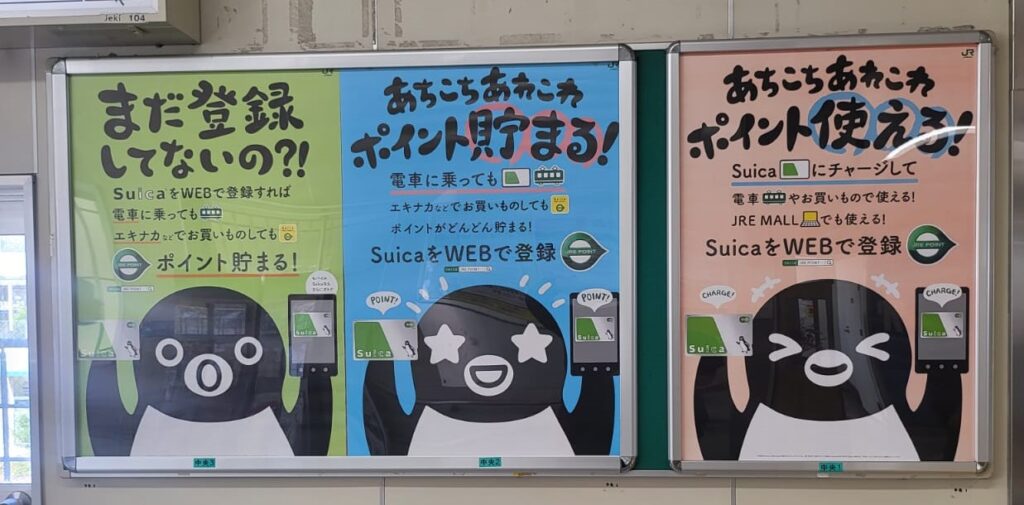 パティスリーストラスブール Pâtisserie Strasbourg
A cake shop in Yokohama, with three branches, has taken advantage of the Halloween month. Since 1st of October they've decorated their shops and have designed a punch card called "Halloween stamp rally".
For every 500¥ spent (aprox. AU$5.20, US$3.30) customers get a stamp. Depending on the number of stamps collected, participants will receive Strasbourg products and gift certificates!
The reward for the first five stamps is a Strasbourg 300¥ voucher. For the next five stamps, customers receive a baked-sweets-set. The following, a shopping eco-bag. And the last 1,000¥ gift certificate!
There are only 5,000 stamp cards, though. But, if you go to the shop and say "trick or treat" you can still get a free Madeleine.
This program is well thought. It is fun and it drives weekly purchases through incremental incentives. Rewards are cost effective and to redeem them additional shop visits are needed.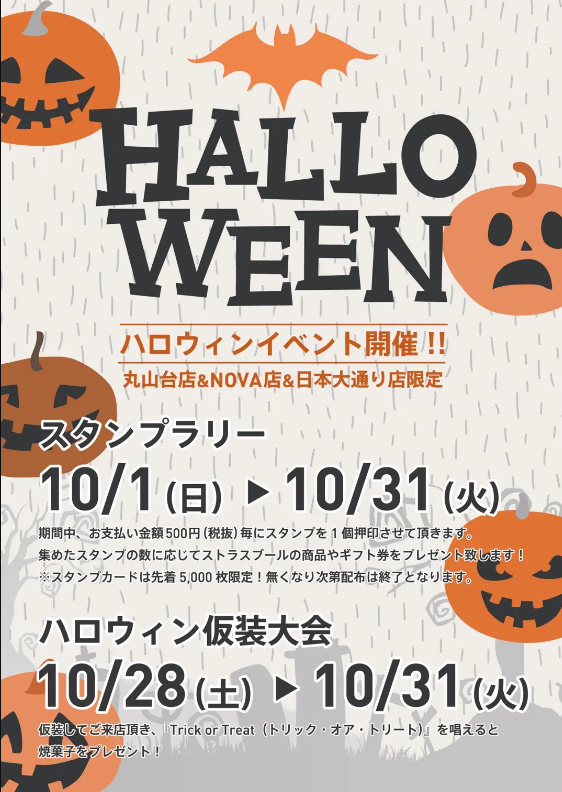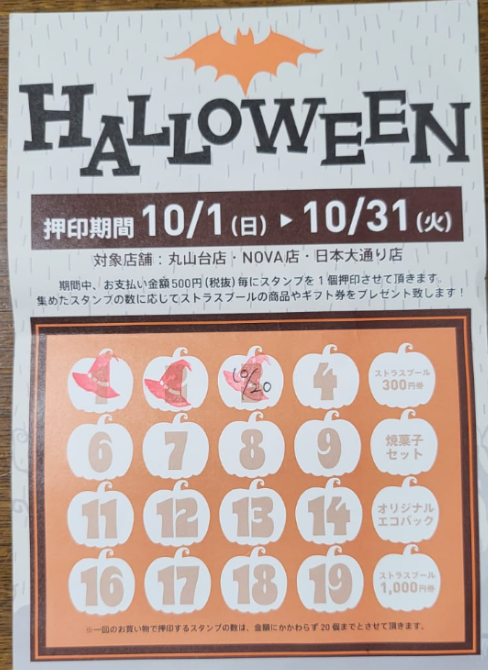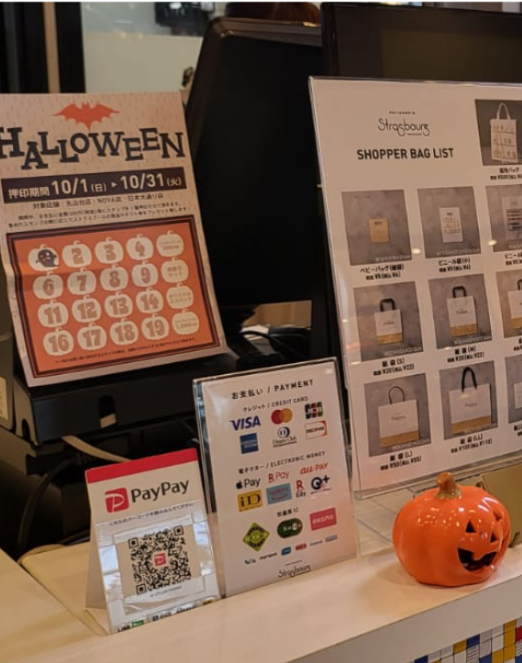 ラーメン Ramen shop
Near Shimbashi station Tokyo, where all the salarymen hang out for drinks after work, I came across a very unique ramen shop. It's quite a busy area with dozens of eateries. At night when the street was bustling, one of the staff members, with a menu on one hand, a deck of cards on the other and quite enthusiastic started spruiking the offer of the day. "For all our dear customers, today we have ten special ramens. Draw a card and if you pick the ace of hearts, ramen is in the house!"
Pedestrians just stopped. Some were a bit tipsy and groups of people were having fun. The staff gave them the menu and whilst they were reading the menu he shuffled the cards and once they chose and ordered the ramen they could pick a card. I didn't see anyone winning, but it was fun and every person who stopped played the game before entering the shop to eat their ramen. There were laughs, a lot of teasing amongst them and a lot of ramen served. Although not a loyalty program, it was the better shop to stop by on the street. 

It's been fun being in Japan and looking at how they do loyalty programs. A lot to learn, arigatou.