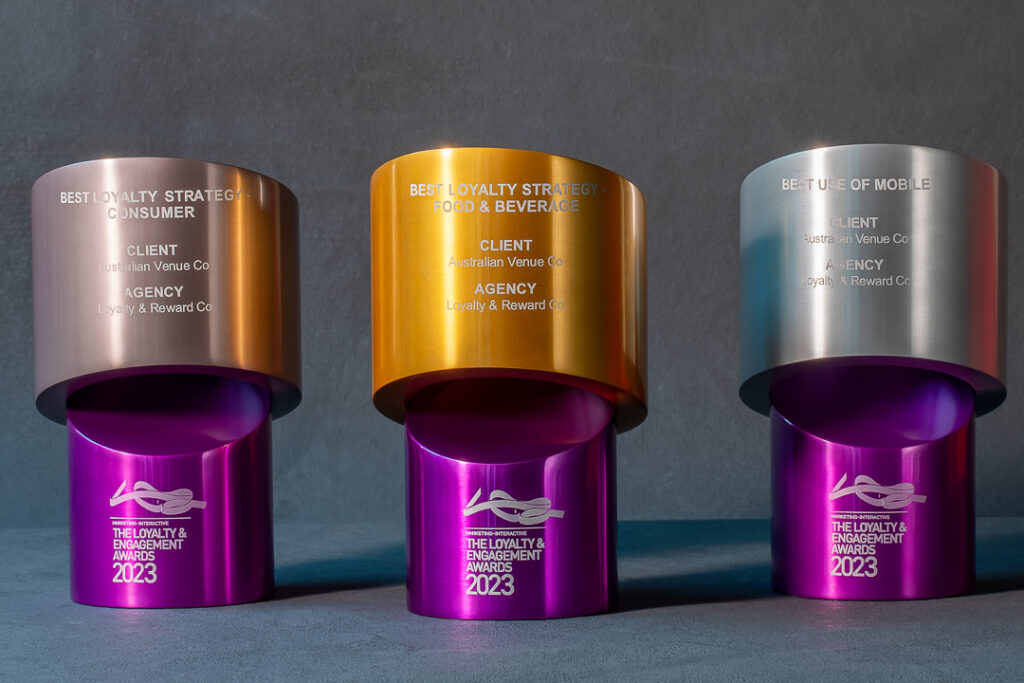 Loyalty & Reward Co are thrilled to announce that loyalty payments app The Pass by Australian Venue Co won three trophies at the 2023 Loyalty & Engagement Awards.
Trophies were won across:
Best Loyalty Strategy – Food & Beverage (Gold)
Best Use of Mobile (Silver)
Best Loyalty Strategy – Consumer (Bronze)
Competition was very tough with Australian Venue Co battling against major global brands including McDonalds, Shell, ResMed, Timberland, Unilever and Yuu Rewards Club.
The Pass redefines loyalty apps. Across Australian Venue Co's network of over 200 pubs and bars, members can use The Pass App to discover and navigate to new venues, order at the table or bar, earn points, redeem points for cash vouchers, access special bonus points offers and discounts, and purchase gift cards.
The Pass reduces staff workload, increases member convenience, boosts incremental spend, and captures valuable profile data.
Features & benefits include:
$10 welcome credit
Earn 10 points for every $1 spent
Order and pay directly via phone
Buy and store gift cards
Birthday gift, rewards & exclusive offers
Navigate to additional venues
Rebate paid to member nominated local community sports clubs
Loyalty & Reward Co's loyalty consultants were engaged to design the App, including the loyalty program features, to deliver an outstanding experience and drive member acquisition, spend, retention and advocacy. The Pass was built as a native iOS and Android App by EonX using Loyalty & Reward Co's original design.
The solution was brought to life via integrations with Mr Yum to support ordering at table, H&L to support ordering at bar, and Tyro to manage card-linking and process payments (via TyroConnect).
A special shoutout to Loyalty & Reward Co Senior Strategy Consultant Scott Harrison who lead the program design and UI/UX design for The Pass.
Rich profile data is collected about members include demographics, their ordering history and the venues they frequent. This is used to power a sophisticated lifecycle management process which delivers personalised communications and offers.
Future iterations will deliver supplier-funded bonus points offers, status tiers and personalised experiences.
The loyalty experts at Loyalty & Reward Co congratulate Australian Venue Co on their multiple wins!
Looking to launch an award winning loyalty program?
Our loyalty consultants can design an award-winning loyalty program strategy or enhance your existing one to make. Discover our wide range of comprehensive loyalty services. Get in touch to talk with our loyalty experts and kickstart your journey to loyalty glory.