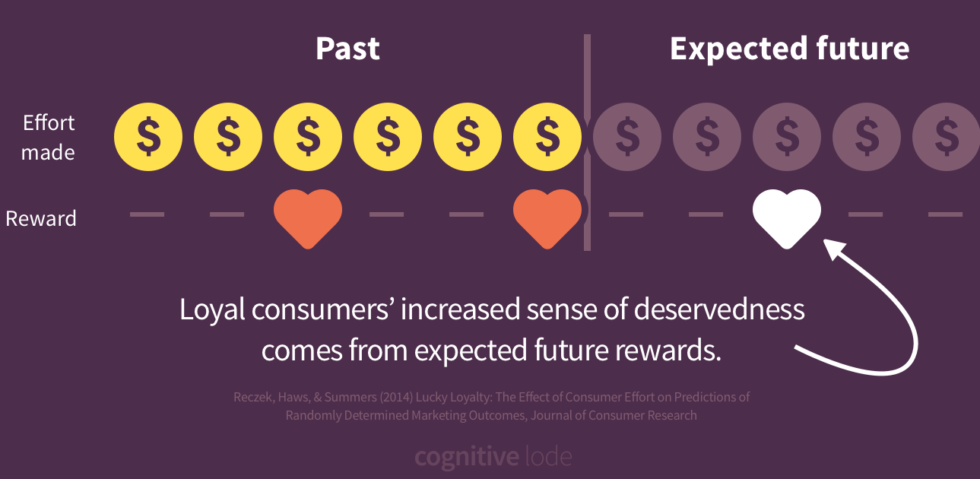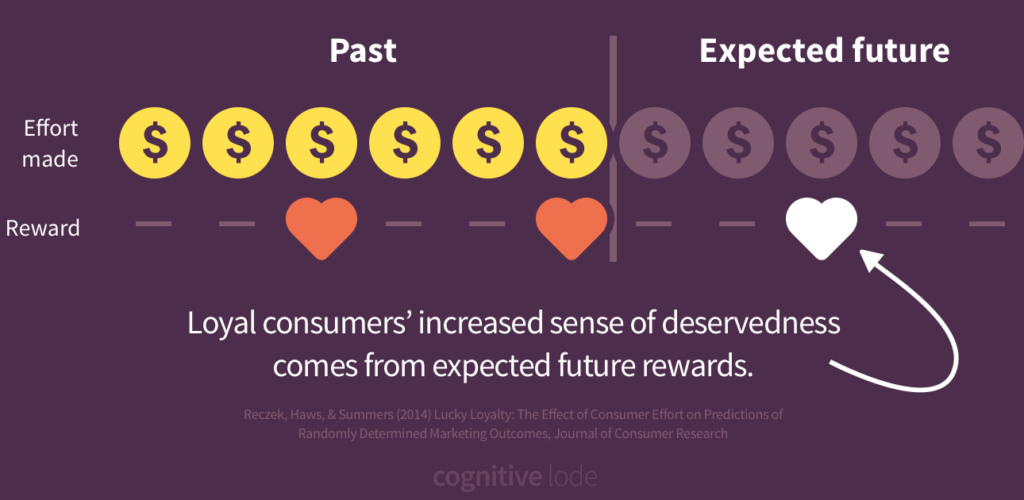 The Lucky Loyalty Effect is a cognitive bias that tells us that loyal customers believe that are more likely to win random promotions run by a program because they have invested more time, money and emotion into the brand than other customers.
Reczek, Haws and Summers (2014) investigated the effect of random gamification elements such as sweepstakes on loyal customers through their research on the Lucky Loyalty Effect[1]. The studies concluded that loyal customers reported a higher perceived likelihood of winning random rewards such as sweepstakes and competitions (i.e., they feel more lucky) because they feel they deserve special treatment and recognition for their loyalty. The work demonstrated that loyal individuals feel they can 'earn' something which is unearnable through effort, even when effort and outcome are unrelated. The Lucky Loyalty effect was found to occur under specific conditions:
The member has made high actual earn efforts previously
The promotion is directly associated with the program/company the member is loyal to
The member is comparing themselves with other lower effort customers
The consequences associated with the Lucky Loyalty Effect include higher participation from loyal members in random promotions because they feel luckier. However, less effort is input into maximising their chances of winning as loyal members often rely on their luck. Another consequence is member disappointment when they do not win after feeling lucky about, and deserving of, a win.
For program operators, communications are key to managing member expectations associated with the Lucky Loyalty Effect bias, particularly post the announcing of the winner. For example, sending loyal members a message sympathising with them after not winning, but recognising their loyalty by providing them with a personalised special offer or benefit. This can help curve their disappointment and maintain the valuable relationship.[2]
LEGO VIP Rewards Case Study
In honour of Star Wars Day ("May the 4th Be With You") LEGO VIP Rewards went live with a sweepstake offering members the chance to win a one-of-a-kind Star Wars minifigure accompanied by a picture autographed by the actor of the character. Members could enter up to 50 times, with 50 points required per entry.
Because of the Lucky Loyalty Effect, loyal customers may not think they need as many entries to win the prize so may not redeem as many points for entries, thus putting in less effort into participation.[1]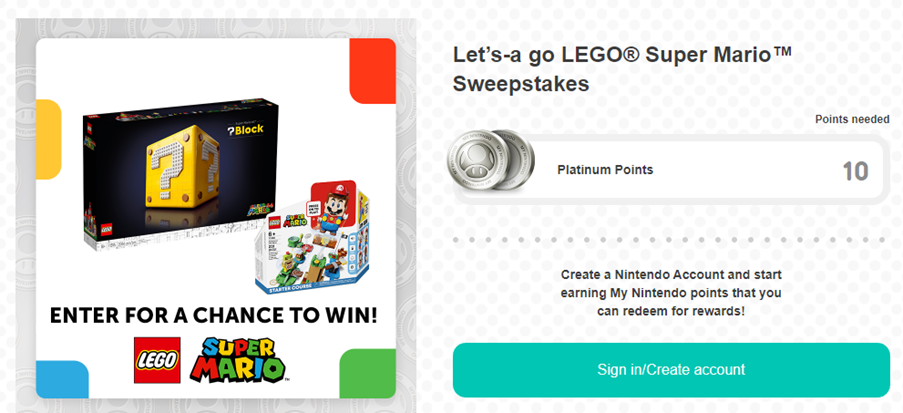 ---
[1] Reczek, R.W., Haws, K.L. and Summers, C.A., 2014. Lucky Loyalty: The Effect of Consumer Effort on Predictions of Randomly Determined Marketing Outcomes. Journal of Consumer Research, 41(December), pp.1065-1077.
[2] Loyalty Science Lab, 2021, The Lucky Loyalty Effect, https://bettermarketing.pub/the-lucky-loyalty-effect-f809550d5fc6, accessed 11 May 2023
[1] [1] Loyalty Science Lab, 2021, The Lucky Loyalty Effect, https://bettermarketing.pub/the-lucky-loyalty-effect-f809550d5fc6, accessed 11 May 2023
---