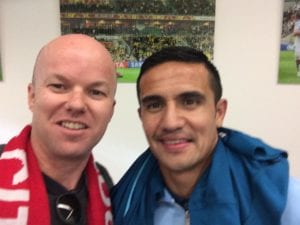 Last week I had the opportunity to meet with Tim Cahill, Australia's greatest ever football player and a living legend, to talk about another of his passions; Careerbox.
Careerbox have a mission is to transform the lives of African youths & build African economies by offering world-class demand-led training and fast-tracking employment opportunities.
Their aim is to transform 100,000 lives by 2020. Looking at the passion in Tim's eyes when he spoke of Careerbox, it looks certain they will achieve it.
As an Ambassador for Careerbox in South Africa, Tim works alongside prestigious NGOs including the Rockefeller Foundation and the Mandela Legacy.
Tim pointed out the horrifying statistic that in 2015 it was found that 63% of youth in South Africa were unemployed. Careerbox is trying to address this terrible reality by upskilling and training young South Africans to work in a Customer Management (Contact Centre) environment and then sourcing jobs for them once their training is complete.
Having visited South Africa with his family in late 2014, Tim saw first-hand the amazing impact that Careerbox is able to have on the youth there, and it convinced him to get involved immediately.
A number of Australian companies, including Foxtel, Simply Energy, Coles Insurance and others are supporting Careerbox by employing contact centre staff trained by Careerbox through CCI Global.
Loyalty & Reward Co were privileged to hear some of the leaders from these companies talk about their experiences, and they spoke in highly-positive terms about the quality and integrity of the Careerbox graduates, with plans to expand their operations in the new year.
Companies planning to off-shore their contact centre operations to India or The Philippines should consider using Careerbox graduates in a cutting-edge facility in South Africa. Those who have done so are convinced they have made the right decision, and one which will change the future of disadvantaged youth.
Philip Shelper is a specialist loyalty consultant based in Sydney, Australia who obsesses about everything to do with loyalty and rewards. His company Loyalty & Reward Co are a leading loyalty consulting firm.
Let's connect! https://au.linkedin.com/in/philipshelper