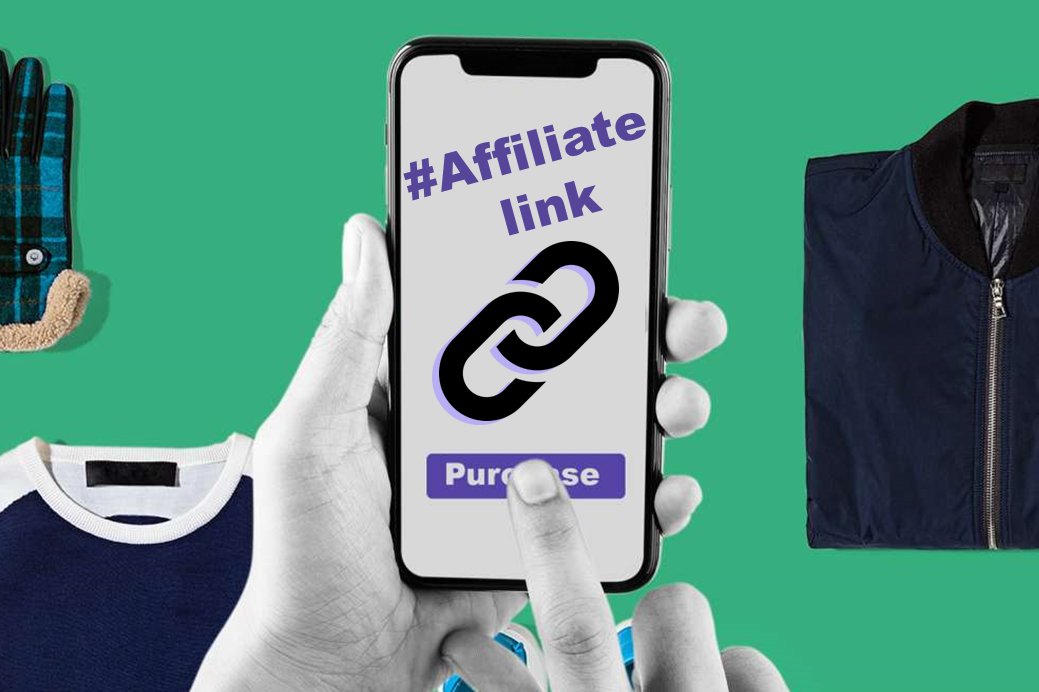 Affiliate marketing refers to an advertising model where third parties (affiliates) promote or sell another company's products. Here, advertisers reward affiliates with a commission for each customer they refer to their online store; and increasingly to physical stores. This may be a visit, but most commonly it is for a transaction.
Traditionally, affiliate marketing was driven by online publishers. These publishers would come in many shapes and sizes: niche vertical blogs, content sites on specific topics, deal-finder sites, social media influencers and more. Publishers link within their content to affiliated retailer websites hoping their audiences will click-through to earn sales commissions from the traffic they generate.
In order to track the origin of a sale and the payment of commissions, there are major platforms dedicated to managing affiliate partner networks. A good example is Partnerize, who work with over 300 of the world's leading brands to track online sales and pay commissions to affiliates in their network. The company has developed a SaaS-based solution streamlining the process of onboarding, managing and transferring affiliate commissions, which can also be used by companies to manage partners within loyalty programs.
A new breed of platforms
In the last few years, a whole new breed of platforms that incorporate payments to consumers have emerged. Especially in the retail sector. They are known as cashback apps, since they allow consumers to earn a portion of their purchase back as cash credit. Some platforms also provide coupons, voucher codes and even shares or donations to charities.
Whilst traditional affiliate platforms can be leveraged to manage partners and transactions within a loyalty program, cashback apps also allow advertisers to reward customers without one.
How do cashback platforms work?
Merchants give cashback platforms an affiliate link
Cashback platforms share the affiliate link with members
When members purchase through the affiliate link, merchants give the cashback platform a percentage of the sale
Cashback platforms share a portion of the percentage with members, AKA cashback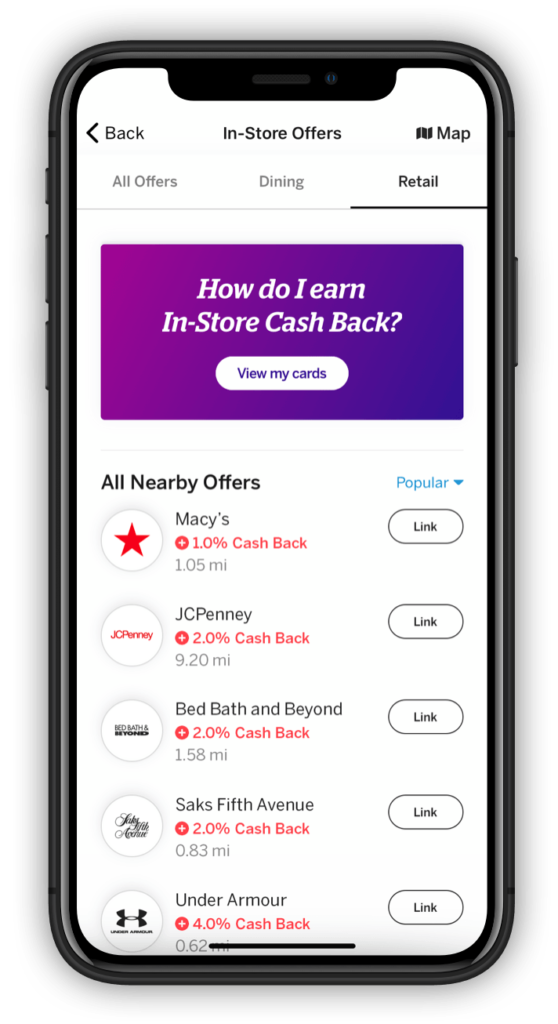 Passing affiliate commission to customers
ShopBack is a cashback reward program available in Singapore, Malaysia, Australia, the Philippines, Indonesia, Taiwan, Thailand, Vietnam, Korea. Online shoppers are enticed to shop in over 2000 brands through the app allowing them to receive up to 30% percent back for their purchases on the platform, which is paid for through affiliate programs by merchants. Shoppers can use the ShopBack app or browser extension and access coupons, voucher codes, comparison features, deals, challenges and play the CashBack troopers game which also rewards users.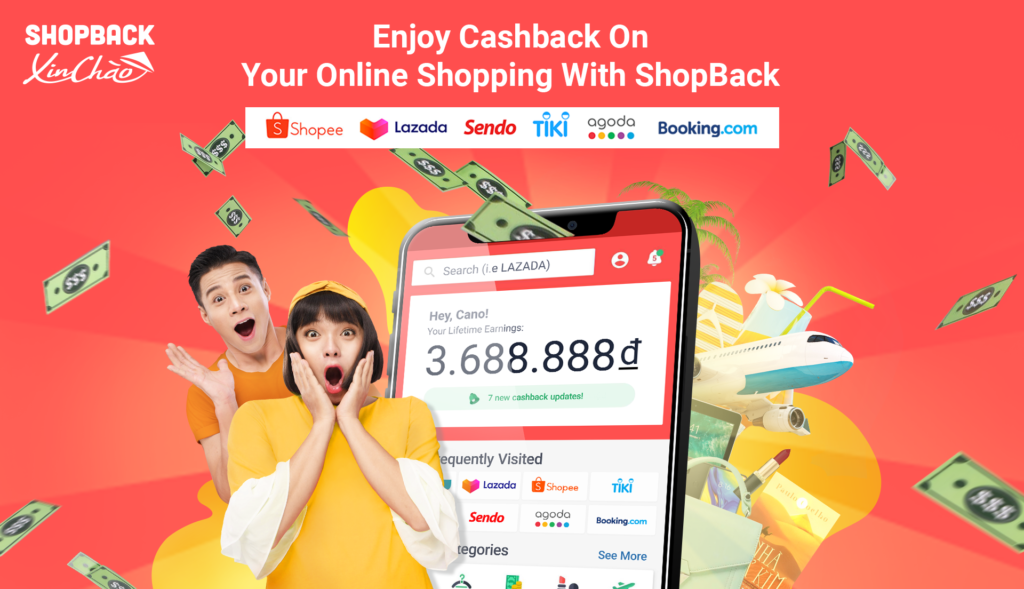 Swagbucks works in a similar way, it is available in the U.S., Britain, Ireland, Australia, New Zealand, Canada, France, Germany, Spain, Portugal and India. Members save money with coupons and promo codes when shopping at featured stores in the app. Members earn points, called SB, for their online purchases and carn redeem them for free gift cards like Amazon and other popular retailers, PayPal cash, prepaid Visa card, or even a check in the mail. A key feature in Swagbucks is that customers can also complete surveys to earn gift cards. This is great market research the company can monetise and use to provide a better service to brands.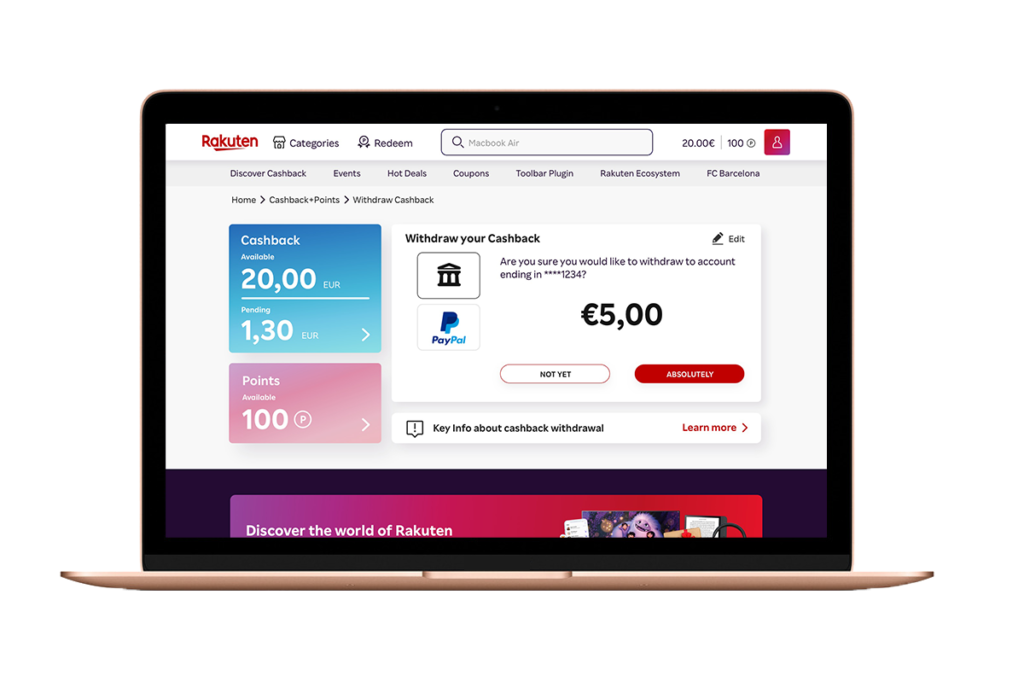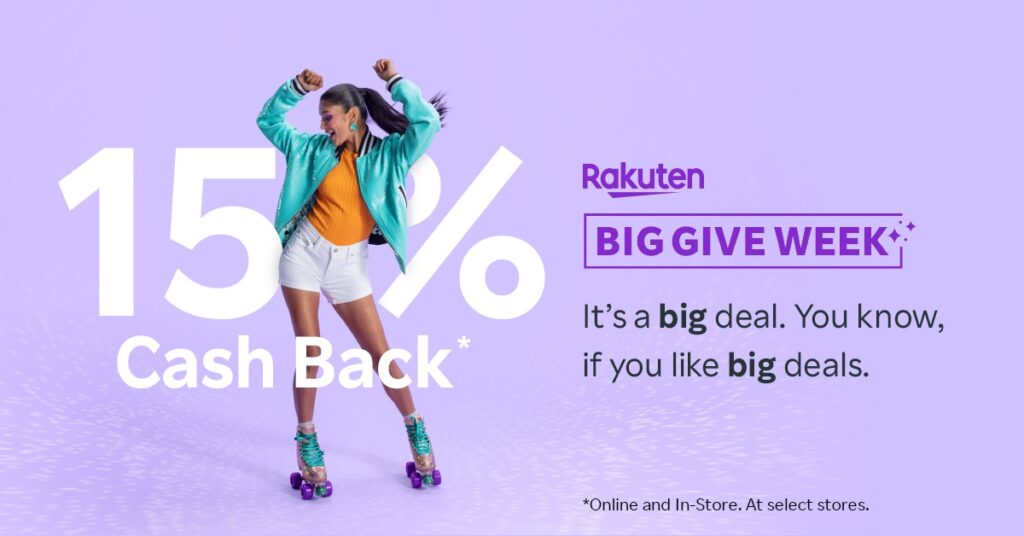 Rakuten, the Japanese electronic commerce and online retailing company also works with a network of merchants and offers cashback with Rakuten Rewards; available in the U.S., Canada, China, South Korea, Singapore and Japan. Rakuten explains how these apps work well: "Can you really get paid to shop at your favorite stores, though? Yes. Get cash Back, shopping deals & offers at 3,500+ stores, with Rakuten! Here's the deal: stores pay us for sending them shoppers. We then split that money with you when you shop at your favorite stores". The company has delivered over $2 billion in cashback.
TopCashback, a UK company also operating in the U.S., Canada and India is slightly different to other cashback apps and affiliate structure. Members join for free, but also can pay for TopCashback Plus, to access a higher cashback, additional benefits and features. They deviate from the norm as they don't keep any merchant commission for themselves, instead, they pass 100% to their members. Compared to Rakuten where members earn an average of $63.50, TopCashback members earn $345 on average a year. Income is generated through affiliate links, sponsorship and advertising, every time a member clicks they get paid.

Tiendeo, is a Spanish online platform that groups the digitalised and geolocalised catalogues and weekly ads of major retailers in more than 39 countries. It is a multichannel solution that connects businesses with millions of active shoppers through machine learning and geo-profiling technology. Consumers can browse catalogues, brochures and offers online for their local shops; check current promotions, scan the latest catalogues, compare prices and have key information about most shops and best prices at hand. In addition, members who have opened an account can earn cashback and coupons for uploading their receipts, and access discounts from advertising brands by linking from Tiendeo to their online stores. Another feature is that members can link their favourite store loyalty cards and use them when shopping via the app.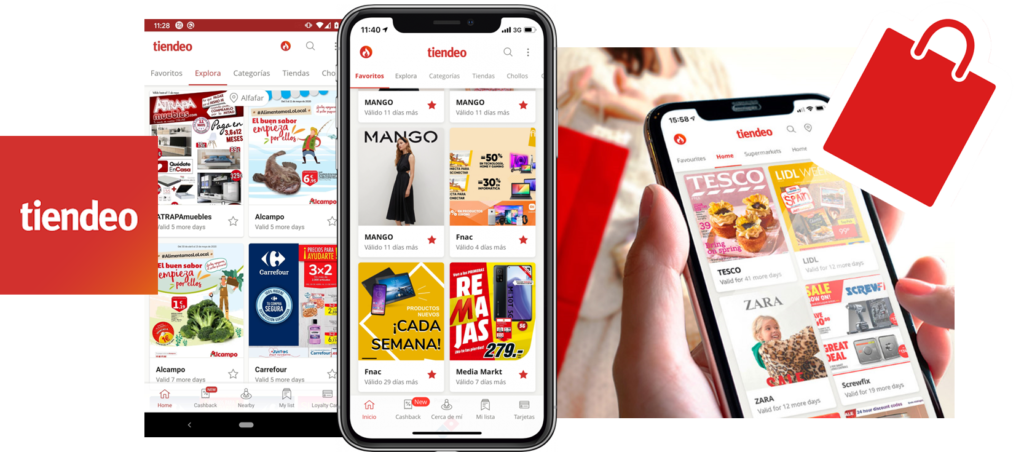 Megabonus offers up to 40% of the purchase price to its members and is available worldwide. Perhaps the widest cashback app as it has members in 123 countries. Megabonus's technology connects any online store regardless of its geographical location, the only criteria is that online merchants can deliver in the country where their offers and ads are served. The variety of merchants featured in Megabonus is also wide, their network expands from 'pizzas to travel' (as the app states), an impressive variety. A key difference that Megabonus has is that their technology can also be used as a white label through an API. Any brand can offer cashback on their website without having to develop their own platforms.
Upstreet, is an Australian only mobile app and website browser extension which facilitates a fractional share reward program between companies (public and private) and consumers. A fractional share (stock slice) is the ownership of less than one whole share of a company. Here, members sign up, download the app or browser extension, and link their bank account, credit or debit card. When the member transacts with any of the available brands through the app, they earn a share reward from the brand they shopped with. For example, when a member makes a purchase of $100, they can be rewarded with $5 in fractional shares either in the company, or if not listed on the ASX (Australian Stock Exchange), in an ETF (Exchange-Traded Fund, a basket of shares from various companies). Companies can also use the Upstreet platform to integrate share rewards into their own loyalty programs.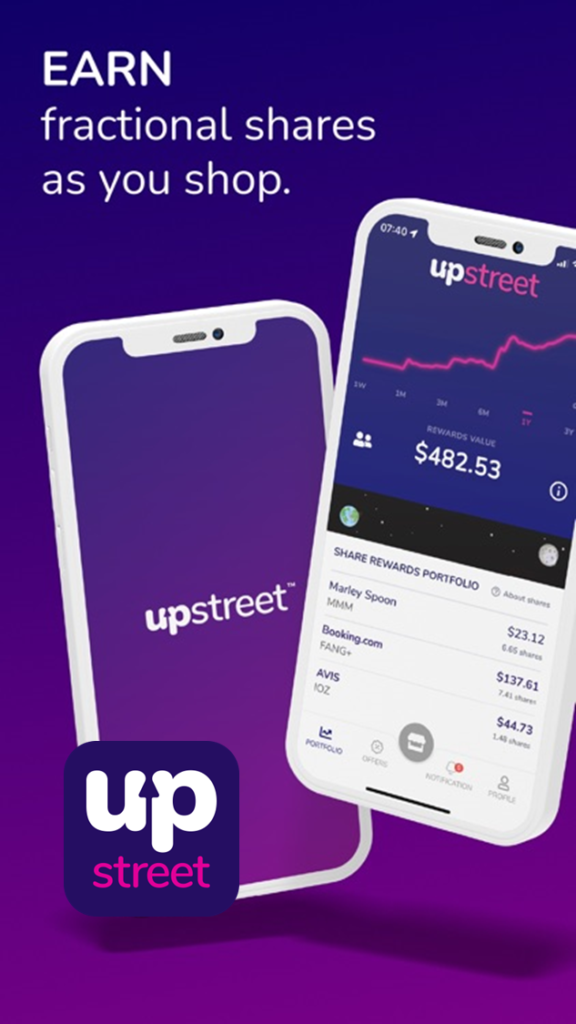 Beem It is another Australian only platform that allows members to pay, transfer or request money, track expenses or split bills regardless of who they bank with instantly. In addition, through Beem Rewards, members access a network of advertisers offering discounts. Members can also buy and personalise gift cards and store their loyalty cards in the app by scanning or entering details manually so they can present when shopping at a particular retailers.
Benefits of cashback programs
Compared to the traditional affiliate marketing structure, the benefits of cashback platforms are:
Constantly promote the benefits of their millions of member
Incentivises regular purchases and loyalty
Create the conditions for customers to remain active and engaged
Offer value to members many brands cannot create on their own
Foster communities of savvy buyers willing to share their saving tips
Support merchants protect price as they don't have to offer discounts
Present a cost effective way to offer rewards to consumers
Offer an advertising channel where consumers are in buying mode
Provide market intelligence to merchants
Facilitate the management of cashback for merchants
Allow merchants to switch on an off their offers
Nurture consumers who are likely to shop where many brands are available
Prompt consumers to use extensions to access offers when shop via browsers
Can provide a loyalty platform for merchants who want to reward for purchase
Can be used as a white label product for the management of partners
The challenge
New cashback apps continue popping up making it challenging for merchants to keep up and hindering their ability to present relevant offers to consumers who have dozens of opportunities to find a deal. After advertising costs and commissions, unless a brand has healthy margins, all they can offer to consumers is two or three percent —unfortunately a prevalent discount on these platforms across brands.
If a merchant can offer a bigger slice of the sale, they are more likely to engage consumers. They can leverage cashback apps for acquisition campaigns or to drive key products. But they must consider that here members are using more than one platform as their intention is finding the cheapest way to buy. It is worthwhile that brands run their numbers and examine how they can ensure consumers get better value, drive traffic to their stores and nurture the relationship beyond the transaction.
Conclusion
Unlike the traditional affiliate model where publishers, in general, are only able to link potential consumers to a website and generate traffic, cashback platforms generate sales. Their technology allows them to focus on user experience, engagement and reward consumers for their purchases. These platforms also offer a full advertising channel and their technologies will continue to evolve. New apps will continue to grow, and affiliate marketing dollars will continue to flow. However, merchants and brands must think how to leverage them in the best possible way and consider how consumers interact with them, and whether they are the best channel to engage and drive customer loyalty.