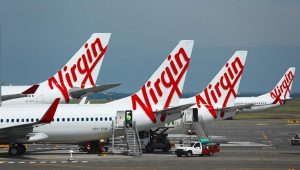 Virgin Australia has been forced into voluntary administration after the coronavirus restrictions have crippled their cash flow. The airline communicated to the ASX that the move would help "recapitalise the business" and ensure it emerged "in a stronger financial position on the other side of the COVID-19 crisis". Australia's second airline is saddled with around $5 billion debt.
Many travellers will think back to the days of Ansett, when the company collapsed and millions lost their frequent flyers points.
Velocity has now frozen the accounts of their members to prevent them from redeeming.
Does this mean Velocity members are about to lose their Velocity points?
It is a possibility, but unlikely.
For a start, Velocity Frequent Flyer, while owned by the Group, is a separate company and is not in administration.
Secondly, the airline recognises the critically valuable asset Velocity is to the business. It has been one of the main tool used to compete with Qantas, particularly for targeting the lucrative business traveller market.
When John Borghetti joined Virgin as CEO in 2010, he recognised the significant value Velocity could generate for the airline.[1] He was well aware of the genuine loyalty that the Qantas Frequent Flyer loyalty scheme generated from frequent travellers who attained tier status (particularly Gold and Platinum), especially among business travellers. He realised the perks of belonging to a higher tier, such as free Qantas Lounge access, priority boarding, potential upgrades and bonus points earn, generated sufficient stickiness with higher value members such that the likelihood of switching their business to Virgin Australia was reduced.
To counter this, Virgin Australia redesigned Velocity in 2011.[2] Velocity had already launched 'Any Seat, Any Time' in 2005[3], prior to Qantas' launch of Any Seat Awards in 2008, indicating a willingness to compete via innovation. The new Velocity loyalty scheme built on this to better recognise higher value members of Velocity and attract more earn partners.[4] They enhanced flight rewards, added more options to redeem points for seats, improved points earn rates and status earning methods, transformed status privileges and unique benefits for travellers and their families, added a new Platinum level of membership with exclusive benefits and expanded their coalition to over 380 loyalty scheme partners, including credit cards and retail partners.
In an aggressive move as part of the relaunch, Velocity ran a status-matching campaign, allowing Qantas Frequent Flyer members to claim the same status with Velocity, a strategy which aimed to neutralise the stickiness a status tier can create.
Velocity also introduced a range of benefits targeted at families, who could automatically pool their points and status credits, pause their membership for six months for parental leave without losing their status and earn free companion membership for their partners and complimentary lounge passes.[5]
Over the following years, Velocity launched Global Wallet (an expansion of the membership card into a prepaid Visa card which supported nine international currencies and the Australian dollar), major partnerships with BP and flybuys, and acquired data analytics firm Torque Data[6] (driven by the strategic ambition to expand the business' data analytics and campaign automation capabilities).
They were very successful in taking the fight to Qantas. Velocity grew from 4.4m members in 2014 to 8m members three years later. By comparison, during that same period, Qantas Frequent Flyer grew from 10.1m to 11.8m members.[7] Virgin also enjoyed a surge in business travellers, helping to grow revenues and margins.
Virgin Australia will not be able to compete with Qantas without Velocity. Velocity will survive. As long a Virgin re-emerges from administration, your points are safe.
[1]      Ferguson, Adele, "Flying high with John Borghetti", The Sydney Morning Herald, 13th November 2014, <https://www.smh.com.au/lifestyle/flying-high-with-john-borghetti-20141031-11evix.html>, accessed 5th April 2019.
[2]      Velocity Frequent Flyer, "Virgin Australia's New Frequent Flyer Program", 25th August 2011, <https://www.velocityfrequentflyer.com/content/ProgramBenefits/LatestNews/VirginAustraliasnewfrequentflyerprogram/>, accessed 5th April 2019.
[3]      Velocity Frequent Flyer media release,  https://www.virginaustralia.com/au/en/about-us/media/2008/VB_WINS_GLOBAL_GONG_AGAIN/', 29th April 2008
[4]      CAPA Centre For Aviation, "In conversation with Virgin Blue CEO John Borghetti", 27th December 2010, <https://centreforaviation.com/analysis/reports/in-conversation-with-virgin-blue-ceo-john-borghetti-42721>, accessed 5th April 2019.
[5]      Flynn, David, "Virgin reveals new family friendly Velocity frequent flyer scheme", Australian Business Traveller, 25th August 2011, <https://www.ausbt.com.au/virgin-launches-family-friendly-new-velocity-frequent-flyer-scheme>, accessed 5th April 2019.
[6]      Gardiner, Bonnie, "Virgin Australian acquires analytics firm Torque Data", CIO, 3rd July 2015, <https://www.cio.com.au/article/578960/virgin-australian-acquires-analytics-firm-torque-data/>, accessed 6th April 2019.
[7]      Venture Insights, "Australian airline loyalty programs reaching new heights", 31st August 2017, <https://www.ventureinsights.com.au/product/australian-airline-loyalty-programs-reaching-new-heights/>, accessed 6th April 2019.