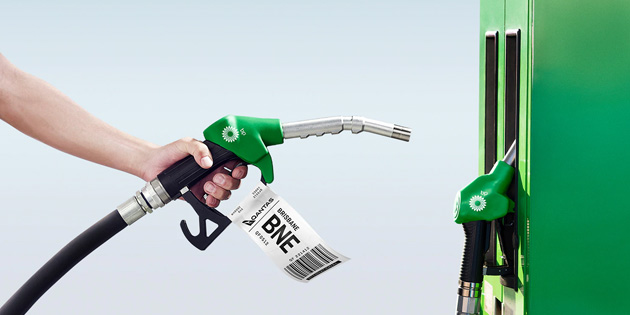 BP Rewards is the new customer loyalty program rewarding members for filling up at the service station.
As part of the launch, the multinational has struck up a customer loyalty partnership which allows Australian motorists the option of earning Qantas Frequent Flyer points every time they head to the petrol pump. After some delay and a final authorisation by the ACCC in February 2020, the new 5-year partnership replaces the former alliance between BP and Virgin Australia's Velocity Frequent Flyer scheme.
Fuel is an essential spend for many Australians, so it makes sense for the service station giant to tap into this weekly habit and encourage stronger and more frequent interactions. Based on BP's own research, a significant portion of customers choose a service station based on rewards alone, and this isn't hard to believe when you consider the options out there, i.e. Caltex offers Woolworths Rewards (convertible to Qantas Points), and Coles Express offers flybuys points (convertible to Velocity Points).
Given loyalty rewards are an important driver when it comes to consumer choice, how does the new BP Rewards stack up?
How does BP Rewards work?
As a points-based loyalty program, members earn points every time they fill up at the tank or make an eligible shop purchase at a participating BP. Members receive 2 points for every litre of BP Ultimate, while other fuels provide 1 point per litre and in-store purchases earn 1 point for every $1 spent.

Firstly, the point earn variation provides a nice, albeit small incentive for regular customers to consider premium fuel where they may not have in the past. And for customers that already purchase premium, the new incentive will reinforce their spending behaviour. These premium purchasers will recognise the additional benefits of engaging with the brand, in turn strengthening the customer-brand relationship.
Secondly, the earning of points causes the experience to shift into something more than just filling up the car. When the tank is running low, the promise of rewards will increase the likelihood the member will choose to pull into a BP, rather than the most convenient or low-cost option.
Finally, remaining on the topic of low-cost, loyalty points create a switching cost which can help improve customer stickiness and thereby reduce churn. This not only secures the long-term relationship with members but can also help decrease the degree of sensitivity members have towards competing prices. For BP, this can lessen the price sensitivity for customers both in terms of competing brands and for their own premium fuel.
Your rewards, your way, so they say
For many, the real pull factor of the new loyalty program is an obvious one, earning Qantas Frequent Flyer points for every fuel purchase. The average Australian spends almost $144 per month on filling up their car, so the ability to earn frequent flyer points on an expense they already make is certainly a welcome one.
By linking a Qantas Frequent Flyer account with a BP Rewards account, the member can earn up to 2 Qantas Points per litre of fuel and 1 Qantas Point per $1 spent on eligible purchases in-store. In keeping with the best-practice principle of simplicity of engagement, the member can conveniently scan their Qantas Frequent Flyer card or app at BP stores to get the credit.
The added appeal of BP Rewards is members can choose between earning BP Points or Qantas Points, with the handy feature of changing this whenever desired. It is well known that consumers love choice and control, so offering flexibility in the point redemption channel is certainly a plus.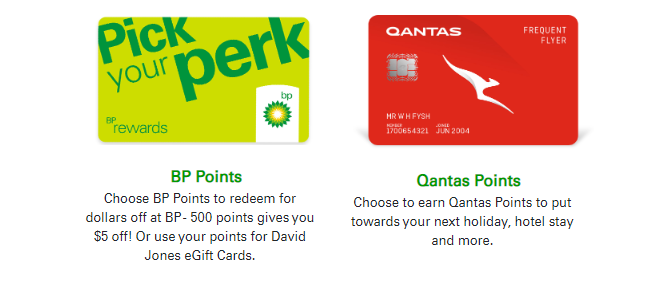 Onboarding before refueling
At first glance, the BP Rewards website is effectively simple and conveys clear value upfront. BP make the first step easy by only requiring an email address and name, while the inclusion of a mobile number as optional. This is good – it captures some data but keeps the onboarding process moving quickly from the very beginning.
Give the member a reason
After receiving a verification email and setting up my password, I thought, well that was easy… let's test out the app. And this is the point where things started to faulter. Logging into the mobile app with my new account, I was faced with further verification and set up. Two things that stood out the most: the app required my phone number (despite being told in the desktop registration it was not) AND location services had to be turned on, with no genuine explanation.
While these things are common practice these days, it is a good idea to inform the member why you need this information. I understand for BP's own security, but loyalty programs should be establishing a two-way value proposition. If you want my information and data, provide me with a good reason. A better approach would have been telling me something like: 'We require your mobile number to verify your identify and inform you of future point promotions' and 'With your location services on, we can serve you special offers at your nearby BP service station'.
Preferences? What preferences?
When I went into my account settings, I noticed the option to change my communication preferences. Considering the importance of preference centres, I found it bizarre that the program had implemented a decent looking preference centre but had neglected to tell me, or allow me to make adjustments, when signing up. Hiding this away in terms and conditions is the opposite of what should be happening.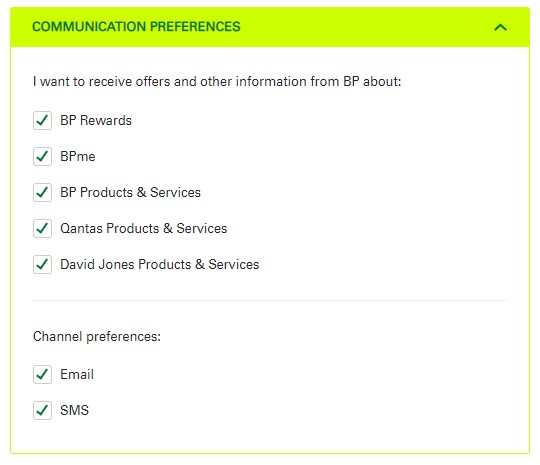 Bonus offers and Status Credits when you join
Despite my qualms, it appears the loyalty program has implemented some level of member lifecycle management. The join offer of 100 points was followed up by an email the next day notifying me of two additional offers – 200 bonus points for my first purchase, and another 200 bonus points for my second – with the conditions requiring me to make my first purchase within 14 days. On top of this, BP Rewards members can earn multiple lots of Qantas Frequent Flyer Status Credits by linking accounts and meeting certain spend targets during the promotional launch period.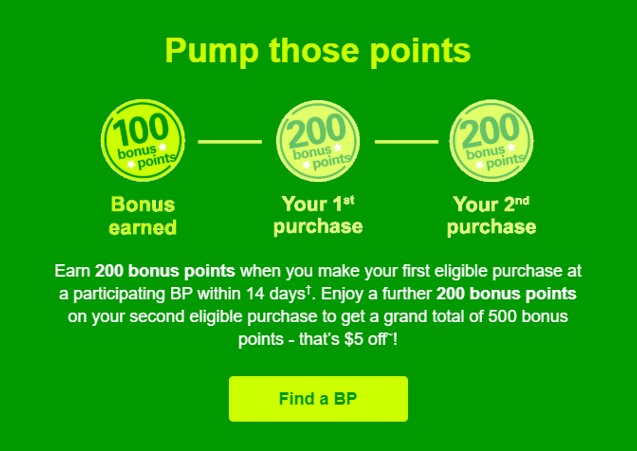 This is a good example of an effective onboarding strategy. There is not only the endowed progress of starting the member on points, but the program is also incentivising a member transaction as soon as possible. The quicker and more often a program can deliver on the promise of rewards upfront, the more likely a member is to be retained due to behavioural reinforcement. Like they say, strike while the iron is hot.
Final thoughts
Overall, the new loyalty program from BP appears to provide members with a level of value which supports the proposition of the brand. It gives customers more reasons to fuel up at BP service stations and gives Qantas members another way to get value from the frequent flyer program. For many Australians, it is a bonus to an essential spend which might convince more drivers to pull into a BP next time they notice the fuel light come on.