BLUE Buffalo is the proud manufacturer of quality pet foods, claiming to use only the finest natural grains and ingredients across their extensive range of meals, kibbles, and treats. The brand places pet care and wellbeing at the forefront of its business initiative, catering for various health needs based on the pet's age, breed and dietary requirements.
In fact, BLUE Buffalo is so confident in the quality of its products, that they have provided customers with a way to access a detailed nutritional evaluation of their current pet foods against the Blue formula.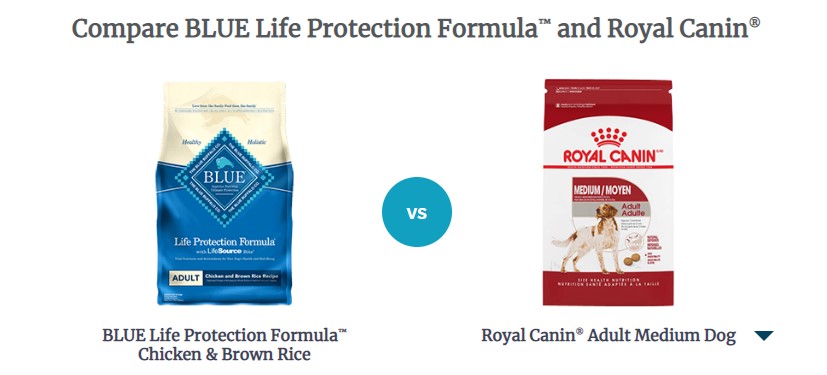 Buddies Rewards – Helping support 'pet parenthood'
Blue Buffalo has also developed a simple rewards program known as Buddies Rewards, designed for pet owners to be rewarded for tracking the health of their dearest friends.
Members can essentially earn points for various transactional and non-transactional activities. A selection of BLUE pet foods and products will contain a card displaying a QR code. These QR codes can be collected and scanned via the app to award the member with up to 250 points for every purchase.
Create your own 'Petfolio'
Each member is asked to create a profile of their pets for additional bonus points. The profile will display basic details e.g., pet name, age, breed and gender. Much like a Facebook profile, members can complete their pet profile with a cute image of their furry friends. Those with multiple pets may create multiple profiles within the same account to support simplified tracking.
Users can also loop in additional family members within the same account. This enables everyone in the family to contribute to the same profile to help accumulate points faster. This feature also enables all members to keep consistent tabs on their animal's health routines.
Members can accumulate daily bonus points for engaging with the app on a regular basis. For example, members can track and update various pet care and health activities including:
Vaccination and medication timelines
Vet appointments
Exercise routines
Diet and feeding periods
New pet updates and app entries can lead to additional bonus points accumulation.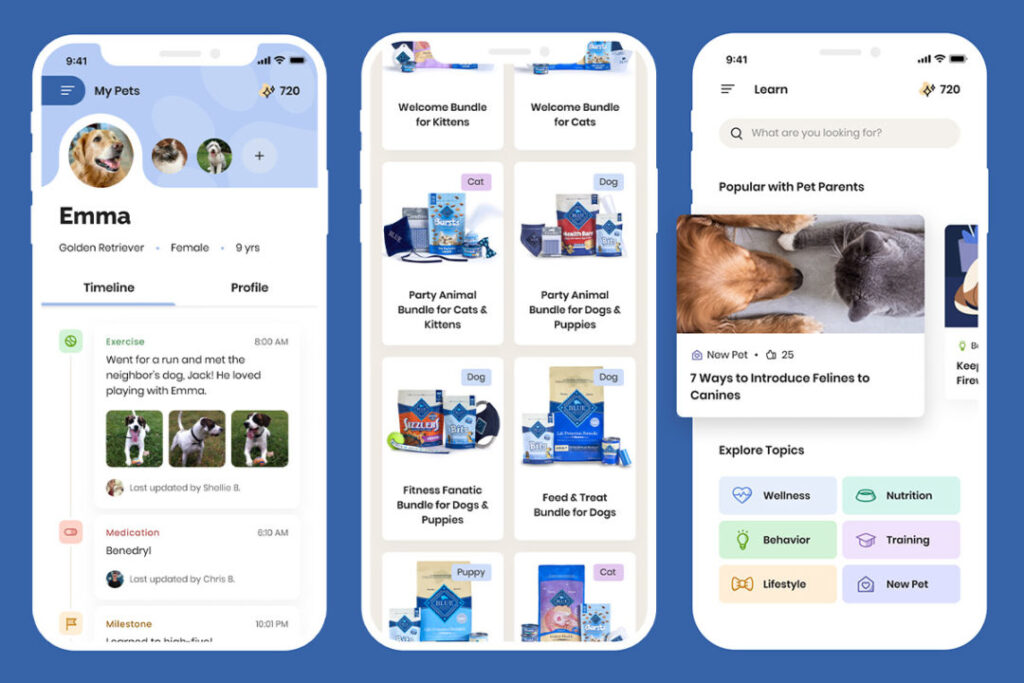 Connect with a community of pet lovers and experts
Caring for a pet can be very overwhelming, particularly for first-time pet parents. Particulars around pet care can vary vastly depending on small details such as breed, age, type of coat, size etc. As a result, owners are often faced with multiple concerns and questions surrounding their animal's well-being. These concerns are commonly resolved by spending hours scouring the internet for answers or quickly visiting the nearest vet.
This overwhelming process is made easier with Buddies Connect, where members are given special access to an exclusive community of like-minded Pet Parents to ask general questions, share pictures, talk about concerns, and access advice on a community forum. Members can also access trained Blue Buffalo employees who can provide additional support around general pet care and wellness, all whilst earning points.
The brand also posts regular educational and comprehensive articles to enable pet owners to provide the utmost care for their animals and their specific needs.
Points can eventually be used to redeem on a range of pet bundles for members to spoil their animals with. Bundles include a range of Blue Buffalo treats, snacks, costumes, and meals.
Final Thoughts
The program incentive is contextually relevant for many pet owners as pet food is an essential purchase. As a result, the program is complementary to everyday behaviour and motivates members to find engagement through daily pet care activities. The program also promotes a social aspect to its usage, providing a strong support system through the community forum to help guide pet owners along their journey. The social and community essence is extended by the ability of all family members to earn and participate in the responsible care of their beloved animals. The program also enables members to redeem their points on the most relevant of rewards, pet food.
Buddies Rewards is a great example of a simple and valuable program that rewards members for relevant behaviours. The program's contextual relevancy provides members with the tools required to take the utmost care of their pets, whilst allowing members to earn on their behalf along the way.