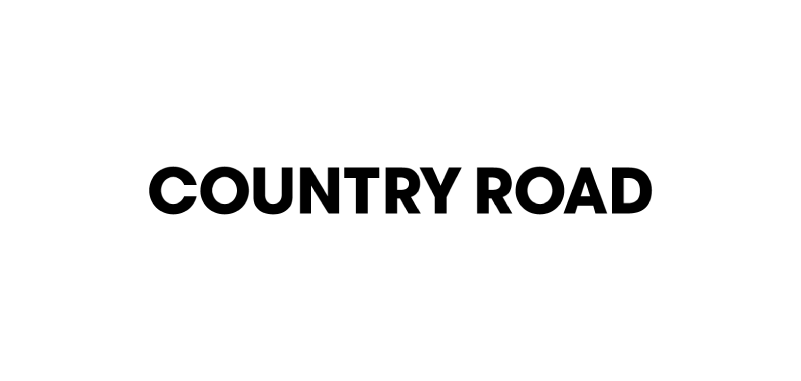 Country Road began in 1974 as a single store in Hawthorn, Victoria. Over the years, the brand has grown into one of the most recognised clothing retailers in Australia.
The product range has grown from its original beginnings as a niche women's shirting business, to now being renowned for stylish, high-quality apparel, for women, men, teens, children and babies, as well as offering accessories and homeware.
I wasn't aware of the Country Road & Trenery Rewards Program until last week, when I was on a mission to purchase a new polo, and so began my journey.
Joining the Program
The joining process is very simple and can be completed in-store or online, by simply providing a name, email address and phone number. I was in-store at the time of my purchase and was asked by one of the staff members if I would like to join the program. Before I could even answer, I was informed that I would receive a 10% discount on this purchase as one of the benefits of the program, which I thought was a great initial surprise and delight and played a role in me signing up there and then.
There is however a lot of information to digest within this rewards program and this was evident while the Country Road staff member tried to explain the entire proposition, and struggled to remember what is included. My advice would be for staff to focus on two or three key points of the program to talk about and then direct you to read the onboarding emails you will receive to find out more information. This will help the new member to remember these key benefits and hopefully be interested to find out more via the emails.
Member Benefits
As highlighted in the diagram below, the program includes five tiers; Member, Bronze, Silver, VIP Gold and VIP Platinum and requires a set spend per year to remain within a specific tier or move to a new level.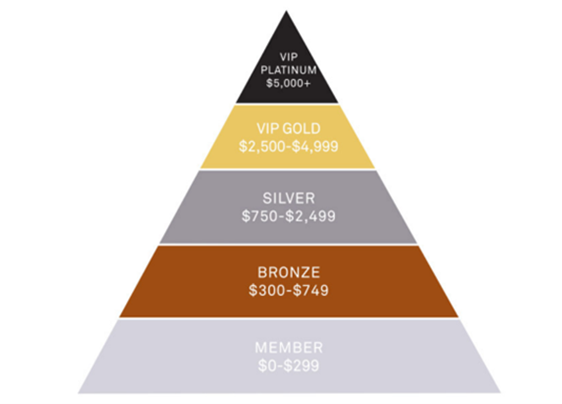 Within each tier, there are four key offerings, including:
First Access – Being the first to know about the latest collections for Woman, Man, Teen, Child, Baby and Home.
Your Welcome Offer – Receiving 10% off your first full-priced purchase (this is obviously a one-time offer but is still heavily promoted and plays a key role in encouraging sign-ups to the rewards program).
Spend & Save – Exclusive access to their signature member offer, available at selected times throughout the year.
$50 off when you spend $150
$100 off when you spend $300
$200 off when you spend $600
Exclusive Rewards – Receiving a $10 – $100 reward on your birthday, your anniversary and whenever you move up to a new tier.
Plus, receive a Spend & Earn Reward every time you spend over $100 in one day.
$10 Reward when you spend $100+
$35 Reward when you spend $250+
In addition to the four key offerings, members also receive additional benefits when they reach the VIP Gold and VIP Platinum tiers, which include:
Complimentary store transfers
Complimentary VIP tailoring on full-priced suits and pants
Styling by appointment
First VIP access to Spend & Save
An annual gift from Country Road
The key feature of the rewards program is the Spend & Save element, which at selected times throughout the year provides a third off the price when you spend between $150 – $600. This is a great benefit and likely resonates well with members. Whilst it can result in less margin as a result of those who wait until the spend and save is on, the hope is that it makes up in basket size and frequency of spend from the member base vs non-members.

My advice to Country Road would be to analyse the member data and personas to understand how big a problem this may be and if any changes need to be implemented.
Digital Card
A great feature of the program is the digital rewards card that can be downloaded to your Apple Wallet, Google Wallet or via Stocard.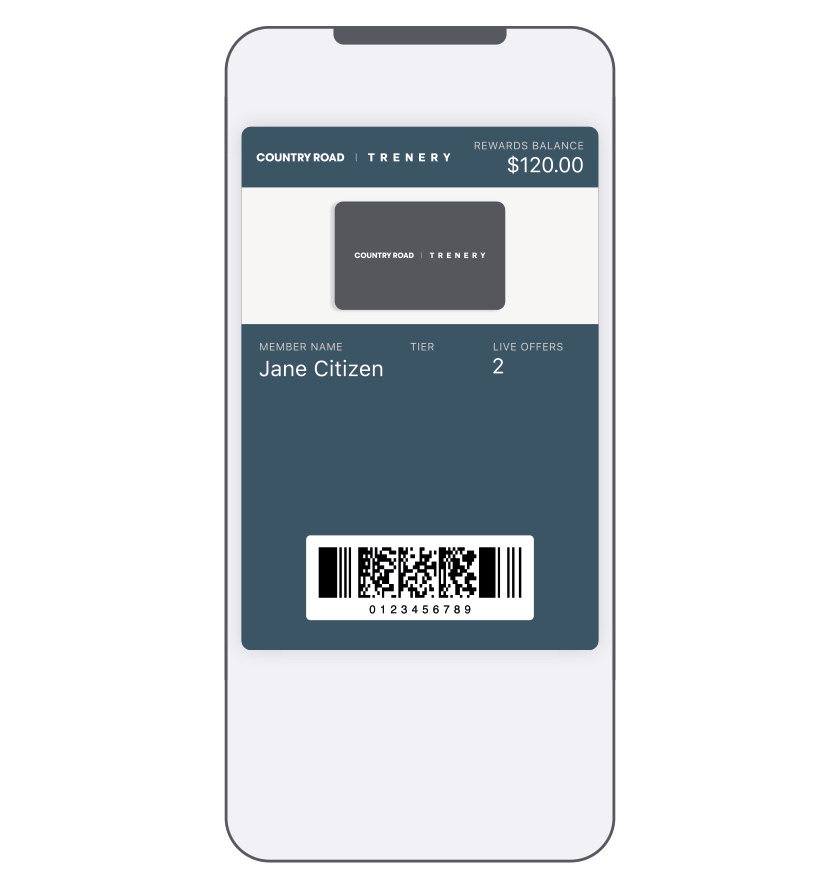 What is great about this is that it provides all the information you need in one place:
Current tier
Rewards balance
Anniversary date
Current tier spend
Spend required to reach next tier
Email Communication
Since joining the program, I have received eight emails in six days. The first four emails, which were received in the initial two days, were all reward program specific and designed to educate you on the offerings, encourage you to download your digital card and to find out your birthday. From here, it feels like you are included in the traditional eDM customer journey, which has been an email each day promoting Country Road and Trenery apparel that isn't specific to me.
The sheer number of emails received in the first week is a lot to take in. A better solution may be to send the initial reward specific emails over the first week, followed by an email that asks the member a few specific questions around what they would be interested in hearing about to better tailor future correspondence and enhance the member experience.
In Summary
There is no doubt that the Country Road & Trenery Rewards program has some good benefits and features, in particular the Spend & Save model and the digital card. There are also areas that could be reviewed to help with the member experience, such as email frequency. I definitely think they are on the right track, and I will continue to watch closely and see how this rewards program evolves over time.