Loyalty & Reward Co love Disney's marketing technique to promote their latest movie Pete's Dragon.
Disney has employed local poster-distribution companies to stick up 'missing dragon' flyers on light poles everywhere, exactly the same you often see for missing cats or dogs.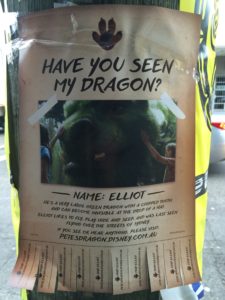 Tearing off a tag (which we did) directed us to the Pete's Dragon website, where we were prompted to enter our address. Like magic, Pete's Dragon flew out of the sky and appeared in front of our house! The smart marketers at Disney have teamed up with Google and used Street View to create the effect. Try it now. It's really cool.
It blew our kid's minds so much we had to take them to see the movie straight away (Disney shoots & scores), which we did at HOYTS using discount tickets via Optus Perks, including free popcorn using HOYTS Rewards points.
Great movie, awesome marketing campaign, and delicious hot-buttered popcorn. A great way to pass a rainy day.
Philip Shelper is a specialist loyalty consultant based in Sydney, Australia who obsesses about everything to do with loyalty and rewards. His company Loyalty & Reward Co are a leading loyalty consulting firm.
Let's connect! https://au.linkedin.com/in/philipshelper