An online marketplace is a form of e-commerce website created for third-party retailers and wholesalers to list, promote and sell their products.
The marketplace operator is essentially managing a technology platform intermediary connecting buyer and seller, promoting suppliers' products and processing the customer transactions. The supplier role is predominantly to dropship purchased products direct to the customer, streamlining the production and fulfilment process.
The online marketplace operator does not have the overhead costs of having to hold and store inventory which is cost-effective when compared to a traditional physical or online store.
The analytics obtainable via observing customer purchasing behaviour on online marketplaces is far richer than that available to an online retailer due to the variety on offer as well as the ability to view location data and social data provided by single-sign-on (SSO).
The appeal of online marketplaces to the customer
There is customer appeal in searching for items on marketplaces as it often delivers a wider range and volume of products and suppliers for purchase consideration when compared to online retail stores.
Online marketplaces provide either a general variety of product categories or specific items to appeal to a more targeted segment e.g., fashion only. The marketplace operator may also opt to have a purely B2C or B2B sales site.
Due to the aforementioned data insight advantages of online marketplaces, the customer can also be served more relevant and personalised recommendations throughout the browsing experience.
Marketplaces are a great loyalty vehicles
Well known marketplaces that have highly successful loyalty programs are:
There is, however noticeably one commonly used marketplace without a loyalty program, Facebook Marketplace.
The case for a Facebook Marketplace loyalty program
Facebook Marketplace launched in 2016 predominantly as a place where people could list used goods and household products. Today, Facebook Marketplace attracts over one billion visitors monthly (and growing) and now also includes business listings "Shops" which have proven to drive incremental sales at an impressive rate.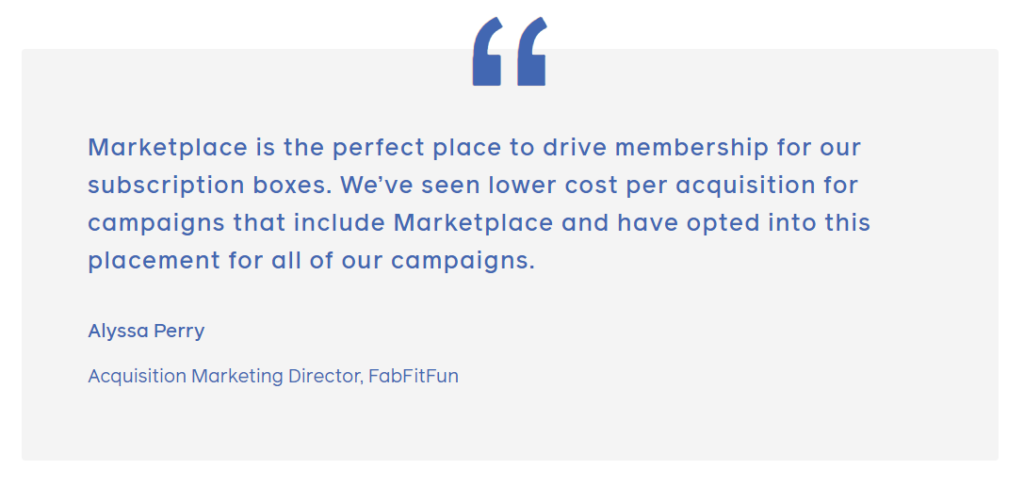 Those engaged with the platform are already checking social media multiple times a day and the Marketplace meets people where they already are digitally in a non-pressured, economic and time-efficient way.
What better platform to offer a loyalty program than Facebook with:
2.74 billion monthly active users
Reach of 59% of the world's social networking population
3rd highest website visitation
2nd most downloaded app (just behind TikTok)
An already engaged audience removes much of the uncertainty that often exists with the introduction of a loyalty scheme facilitating a low barrier to entry.
Rewarding good behaviours and penalising bad behaviours on Facebook Marketplace
People who list products or shop on Facebook Marketplace are often supporting sustainability, charity and ultimately, community. This should absolutely be rewarded.
There is also potential to reward purchasing members for not only their transactional engagement, however also their reliability and service when engaging with sellers on the platform. By the same token, poor behaviours or time-wasters that claim they will pick-up a purchased item and effectively do not show up or respond should be penalised. This issue is particularly prevalent in low priced or free items.
The same reward/penalty concept would apply to sellers on the platform.
Those engaged with marketplace could unlock discounts or voucher codes based on their accrual of status credits, points, 'Zuckerbucks' or other appropriate loyalty currency. Alternatively a card-linked cashback could be considered.
Tier progression may even be on the table provided members are spending enough to justify the costs and provision of associated benefits.
Personalisation of suggestions are already occurring via Facebook Marketplace and arguably Facebook is in the best position of all social mediums to build rich member profiles and serve relevant triggered content.
Mark Zuckerberg, founder and CEO of Facebook has spoken to the impact of eCommerce following the first wave of the Covid Pandemic:
"Commerce has been growing on our services for a while, but it has become a lot more important as the pandemic has accelerated a broader shift towards businesses moving online. In the last year, we've seen online storefronts stay open even when physical stores closed, and going forward online commerce will continue to offer an increasingly personalized and convenient experience.".
Zuckerberg also referenced a ramped up focus on payments which hopefully includes buy-now-pay-later providers such as Afterpay and Zip as well as card-linking or open banking technology.
Zuckerberg, jump on the loyalty train
As one of the largest technology giants in the world, Facebook must continue to evolve its offering in order to remain relevant in a fast paced online social scene.
Facebook Marketplace has been an exceptional success, though not without flaws that could be resolved with a loyalty program firmly cementing Facebook as the Social platform of not only today, but the future.