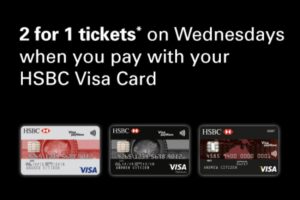 HSBC Visa Credit or Debit card customers can enjoy 2-for-1 tickets at HOYTS after the launch of HSBC Wednesdays.
The twelve month partnership between HOYTS and HSBC provides HSBC customers access to 2-for-1 movie tickets every Wednesday at any HOYTS cinema in Australia when they purchase tickets with their HSBC Visa Debit or Credit Card.
This represents outstanding value, with customers able to access general admission, Xtreme Screen and LUX tickets across the country.
With movies including Bridget Jones's Baby, The Magnificent Seven, Girl on the Train, Doctor Strange, Fantastic Beasts & Where to Find Them and Rogue One: A Star Wars Story, HSBC customers are likely to change their viewing behaviour, transforming Wednesday from 'slump day' to 'HOYTS day'.
The upcoming changes to Interchange Fee Rates announce by the RBA will likely stimulate more overt discount & value-add offers as banks prepare for a future where points earn on credit cards is diminished, and customer start seeking out value in other forms. The next twelve months will see a total transformation of the credit card market in Australia. HOYTS and HSBC are early movers who are likely to reap the rewards.
Philip Shelper is a specialist loyalty consultant based in Sydney, Australia who obsesses about everything to do with loyalty and rewards. His company Loyalty & Reward Co are a leading loyalty management consulting firm.
Let's connect! https://au.linkedin.com/in/philipshelper