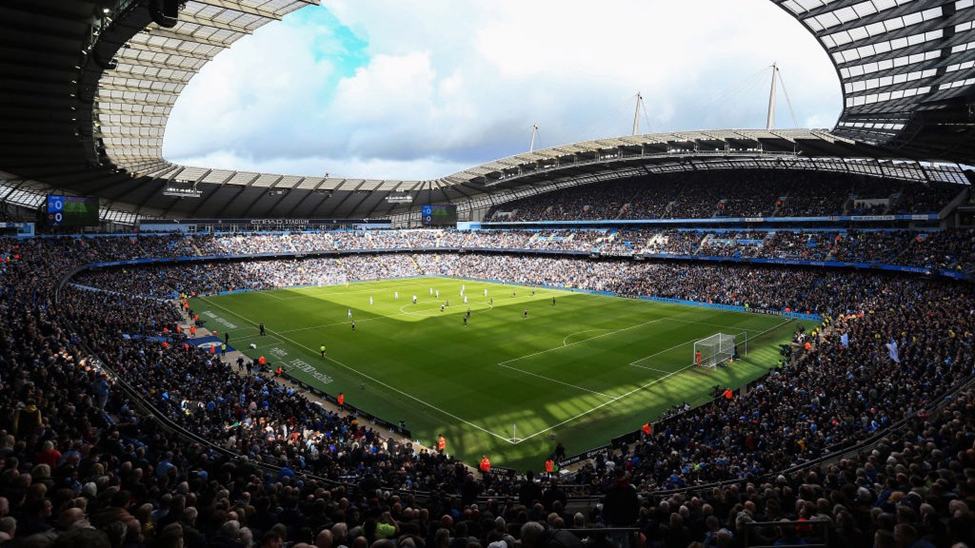 As far as loyalty goes, sports fans are some of the most devoted and passionate followers of a brand in the world. I can't think of another industry where the highs and lows of an organisation emotionally affect customers or members in the way that sports do. Football (soccer), often coined "the world game", sees its fair share of emotion. The English club, Manchester City, have tapped into this emotion with an exclusive benefit driven loyalty program – Cityzens.

For context, Manchester City are an English football club bought in 2008 by Sheikh Mansour, a member of the royal family of Abu Dhabi. The influx of cash turned the club from a somewhat average team into one of the best teams in the world. Top teams naturally attract more fans and in the paragraphs that follow we will delve into a program that aims to retain existing fans and attracting new ones.
How does Cityzens work?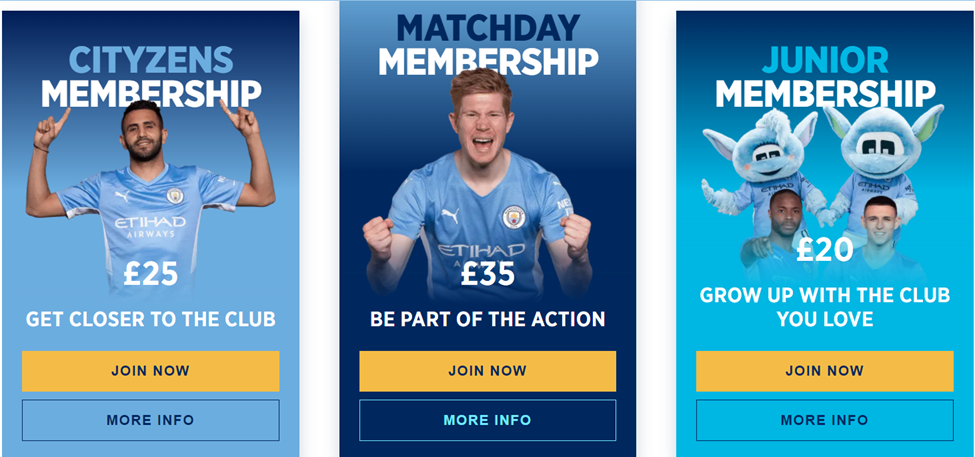 Benefit
Cityzens membership (for adults 18+)
Matchday membership (for adults 18+)
Junior membership
(0-17 yrs)
10% club store discount

Partner benefits and rewards

Membership pack

Priority access to club events

Priority access to tickets for all home games
£5 off all home match tickets

Access to Seasoncard wait list (season game pass)
Club stadium tours


*20% discount

*Free jr pass
Ticket discount & priority access to women's games
Meet & greet opportunities

Downloads & competitions

The benefit summary illustrates how the membership options are structured for different fan segments. The Cityzens membership appeals to fans that aren't necessarily able to attend many (if any) matches but are still strong supporters. On the other hand, the Matchday membership engages fans who attend matches and want to be part of the action. The Junior membership, with similar benefits to the Matchday membership, is tailored for children and teens with the added bonus of opportunities to meet with players and access exclusive digital content.
Is Cityzens worth it?

With an average home stadium ticket price of £162 in 2021, £5 off a game may not seem like much – a saving of 3%. Yes, there are also ancillary benefits, including merchandise in the membership packs, stadium tours, club events and so on, but that's not the major draw card.
The most enticing benefit for Matchday and Junior memberships is priority access to tickets. We're talking about tickets that are in high demand and are regularly sold out, especially for matches against popular teams. The membership fee is a small price to pay for devoted fans who want to secure a seat.
The Matchday membership also provides access to the season tickets waitlist. These are tickets that guarantee a seat to all home games. Due to the high demand, there is a waitlist which can be joined by first purchasing the Matchday membership.
These desirable benefits have been woven into Cityzens to increase the value of the program, making it almost a necessity for some. Without a membership, fans could miss out on attending big games.
Take the Manchester City vs Liverpool game scheduled for 10 April 2022. A top of the table matchup with the two best teams going head-to-head, it truly is an unmissable game for any fan. As you can see below, the tickets are currently only available to Matchday members who have previously attended 3 home games.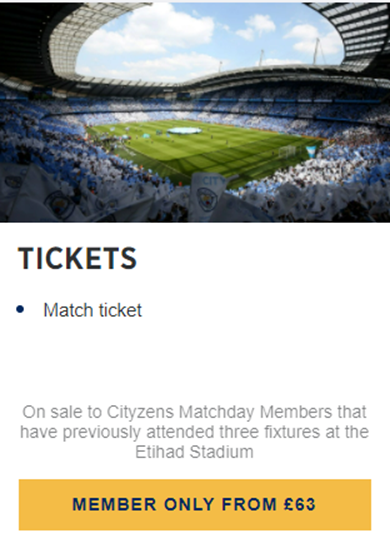 By structuring the ticketing process with Cityzens in mind, Manchester City are providing their most engaged fans the opportunity to attend the biggest games of the season.
This does raise the issue of loyal fans who can't afford a ticket (let alone multiple tickets) just to see their favourite team play. There are tickets for games as cheap as £20 or so, but at the end of the day it is a business like any other.
What's in it for the club?
Location, family and friends are usually major influences on which team an individual supports. However, there are always people who can be persuaded. It should also be noted that the club is competing with other sports, so if people lose interest in their team, they may choose to follow a team in a different sport or take up another hobby, as opposed to simply supporting a rival club. It is becoming more important to engage with fans globally because of the entertainment options available to them.
Loyal fans bring an electric atmosphere to the stadium. The more of them the better, especially in a big game – the team really want the crowd behind them. It's also a great atmosphere for fans who don't regularly attend or are visiting from overseas. Seeing such loyal fans and a great atmosphere influences these attendees to become more engaged with the club.
Manchester City use Cityzens member data to forecast ticketing demand and apply restrictions to ticket purchases at stages throughout the buying cycle. In the image below, some games have restricted ticket sales and others are open to the public, all dependent on supply and demand.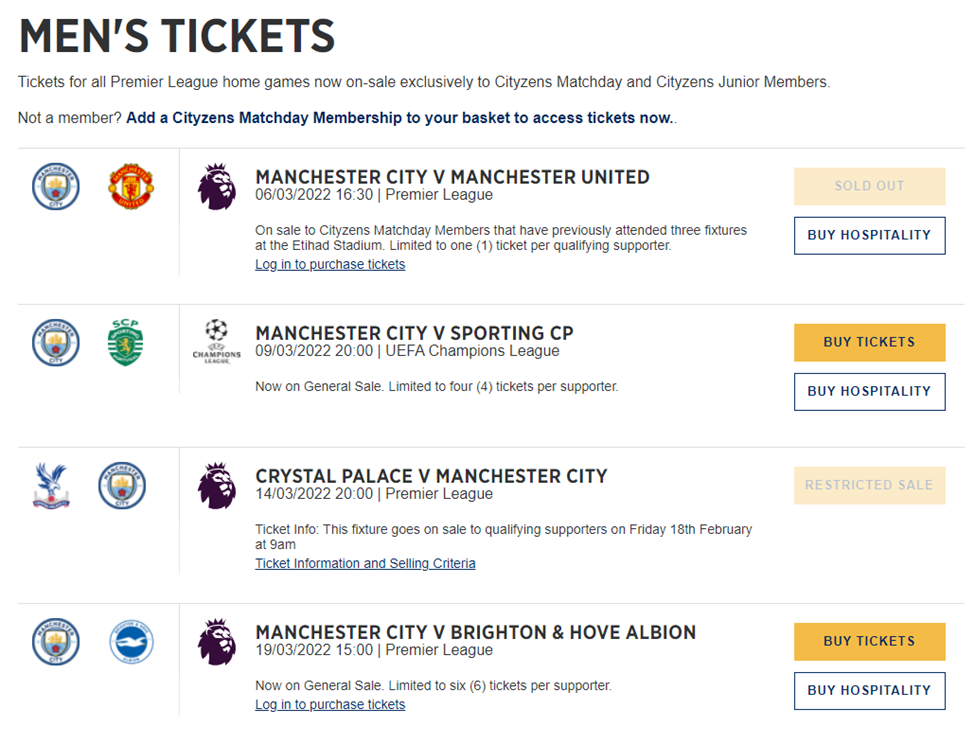 Aside from ticketing data, Cityzens is set up to gather personal data for marketing purposes. During the registration process the fan is asked whether they want to receive communications by email, SMS or post. Manchester City can then push information regarding competitions, new signings, ticket & club news, and partner offers to fans.
Summary
The Cityzens program design allows increased ticketing flexibility, excellent data collection, greater engagement opportunities with fans and adds another revenue stream. It is excellent to see that the program has been designed with the entire fan experience in mind. Too often sports loyalty programs miss the mark and focus on merchandising or discounts alone.
As the success of Cityzens increases, fans may be required to become members just to be able to buy a ticket which is a good problem to have. At this point, the program could consider incorporating a tier structure or a points element, such as the Boston Red Sox. An element that could be delivered soon is a surprise and delight reward. Imagine receiving a surprise video from your favourite player wishing you a Happy Birthday or a free meal at the game.
I'm excited to see how the program evolves in the future and whether Cityzens will be as successful as the team on the pitch.
---