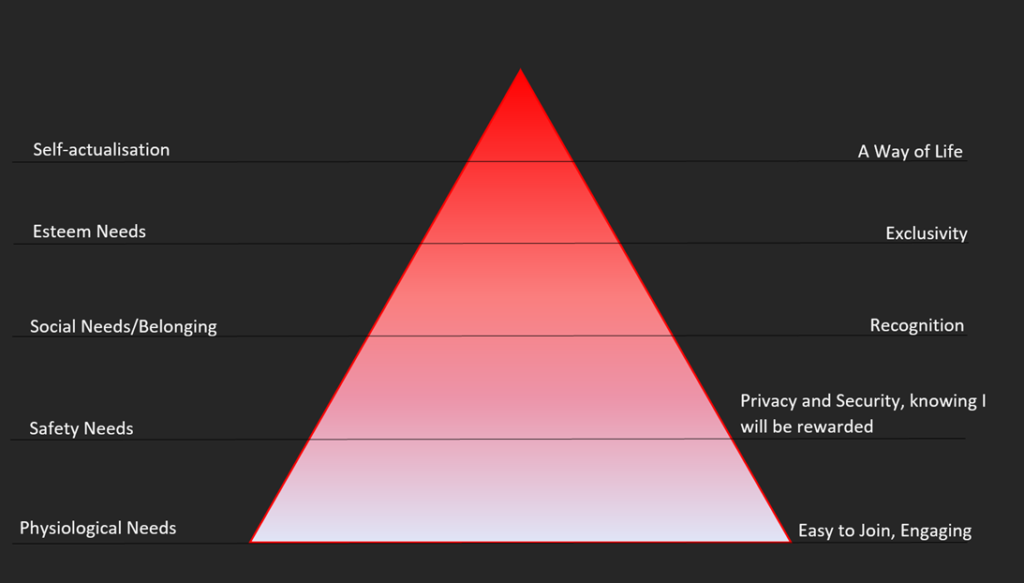 Maslow's hierarchy of needs displays a pathway which allows individuals to experience self-actualisation. Maslow highlighted that the most basic needs must first be met for an individual to achieve their desired level of satisfaction.
Maslow's hierarchy is a well-known theory which formed part of my Commerce degree. Since joining Loyalty & Reward Co and learning about the way in which loyalty programs work, I can see that this theory can also be applied to loyalty programs. This is because the goal of a loyalty program is to evoke a series of behaviours by satisfying an individual's perceived needs. Programs must satisfy a members most basic needs first in order to progress up their hierarchy and become more engaged and more valuable members
Meeting Physiological Needs (Easy to Join and Easy to Engage With)
To satisfy the basic requirement of a loyalty program, the program must be easy to join and engage with. With today's current technology most organisations can sign people up in the blink of an eye. Recently, I became a member of Subways loyalty program. I downloaded the app on my phone whilst I was in line and by the time my sub was made, I was part of the loyalty program. This satisfied my desire of a quick and easy sign-up method. The next step is to ensure the consumer stays engaged with the program after they sign up. Each loyalty program has a different method of keeping their customers engaged, these approaches can range from gamification, bonus offers or surprise and delight.
Privacy, Security and Knowing That You Will Be Rewarded
Data is a very important asset to a loyalty program and data security is becoming increasingly important to members. Therefore, it is important that data is stored securely by the program provider as a data breach can lead to severe lack of trust and mass disengagement. For example, this has happened recently to Optus and Medibank.
It is also important to reassure members that they will be rewarded appropriately for their loyalty to make them feel satisfied that their progress towards a reward will not be lost. This sense of security knowing that they are being rewarded will motivate them to progress to the next stage.
Recognition
By ensuring the member feels recognised and valued as a part of the program, this will allow a deeper connection to the brand. Some of the ways members can be recognised include recognising when they:
Have made a purchase
Have received their order
Have made multiple purchases
Have progressed to a higher tier
Have referred a friend
Have unlocked a reward
Turning these actions into memorable moments through recognition is key.
Exclusivity
Loyal customers deserve to be treated as a valued consumer of the organisation. Companies can show the appreciation by offering exclusive benefits such as status benefits which boost a member's self-esteem and a sense of appreciation of the relationship. Additionally, at this level of the hierarchy the exclusive rewards can be both tangible and intangible. An example of a tangible reward is the Friends of Laphroaig loyalty program where a Friend of Laphroaig is given their own honorary and exclusive square foot of land from the Laphroaig fields which they are welcome to visit whenever they wish. An example of an intangible good is the Qantas platinum lounge, priority boarding and the potential for upgrades. All these are efficient rewards which can boost a valued customers self-esteem and make them feel like they are part of an exclusive and valued cohort.
A Way of Life
The final stage of Maslow's hierarchy is self-actualisation, this can only be achieved if all other steps are completed effectively. To have a brand be a way of life can vary; from sticking an apple logo on the back of your car to getting a tattoo of your favourite sporting team, the possibilities are endless. By a consumer attaining this level of self-actualisation they will experience a sense of loyalty that transcends all others as a result of the previous connections they built through their journey to include the brand as a way of life. Additionally, the customer will promote the brand through drive advocacy as they will become a walking advertisement for the company as well as utilising word of mouth marketing.