Uber selected Pittsburgh Pennsylvania to trial driverless Uber Cars, and now 'The Burgh' has also been selected as the first city to roll out the highly anticipated Uber Rewards program to its customers.
Coincidentally, my parents also live in Pittsburgh so I have first hand access to all the communications around the new Uber Rewards roll out.
Here's the never-seen-before screen shots of both the email experience and the in-App experience which led my Dad through his journey:
Uber Rewards Emails:
1. My Dad is encouraged to sign up to Uber Rewards through the App, and is told he has been allocated a status level (either blue, gold, platinum or diamond) based on his last 6 months of Uber and Uber Eats activity. Very exciting!
Key information around the program earn and other benefits are also provided.
Subject: Richard, you're invited to join Uber Rewards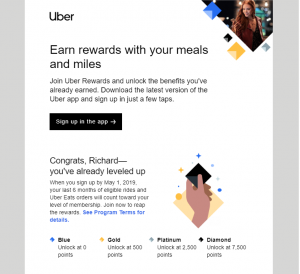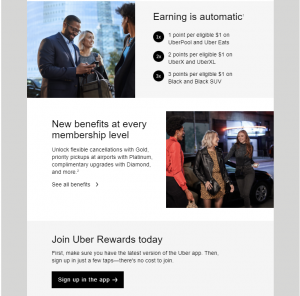 2. Dad clicks to sign up to Uber Rewards so he can reveal which status tier he's started on …GOLD
Uber also subtly start encouraging him to try to unlock Platinum status.
Subject: Welcome to Gold, Richard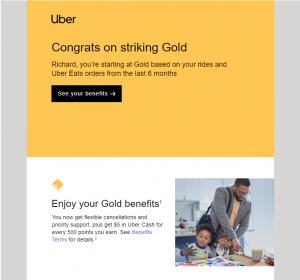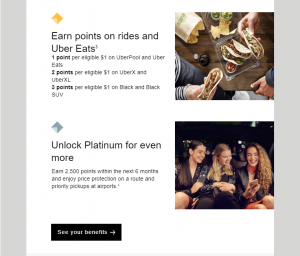 3. Three days later my Dad receives another email from Uber explaining the Gold level benefits in much more detail, all the while encouraging him to click through to continue exploring in the App – which is where all the 'Calls To Action' lead.
Subject: Richard, see what Gold can do for you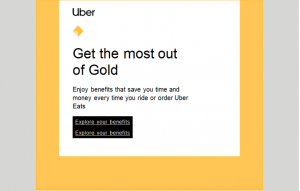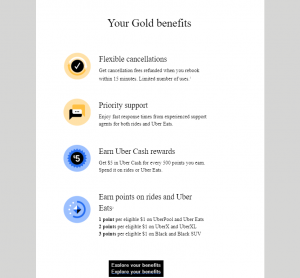 Now, let's take a look at his In-app experience to complete the Uber Rewards picture.
Uber Rewards App:
1. Nice use of a progress tracker placed front and centre here, with encouragement towards a First Success (something us loyalty people harp on about) – $5 off!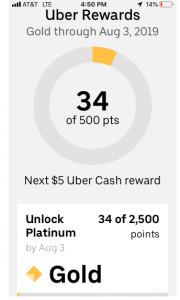 2. This is followed by an explanation of all the Gold status benefits he currently has access to as a Gold member: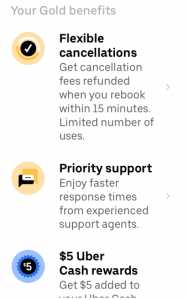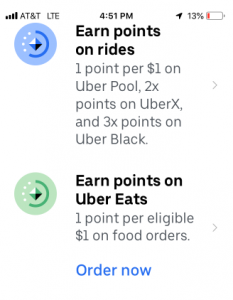 3. Then a list of all of the benefits that are yet to be unlocked until Platinum status is achieved (and the amount of points that are needed to get there)
Side note: apologies for the screen shot quality, he still screen shots like a Dad. At least you can verify these are genuine.
4. And finally, Diamond tier benefits which are not yet unlocked.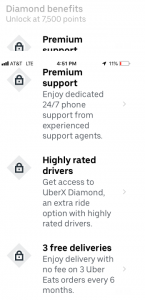 It's clear that Uber use the tiered status system well, they use progress tracking well and they haven't underestimated the importance of encouraging customers towards their first success ($5 Cash Reward).
The email experience supports the app experience and overall, I think it's the right amount of exciting, educational, personalised and simple.
Well done Uber, and sorry for sharing your secrets to the rest of the world before you have. Thanks Dad for the inside scoop.
Stacey has a wealth of experience within loyalty, marketing and eCommerce across multiple channels and business models including Boost Juice, ModelCo and MyHouse. Most recently, Stacey has been managing the investor, member and retailer communications for blockchain loyalty company EZToken Rewards, as well as taking the lead on designing, developing, implementing and operationalising Resident Rewards, a new member benefits program for Lendlease.
Stacey is a proud pioneer of women in blockchain and attends meet-ups regularly. She built the website www.blockchainloyalty.io and regularly contributes content.