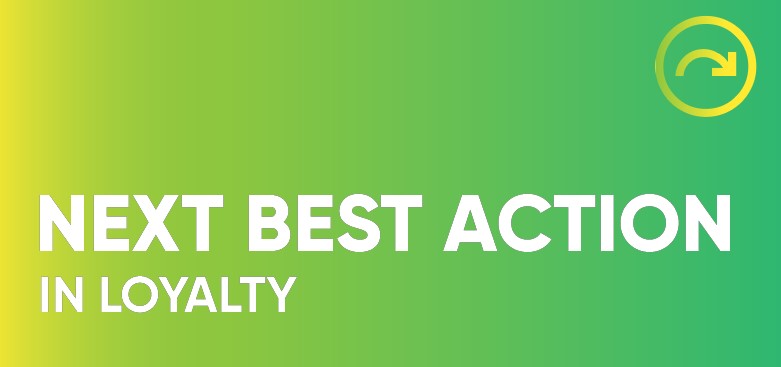 The loyalty tech landscape is growing, with rapid development of technological and innovative solutions to suit any and every loyalty concept.
One area that has seen significant growth in the last decade is machine learning and AI. The trend to create personalised and relevant experiences for members has grown exponentially in recent years, to the point where it is now considered to be an expected standard for all loyalty programs.
As a result, brands and businesses invest heavily in predictive technology to better understand member behaviours in the hopes they can utilise data to maximise success e.g., via conversions, cross-sell, up-sell and enhanced engagement. Through the creation of such rich member profiles, loyalty programs provide a foundation for the installation of a Next Best Action (NBA) platform.
What is a Next Best Action (NBA) Platform?
The Next Best Action, in essence, is a 'customer-specific approach to marketing' [1] (BlueVenn, 2022) that takes into account various possible actions that could be performed by a single customer.
Next Best Actions platforms are the machine-learning AI technology that considers and evaluates these possibilities, utilising existing customer data (e.g., profile data, demographic, purchase history and preferences) to calculate which strategy will have the highest chances of success.
According to Deloitte,[2] 'NBA is focused on using sophisticated rules, analytics and algorithms to better predict customer needs and in turn, present more relevant actions and offers leading to improved wallet share and loyalty'. As a result, the NBA approach enables organisations to shift from a product-centric view to a customer-centric focus with product offerings tailored to the individual.
How NBA platforms might work within businesses
Next best action platforms can be used across multiple industries to improve cross-sell, upsell and personalisation. However, they are primarily used in call centres, prompting the call centre agent or sales agent to recommend a specific product to the member at the end of the call.
For example, a member may call their bank to address an issue with their account, and at the end of the call the NBA system will prompt the call centre agent to recommend that the member consider applying for a credit card which enables them to earn loyalty points. The recommendation provided by the NBA platform is based on all the data held against the member's profile, including their propensity for loyalty program engagement, their credit card usage history and current cards, their credit score, their preferred loyalty points (bank or airline) and many other datasets.
Next Best Action driving customer value and engagement
Next best action platforms automate the calculation process so that the most optimal solution is evaluated in-real time across thousands of members. NBA platforms utilise AI technology to automatically adapt and self-optimise with every interaction, only becoming more and more sophisticated, as well as accurate, in its ability to induce customer engagement.
For example, the Financial Times (FT) adopted an NBA model[3] to make communication with members more efficient by using the model to prioritise and potentially limit product promotions based on each reader's needs.
Their research team investigated correlations between reader engagement and specific member actions with FT products (e.g., Newsletters, Gift links, FT App, MyFT Feedpage), identifying reader habits that are more frequent with engaged users. These member actions and habits were given values based on the expected impact and probability of engagement to ultimately determine a reader personalised Next Best Action. The implemented model increased reader engagement by suggesting actions that an individual was more likely to take based on existing habits and engagement.
Think that your loyalty program could benefit from a Next Best Action platform? Contact Loyalty & Reward Co today for a brief consultation.
References
1 BlueVenn, 2016, 'What is Next Best Action and how to use it to evolve the customer experience?', Upland, https://uplandsoftware.com/bluevenn/resources/blog/what-is-next-best-action-and-how-to-use-it-to-evolve-the-customer-experience/,accessed 25 July 2022.
2 White, D., 2017, 'Customer loyalty: A relationship, not just a scheme', The Deloitte Consumer Review, https://www2.deloitte.com/au/en/pages/consumer-business/articles/consumer-review.html, accessed 15 June 2020.
3 Kastrinakis, G., 'How we calculate the Next Best Action for FT readers', https://medium.com/ft-product-technology/how-we-calculate-the-next-best-action-for-ft-readers-30e059d94aba, accessed 30 June 2020.