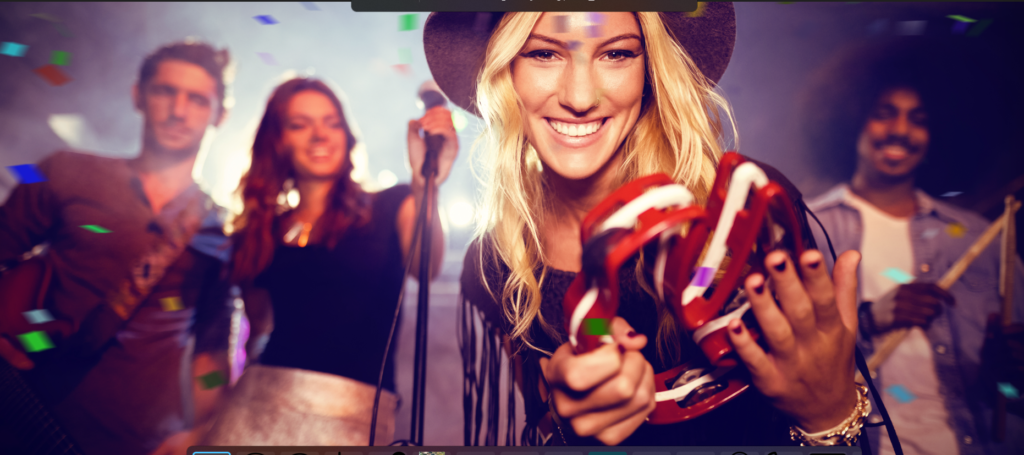 Princess Polly is an on-trend women's clothing brand, originally founded on the Gold Coast of Australia in 2005 as a brick-and-mortar store. Princess Polly went online in 2010 as founders Wez and Eirin Bryett identified the consumer shift towards e-commerce as their online store sales figures outperformed their physical store.
Princess Polly has since been a popular online fashion label among young women, with the core market aged 15-30 years. The brand has particularly gained momentum in the music-festival-wear sub-market and prides itself on offering fast, free delivery and easy returns. There is also a visible focus on sustainable collections, ethical manufacturing, packaging, and women's empowerment training, particularly through the supply chain.

Princess Polly Rewards
On October 10, 2020, Princess Polly launched their loyalty program, an on-brand, complementary festival themed program, Princess Polly Rewards.
The program consists of a four-tiered structure stimulating members' progression through earning points on both purchases and non-transactional actions. Per a typical retail tier-based program, each Princess Polly Rewards Tier attained unlocks a suite of associated benefits.
Tiers
All messaging in relation to the tiers in the program urge the member (or "gal", "bestie", "babe") to "get the backstage pass", a direct reference to the highest attainable tier.
Entry tier: General Admission
Second tier: Front Row
Third tier: VIP
Fourth tier: Backstage Pass

Join process
Enrolment into the Princess Polly Rewards program is via the website only as the store has transitioned to an exclusive e-commerce model, closing all brick-and-mortar shopfronts.
The member is asked to complete a simple sign-up form by entering email, name, password, and birthday.
Email confirmation is received within moments congratulating the new member on gaining access to the program. 10% discount is also offered via a discount code.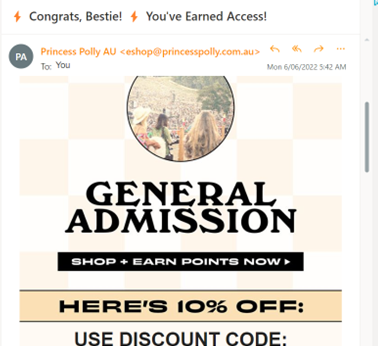 Earn and tier-progression (and regression)
Members earn points on purchases and for non-transactional activities such as social media advocacy. Points are the mechanism that allow members to climb tiers. As members spend and achieve points thresholds, tier benefits are unlocked. The points do not appear to be redeemable for product (clothing or accessories).
Once customer enters a new tier, they will remain in that tier for 12 months. If after this time they do not earn sufficient points to retain the tier, they will be downgraded to the appropriate tier in line with points threshold.
Princess Polly Rewards has mostly duplicated the commonly seen "ways to earn points" within the fashion and retail industries such as discounts and join bonuses. Where this program has a differentiated earn proposition is in two key areas:
Non-transactional earn advocacy, reviews, quizzes and signing up to mobile communications
Highly incentivised advocacy: points can be earned per social media platform (Instagram, Facebook, Snapchat and TikTok) and when leaving product reviews. The social media focus of the program complements the product offering and demographic as Princess Polly also has a standard 10% student discount and provides customers the option to "Shop by influencer".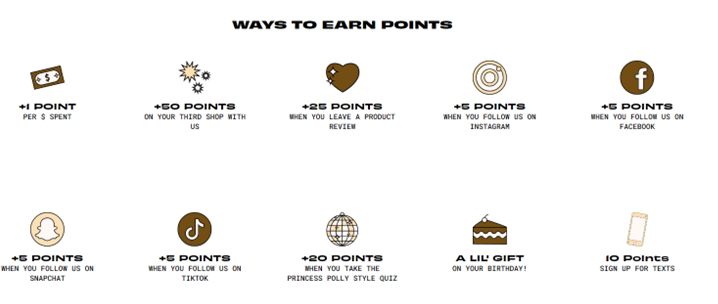 Perks
Tier benefits are mostly discounts associated with events such as birthdays and join anniversary. All discounts and credits associated with tiers expire within 30 days.
Events and festival draws also add an element of surprise and aspiration which is complementary to the brand.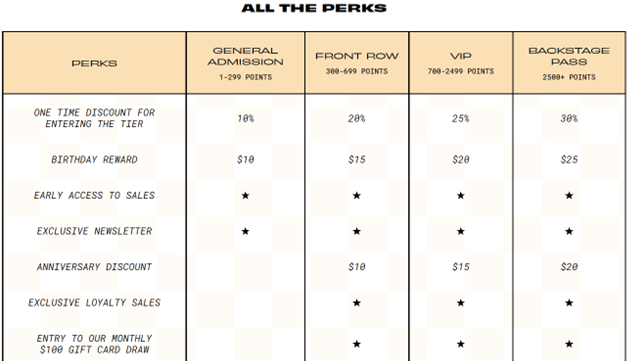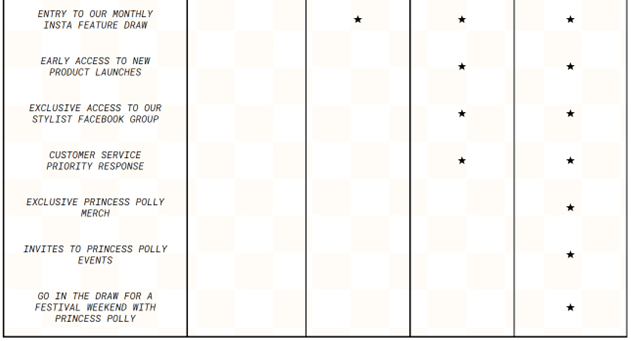 The Member Account
The member account is logical and utilises gamification elements. Engaging icons highlight the member perks associated within the member's allocated tier. Ways to earn points are reiterated and there is a progress tracker aspiring members to spend to earn more points on the journey towards the coveted Backstage Pass tier.
Points will automatically post to the member account within minutes of placing order.
All rewards expire within 30 days to encourage frequency.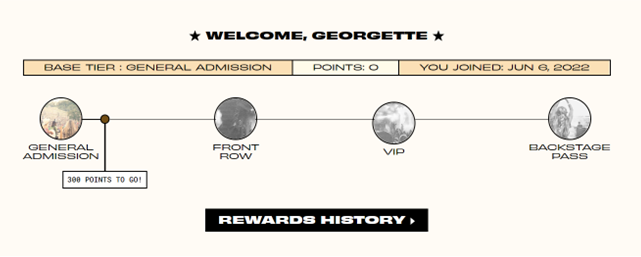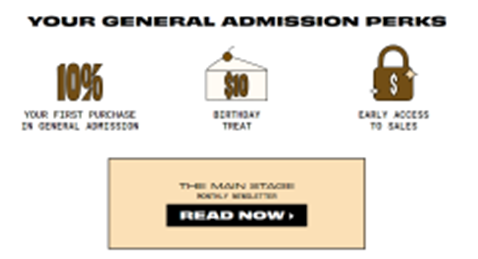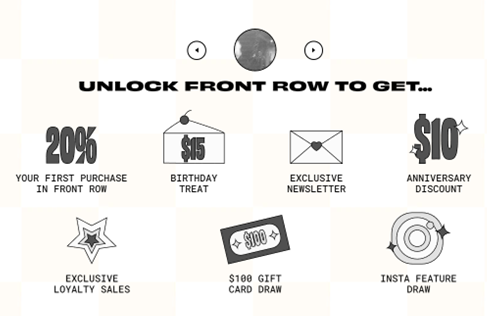 Referral Program
The program also has a typical get-and-give referral program whereby the referrer receives a $20 credit on their account and the referee receives a $15 credit.

Potential improvements
Overall, the program is well designed and likely to stimulate engagement.
There were three key areas that could be enhanced by any retail brand wanting to draw inspiration from the Princess Polly Rewards program.
The largest missed opportunity is that points are not redeemable within the program. There may not be sufficient margin within the business to fund redeemable points and maintain a points liability. Points, however, are perceived as a loyalty currency for earning and redeeming and this may not be the most appropriate tier-progression mechanism to employ. A status credit approach could be explored to replace points (like a Myer One model).
Customers with existing Princess Polly accounts were automatically enrolled in the Rewards program starting as entry-level members. This did not recognise past loyalty although transaction history would be available through the member account.
While tiers are fun and on-brand, the benefits associated with the top tier are not particularly as aspirational as they could be to drive engagement. Strategic partnerships could potentially contribute to enhancing the appeal of the highest tiers if there are no feasible rewards available within the business.
Some elements of the online journey had glitches and were slow to load such as the sign-in page which first showed a less-than-aesthetic form before then loading to a more suitable layout.

The final set
The Princess Polly Rewards program is undeniably complementary to the Princess Polly brand, solidifying the brand identity and relevance to the target market. The website effectively positions Princess Polly as a sustainable, ethical brand that cares about the future of its members and women within the supply chain.
The program offers a well-rounded, non-transactional earn component which takes the spotlight by successfully threading the music-festival "vibe" throughout the delivery of consistent branding which is further supported by a robust social media and advocacy strategy.
Overall, a well-executed program from the team at Princess Polly.