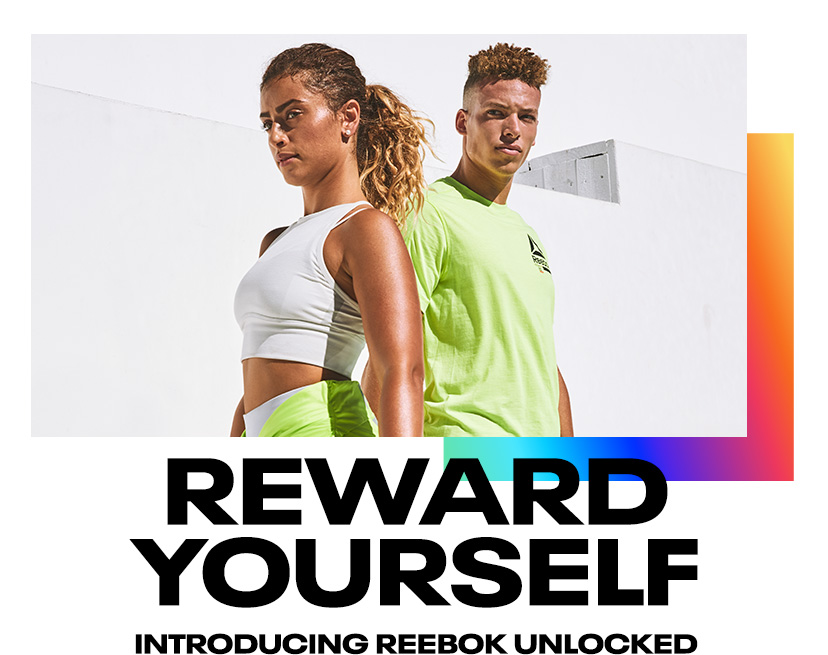 The must-have footwear fashion item for many young adults of the 21st century has evolved from the tall stiletto or custom leather shoe to the common sneaker. Being a high commodity product in an increasingly competitive industry, brands have begun to focus on better capturing customer consideration through loyalty programs.
Reebok is a good example of such a brand, offering its members valuable rewards for interactions beyond the transactional level with the Reebok UNLOCKED rewards program.
How does it work?
Reebok UNLOCKED is very simple. Members are motivated to earn points by interacting with the brand in various ways, allowing them to unlock new tiers throughout their journey. Each time a member unlocks a new level, they will be able to access increasingly higher value benefits.
Levels to unlock:
How members can earn points:

Level 1 – Member: 0 – 999 points
Level 2 – Insider: 1,000 – 2,999 points
Level 3 – Premier: 3,000 – 5,999 points
Level 4 – Full Access: 6000+ points
Creating an account = 50 points
Completing your profile = 60 points
Purchasing items = 10 points for every $1
Reviewing items = 100 points
Interaction via social media
Double points events
So, what are they doing right?
1. Personalising the customer experience
Reebok motivates members to share more personal information about themselves in exchange for points, allowing them to access crucial zero-and first-party data. As a result, Reebok has expanded its personalisation capabilities, targeting members with more relevant rewards that better resonate with its customers.
2. Stimulation throughout the journey
The program itself is saturated with gamification elements. For example, members must unlock levels instead of tiers, accompanied by pixelated badges and imagery to complement each upgrade.
Members can also visually track their points on their account through a bar that fills proportionately to their earnings. By showing members the proximity to their next goal, Reebok UNLOCKED compels members to complete each level by capitalising on the endowed progress effect and goal gradient effect.
Reebok UNLOCKED also hold rotating challenges, sweepstakes and bonus points events that are exclusive to members. In 2019, the Reebok UNLOCKED Back-to-Sport challenge encouraged members to record their exercise activities for three days, which would unlock a $5 donation towards the BOKS charity. In addition to supporting the charity, members could also collect achievement badges as well as earn 500 points towards unlocking their next level by participating. 
Designing earn opportunities to be more fun and stimulating has effectively allowed Reebok UNLOCKED to boost attitudinal commitment and create higher engagement levels to increase loyalty.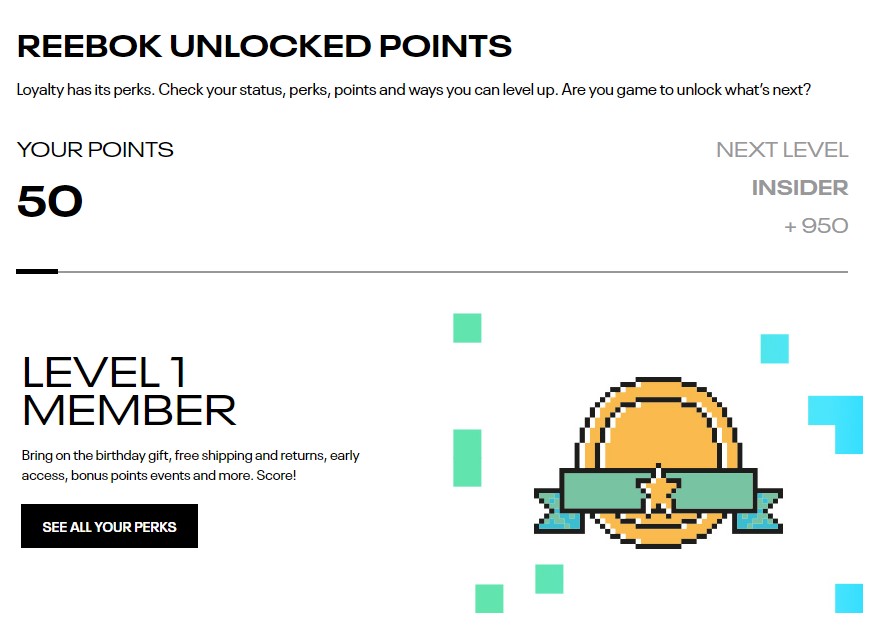 3. Variation in rewards
One of the key features of Reebok UNLOCKED is its combination of relevant transactional and non-transactional rewards. Most members can access a variety of desirable monetary benefits such as free shipping, discounts and birthday rewards that increase in value with each level unlocked.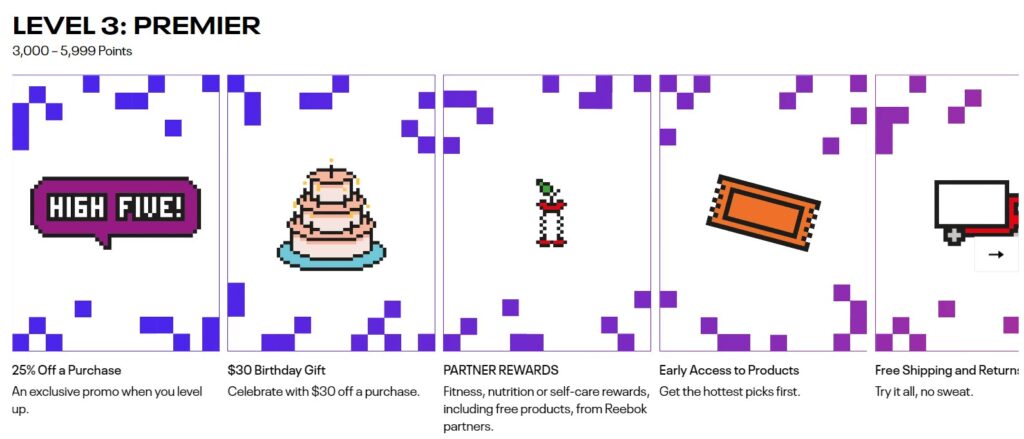 VIP customer service line
Fitness experiences with wellness experts & partner brands (e.g., training sessions)
Suprise and delight gifts & experiences (e.g., special perks at the CrossFit games)
Workshops and certifications
Free membership to the Adidas Runtastic Premium program for a year
The experiential rewards are critical to generating member engagement as they pose a greater impact on the receiver. The memories a member associates with a brand can evoke stronger emotions of loyalty, enabling the reward to make a longer-lasting impression. As a result, this can often lead to desired behaviours such as repeated patronage, increased spend and higher consideration.

The high value and exclusivity of the rewards also deliver a sense of trophy value, which allows Reebok to benefit from social identity theory. This effect can encourage the continuation of status reinforcing behaviours, which are harder to achieve with many monetary-based rewards programs that exist today.
4. Building a community
Reebok UNLOCKED leverages the strength of social media to interact with its members by offering relevant, fitness-related rewards that can be shared online as a form of social proof. This internal interaction amongst members can lead to the development of a social community. Reebok also encourages this development by offering members bonus points for reviewing products online. This exchange is highly effective as it creates a natural, internal advocacy program that profits from the norm of reciprocity, compelling members to leave a more positive review in exchange for the bonus.
The future
Overall, I believe Reebok has designed a highly effective program that motivates members to accomplish certain desirable behaviours by offering relevant, stimulating, and valuable rewards. Adding a referral program could potentially provide the finishing touch to increase advocacy, however, this may not be necessary given the current success of their existing framework.