SMS isn't innovative, and perhaps feels like an outdated or expensive channel with the rise of messaging apps and the cost-effectiveness of email, however if SMS is used intelligently, it can be a very impactful and valuable tool for driving deep member engagement and customer loyalty.
A great SMS use-case I came across recently was from a local pharmacy who are leveraging the simple and familiar nature of text messages to give their customers an automated, personalised, timely reminder that their repeat scripts are ready to be fulfilled. Here's an example of the initial text: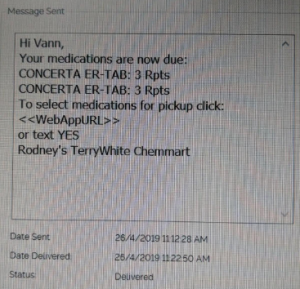 If the customer replies with a simple "YES", the scripts are dispensed, and the customer is notified that their order is ready for collection via another friendly SMS.

Using SMS to reach customers at the right moment is helpful, targeted and mutually beneficial, rendering it one of the simplest, yet most effective, mechanisms for customer loyalty and retention. So, what is being achieved here that makes this little tactic so impactful in such a big way?
The customer is at the centre: this personalised text message offers that extra level of customer care, saving the customer time, giving them peace of mind and providing convenience with the ability to 'skip the queue' when they get into the store (something that has been the basis for the success of huge companies like MealPal or Hey You).
The subscription model design is leveraged: many businesses are looking for ways to create recurring revenue based on the success of the subscription model in recent years with Netflix, Amazon Prime or Spotify. Given many people are on long-term medications, or have to take a course of medication which involves the need for repeat prescriptions, this lends itself perfectly to a roll-over service model.
The customer is driven into-store: once the customer is in-store to collect their subscription, the relationship with the customer is consolidated and deepened through friendly, personalised customer service and healthcare advice. The customer is greeted by name, given their script, reminded to take a vitamin to counter any harmful effects of their medication, remembers to also grab some moisturiser and is asked to swipe their loyalty card to redeem points on their purchase.
Blocks out the competition: by offering this intuitive and repeat service prompted by SMS, customers get into the habit of waiting for their text message and collecting their scripts before giving the competition a single thought. In addition, the pharmacy has the scripts on file, knows the customers medication schedule and has a complete profile of their healthcare history, making it inconvenient, frustrating, risky and highly unlikely that customers will switch providers regardless of price.
The way this pharmacy has used SMS in a timely and trustworthy way is providing them with repeat business, upsell opportunities and the ability to build strong relationships with customers ensuring they are kept happy, healthy, engaged, loyal and at the centre of the universe.
Stacey has a wealth of experience within loyalty, marketing and eCommerce across multiple channels and business models including Boost Juice, ModelCo and MyHouse. Most recently, Stacey has been managing the investor, member and retailer communications for blockchain loyalty company EZToken Rewards, as well as taking the lead on designing, developing, implementing and operationalising Resident Rewards, a new member benefits program for Lendlease.
Stacey is a proud pioneer of women in blockchain and attends meet-ups regularly. She built the website www.blockchainloyalty.io and regularly contributes content.