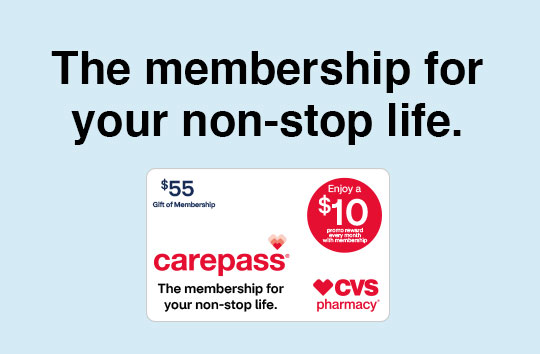 The paid loyalty scene has long been an arena that many retailers have been hesitant to get involved in. But is this framework the future of loyalty and rewards? Should you consider as paid loyalty program?
Major US drugstore chain CVS entered the space in 2019 with CarePass, a new membership program that provides:
Free delivery on eligible items
Discounts on certain products
Access to a digital pharmacists
A $10 CarePass reward which is added to the member's rewards card monthly and expires at the end of each month.

All this is available for the low price of a $5 monthly fee or $48 for a year.
As a business, CVS' creation of a paid loyalty program allows for the business to have an ancillary revenue stream, with better insights on their customers, understanding of their most loyal advocates, elevates customer engagement, cultivates instant gratification, and develops a strong relationship between brand and customer. But it also allows for more financial investment and focus on fostering these customer relationships to take the program to the next level.
As the wellness industry swells with more money than ever before, and in the wake of the COVID-19 pandemic, customers of CVS have more choices despite the high cost of healthcare in the country and may overwhelmingly consider one benefit over another when considering which retailers to use for their medication. Luckily for CVS, such rational benefits like free delivery and discounts are still desired by customers, and the added $10 monthly for customers to spend is enticing and relevant to these customers who would likely be spending that amount recurring.
While these benefits are all good and well, emotional benefits are key in retention, as this method focuses on and rewards customers who engage with the brand on a deeper level in the long run – something that seems to be missing from CVS. This can be achieved via a personalised approach that can lead to the customers becoming brand advocates. In this case it might mean CVS needs to look at making in-store experiences more special for CarePass members, or hold exclusive events that cater to their interests. This extra level of connection can do wonders for loyalty and the development of emotional connection between brand and customer should be the next focus for CVS.
So…should you be scared of launching a paid loyalty program? The short answer is: no. Paid loyalty is about rewarding and giving all your effort to your best customers, qualifying them and addressing their pain points, providing relevant and special benefits on rotation, and simply making them feel part of this exclusive club. If you know you have the capacity to do this and can ensure that this value is provided at all times to your members, absolutely consider it.
Given the financial investment from the customers, it's important for brands to make these members feel that they are being offered benefits they actually want and can generate loyalty and value through the delivery of these rewards and ongoing evolution of the program. These paid loyalty programs can use these financial investments to meet and exceed customer expectations, gain behavioural insights and forge sustainable and valuable relationships that can grow the business in the long term.
By providing immediate value to members, these programs are more profitable for brands and more engaging and valuable for customers as they are both emotionally and financially invested. But this also means the brand must always be creating a value exchange with members at many touchpoints and the strengthening of consumer relationships through trust and reciprocity to outweigh the limitless consumer options currently out there – and that's one thing that can't be paid for so easily.