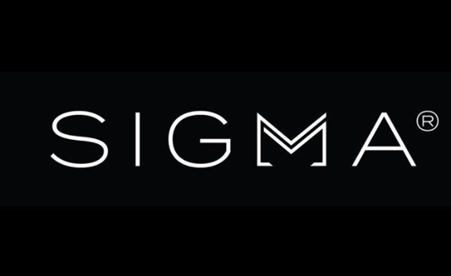 Sigma Beauty has created a great loyalty program with substantial offers but here is the catch, not everyone can join. The beauty powerhouse first found success with their clean beauty practices and award-winning accessories dubbed as the "holy grail" of makeup brushes.
Then Sigma PRO was born. The most exclusive program that is only accessible to professionals working in the beauty industry. Sigma PRO operates on the basis of supporting professionals, using the motto "We're here to support your career."
Who is eligible?
Eligibility only applies to those who are considered to be beauty professionals. There are three categories of professionals who meet the criteria:
Working makeup artists
Students of makeup artistry or cosmetology
Creative professionals such as models, performers, or actors.
By only allowing certain customers to join this program, Sigma Beauty utilises the effects of the Social Identity Theory where members will be made to feel as though they belong to an exclusive group that only customers with a professional status can join. From here members may feel more compelled to remain in the program in order to keep their status.
The very extensive joining process
In order to become a Sigma PRO member, customers need to endure a lengthy sign up process to prove that they meet the requirements of the program. There are 4 stages in the joining process
Stage 1: Select if you are a first-time member or renewing your membership, enter which profession category you apply to, state how you heard about the program and confirm if you currently have an account with Sigma Beauty.
Stage 2: To proceed with the application you have to enter your name, address, email, birthday and then upload a copy of your driver's licence.
Stage 3: You are then required to enter proof of employment such as a link to your professional website (YouTube and Instagram links are not valid). See below for requirements.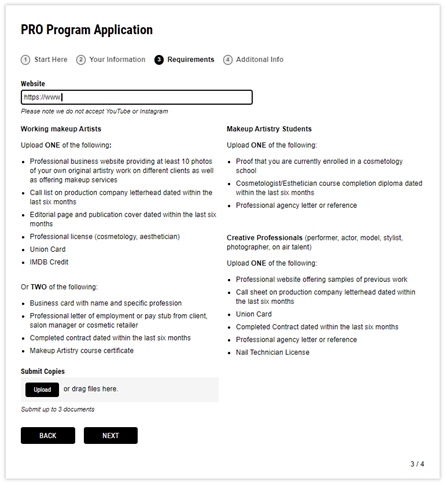 Stage 4: Here you can provide links to your social media and decide your communications preferences, pending acceptance.
Following the online application, customers are notified within 5-10 business days if they have been accepted into the program. As demonstrated, a very exhaustive and time-consuming process.
The benefits
Being a Sigma Pro member gives you access to a range of unique benefits including:
A 40% discount when shopping directly on Sigma Beauty's website.
Exclusive tips from Sigma PRO makeup artists.
First access to new products.
Opportunities for editorial credit and the chance for your work to be featured across Sigma Beauty's social media.
The perks are great. The fact that you can get 40% off every time you shop is a highly attractive offer. But the real winner here is the fact that beauty professionals are given the opportunity to gain exposure across Sigma Beauty's social media. Note that Sigma has 4.3 million followers on Instagram.
This could go a long way for someone's professional growth. It also ties back to the program's motto of "We're here to support your career", making it highly relevant. Here members may tap into the Norm of Reciprocity where they may feel compelled to keep transacting with a brand that is helping them to grow their career.
What about the non-beauty professionals?
Sigma Beauty has found success by choosing to offer significant rewards to customers who are more likely to spend larger amounts of money every time they purchase. Sigma Pro has been built solely on exclusivity and pro status, but what about the non-beauty professionals?
The beauty brand does offer a subscription-based 'beauty squad'. Here customers can sign up and receive 20% off their first purchase.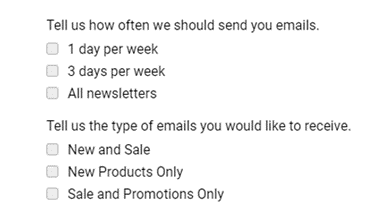 That sign-up process was significantly easier, with just an email and password required. Upon signing up myself I was given the chance to determine my email preferences upfront. I foolishly opted in for all newsletters and received, I kid you not, 10 emails in the first two days.
Apart from the 20% welcome discount and the influx of emails, I haven't received any other value since joining. A classic example of marketing assault by a new program.
Personally, I understand their approach. If Sigma PRO can increase sales targets by focusing on customers that are more likely to spend, then I can see how there is less of a need to target the rest of the customer base.
Is it worth it?
If I was beauty professional, I would sign up to this in a heartbeat. Having an interest in makeup myself, I know how easy it is to rack up a sizeable bill even after just buying a couple of items. Yes, the signup process was considerably harder than joining the beauty squad. However, a simple joining process doesn't keep me loyal if there isn't significant value.
In this instance Sigma PRO's higher than usual value justifies a more time-consuming joining process. If getting a 40% discount and possible professional growth means being a little more patient with the signup process, then so be it.