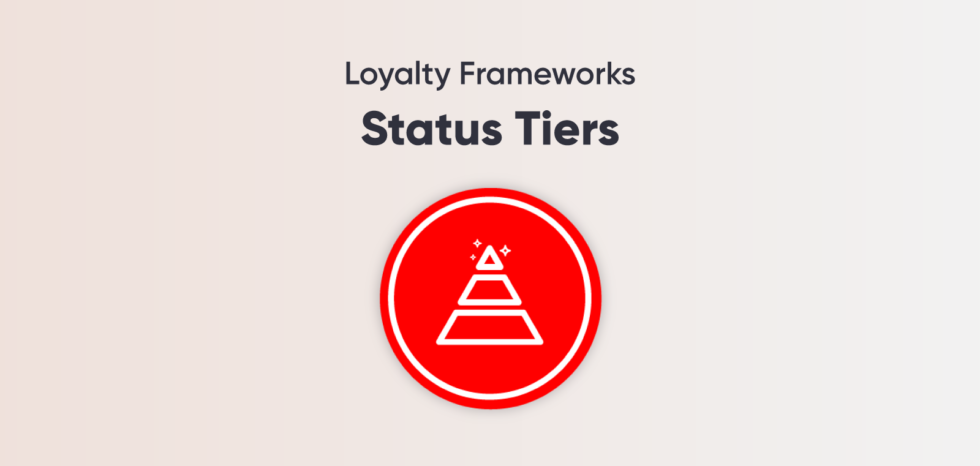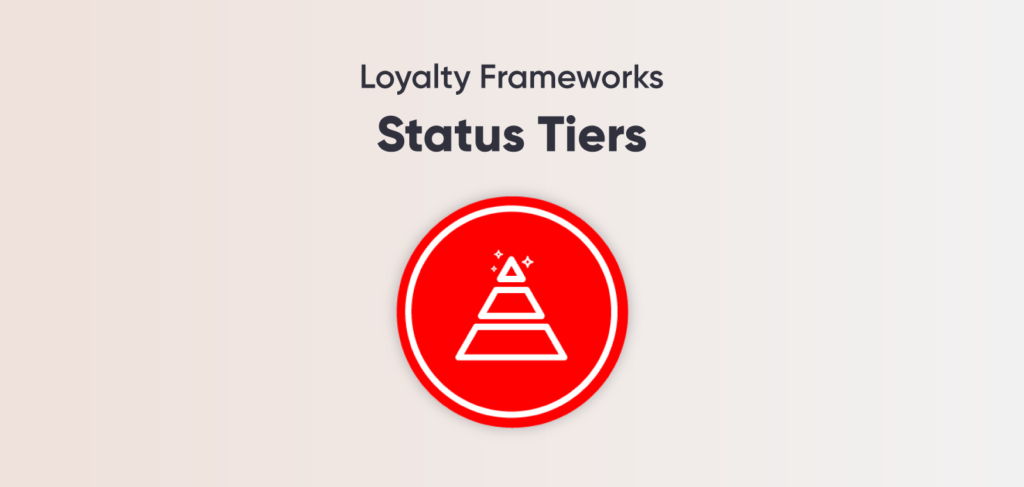 Status tiers are commonplace in many loyalty programs around the world. Although we see them all the time, like points, these programs can still be effective under the right conditions.
The first modern status tier structure appears to have been introduced by AAdvantage in 1982, when they launched Gold status to recognise their most loyal members. Many programs now segment members based on spend (or other brand engagement) via overt or covert tiers that deliver a range of exclusive tangible and intangible benefits.
This article explores the ingredients required to develop an effective status tier program, with examples.
Making status tiers work
The tiering approach is loosely aligned to the Pareto Principle, whereby a small number of customers can account for a sizeable amount of a company's revenue (the so called 80/20 rule). Tiering is most effective when a relatively small number of high-value customers are concentrated into elite hierarchies and provided with disproportionate attention and benefits. This is only cost-effective when the number of elites is small, because if the tier population is too big, the program operator will not be able to afford the generous benefits which make status tiers successful. Furthermore, research shows larger tier populations appear to make existing tier members feel less special.[1]
While the Pareto Principle does not occur across all companies (e.g. utilities, subscription companies and insurance companies do not appear to have such a pronounced effect within their consumer bases), it does manifest elsewhere (such as airlines, hotels and car rental companies) providing the conditions by which a status tier program can be usefully applied.
Status tier variations
Stand-alone status tier programs
This model provides set benefits to members at each tier level. Members can progress tiers in two ways:
Member engagement: when a certain amount of currency is accumulated (based on spend or other activities), a new tier is unlocked for the member. The currencies (i.e. status credits) themselves cannot be redeemed on any rewards, but are specifically designed to track progress towards the next tier.
Purchasing a tier subscription: allow members to pay a monthly or annual fee to instantly access one or a selection of tiers, with accompanying benefits.
Members are motivated to identify at each transaction to ensure they continue to progress towards the next tier, utilising the endowed progress effect and goal gradient effect. More valuable members are automatically recognised and rewarded with elite benefits and status titles, helping to develop their brand loyalty via social identity theory. Subscription tier members are also likely to experience the sunk cost effect bias, where they will feel compelled to engage more with the program to realise a return on their spend.
Swarovski Club
Member spend is tracked, with automatic progression to higher tiers when spend thresholds have been reached.
Swarovski Club encompasses four status tiers:
– Bronze: (A$0 spend)
– Silver: (from A$350 spend)
– Gold: (from A$900 spend)
– Platinum: (from A$1,800 spend)
This structure makes it relatively easy to access the higher tiers, with A$1,800 spend unlikely to be perceived as excessive for a Swarovski obsessive.
Benefits improve by tier, and include exclusive pre-sales, 15 per cent discount birthday voucher, free shipping, VIP events, and extra Gold/Platinum discounts and gifts.
Within program status tiers
A more common application of status tiers is within a broader loyalty currency program, such as an airline, hotel, car rental or bank program. The program segments members by their value to the business, and provides them with incremental benefits to recognise their loyalty. It reinforces the endowed progress effect and goal gradient effect, whereby members can track their progress towards a reward (with points or miles) and track a parallel pathway to a status tier (with a different loyalty currency, such as status credits).
The most common structure is four tiers (e.g. Bronze, Silver, Gold and Platinum), although some major coalitions have extended to five (a super elite tier above the previous top tier). Drèze and Nunes' (2009)[2] study found that a three-tier program is more satisfying to all members of a program than a two-tier program (Gold and no-status), even to those who do not qualify for elite status.
IHG One Rewards Club
The IHG One Rewards is the loyalty program of The Intercontinental Hotel Group (IHG). Members earn points which can be redeemed during stays at more than 6,000 of their hotels and resorts globally, and on, merchandise, gift cards, frequent flyer points from over 40 airline partners, donations and more.
Alongside points, IHG One Rewards has five membership tiers which unlock valuable benefits based on points or nights stayed.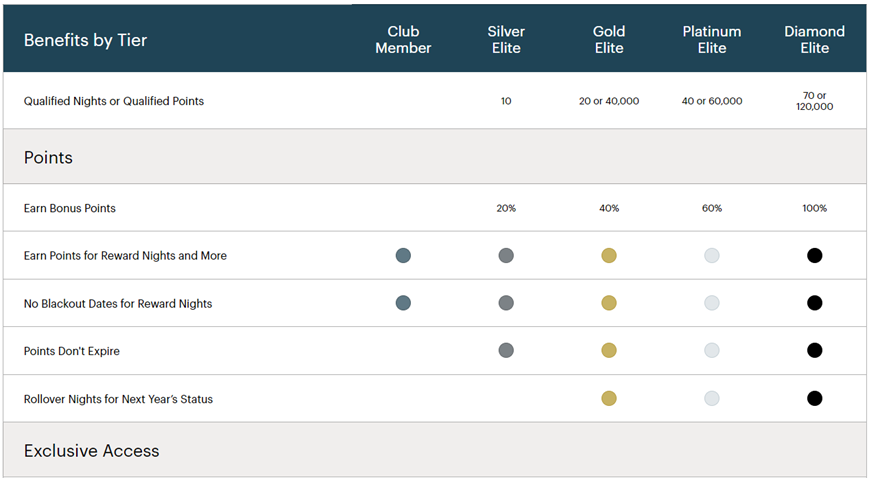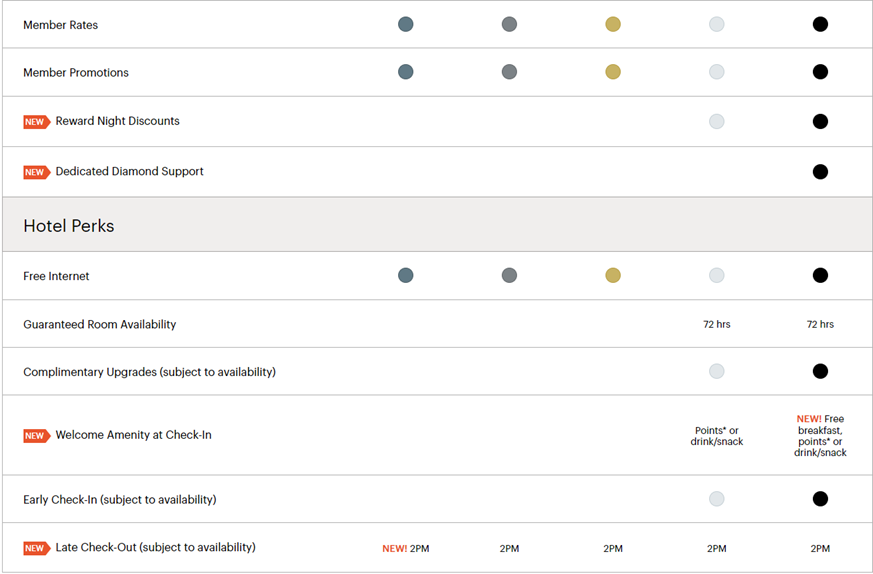 IHG have also introduced Milestone Rewards, which reward IHG One Reward members for every 10 nights they stay (starting from 20 nights). Rewards include bonus points, food & beverage rewards, suite upgrades, and lounge memberships.
Summary
Status tiers are very effective under the right conditions. The Pareto Principle must be evident for the model to be financially viable. This occurs when a brand has a relatively small number of high-value customers. Recognising and rewarding these high-value customers improves retention and incremental spend outcomes. A strong status tier program may entice customers at competitor brands to jump ship, improving acquisition outcomes. Swarovski Club and IHG One Rewards are good examples of how a status tier-oriented program can be implemented.
---
References
[1] Drèze, X. & Nunes,J., 2009, 'Feeling Superior: The Impact of Loyalty Program Structure on Consumers' Perceptions of Status', Journal of Consumer Research, Vol 35, pp890-905.
[2] Drèze, X. & Nunes,J., 2009, 'Feeling Superior: The Impact of Loyalty Program Structure on Consumers' Perceptions of Status', Journal of Consumer Research, Vol 35, pp890-905.