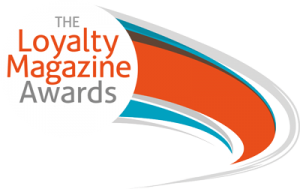 From today, there are less than two weeks to go for loyalty programs to submit entries for The Loyalty Magazine Awards 2019, with the deadline of 14th February fast approaching. Program operators are invited to explain in 1000 words what their loyalty program is doing that differentiates it as a brand and reinforces customer loyalty.
Now in their eighth year, The Loyalty Magazine Awards invite entries from Europe, the Middle East, Africa, India, the whole of Asia and this year they invite The Americas to enter for the first time, making this a truly global event.
2018 Loyalty Magazine Awards Gala evening at the Tower of London, was the biggest and best yet. 550 people celebrated the 27 winners from the more than 250 entries, with entries and attendees present from 45 countries. In the room were most of the 30 Rising Stars of Loyalty – now known as the Loyalty Royalty, and our Personality of the Year Bryan Pearson.
Winning a Loyalty Magazine Award is a huge achievement for a loyalty program. Companies enter from all over the world, from organisations large and small. There are entries from the loyalty giants and from new arrivals to the loyalty space, from long established companies and from newly formed ones.
The independent judging panel, made up of experts from many regions take their task very seriously and work very hard to be fair in their assessment of which loyalty programs are the best in the world.
Aspiring entrants can download the Call for Entries brochure here
Visit www.theloyaltymagazineawards.com for more information
Philip Shelper is a loyalty management consultant based in Sydney, Australia who obsesses about everything to do with loyalty and rewards. His company Loyalty & Reward Co are a leading loyalty consulting firm.
Phil is the author of Blockchain Loyalty: Disrupting loyalty and reinventing marketing using cryptocurrencies. Buy the book.
www.blockchainloyalty.io is a global resource centre for everything blockchain loyalty.
Let's connect!
LinkedIn: https://au.linkedin.com/in/philipshelper
Twitter: @phil_shelper