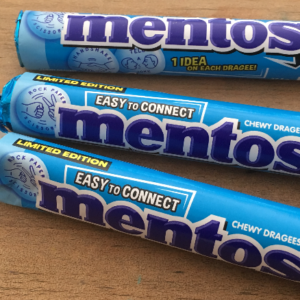 Here at Loyalty & Reward Co HQ we've realised we're depressed with all the nasty stuff going down in the world. Just when we needed a dose of sympatico, Mentos have launched their new campaign, Easy to Connect, which encourages humans to 'say hi' to one another courtesy of fun printed message and icons on the sweets
Did you know Mentos call their sweets dragees? We didn't, but we asked Siri, and sure enough a dragee is a sweet consisting of a centre covered with a coating.
Our team have been trying the Limited Edition dragees out each time a new client, courier or friend walks into the office, and we think they're awesome. Share a wink, a hug, a smile, do yoga, do a moonwalk or even tell a joke. These little messages really are sweet – encouraging us to take time out and reconnect to what's really important: shared warmth and understanding.

All the icons involve two or more people connecting – whether doing a fist bump, a low five, having an arm wrestle or sharing a picnic. There's a visceral and childlike quality to the connections Mentos are asking us to make. Taking us out of our usual routines and into the timeless world of fun, childhood games like hide and seek and thumb wars, and shared moments of tenderness in a hug or a massage or the collective frenetic excitement of a dance off. We've been encouraged just for a few seconds to slow down and appreciate the moment with real human engagement.
The suggestions for how to achieve this connectedness are delivered with a great sense of fun that is instantly engaging. Kids and adults of all ages are likely to come back for more because there's real pleasure in discovering the messages and participating in the games they offer.
Mentos prove customer loyalty & engagement doesn't always need a formal loyalty program, just an engaging and well-executed idea.
Philip Shelper & Dr Kate Ireland
Philip Shelper is CEO of Loyalty & Reward Co, and a specialist loyalty consultant. He continually obsesses about everything to do with loyalty and rewards.
Dr Kate Ireland is CMO of Loyalty & Reward Co, and a tireless researcher who spends bucket-loads of time searching for the next big advance in customer engagement.
Loyalty & Reward Co are a leading loyalty consulting firm.
Let's connect! https://au.linkedin.com/in/philipshelper