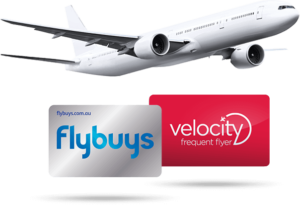 Months after Qantas Loyalty and Woolworths announced Woolworths Rewards members can earn Qantas Points again, flybuys and Velocity have jumped into bed.
When customers shop at Coles, Coles Online, Liquorland or First Choice Liquor and use their flybuys card they will continue to collect flybuys points as usual. They can then transfer their flybuys points to Velocity Points.
Members can transfer flybuys points in multiples of 2,000 for 870 Velocity Points. Transfer is capped at 138,000 flybuys points per calendar year per household (equivalent to 60,030 Velocity Points).
For a limited time when members transfer flybuys points they'll receive 15% extra Velocity points.
If several members of a household are using the same flybuys account, they can unfortunately only link to one Velocity account, however they can change the link at any time to another frequent flyer within the flybuys' household.
flybuys members also earn Velocity status credits. Members earn 1 Status Credit for every $100 spent, up to 10 per month.
Philip Shelper is a specialist loyalty consultant based in Sydney, Australia who obsesses about everything to do with loyalty and rewards. His company Loyalty & Reward Co are a leading loyalty consulting firm.
Let's connect! https://au.linkedin.com/in/philipshelper