Loyalty programs are about more than just points, miles, tiers, discounts and rewards. They involve ideas, processes, interactions and technologies working together to drive meaningful member engagement which strengthens relationships, fosters commitment and generates loyalty as an outcome.
Most industry experts agree on the ambition of a loyalty program; to drive deeper engagement between members and a company or brand, manifesting in incremental acquisition, spend, retention, brand affinity and advocacy. However, not all loyalty programs succeed in achieving these goals.
This blog article outlines the benefits and challenges associated with loyalty programs from both a consumer perspective and a company perspective.
Benefits of loyalty programs

for consumers
From a consumer perspective, the benefits a loyalty program can provide, include:
Value: members may be rewarded with desirable tangible or non-tangible benefits.
Exclusivity: members may be provided with access to exclusive benefits that non-members do not receive.
Recognition: members may be shown appreciation through the delivery of surprise gifts or rewards.
Relevancy: members may receive tailored communications, offers and experiences specific to their individual preferences, increasing their usefulness and appeal.
Challenges of loyalty programs

for consumers
Core challenges consumers face when engaging with loyalty programs can include:
Value: the rewards provided by the program may not be perceived as adequate, compelling or accessible.
Program saturation: consumers may be overwhelmed by the sheer volume of loyalty programs being promoted to them, with most consumer companies offering a program to their customers.
Marketing assault: many loyalty programs send large volumes of marketing materials to members via email, SMS, push notification, banner advertising and mail. For some members, the volume of marketing received may be perceived as excessive, while the content may not be relevant.
Data capture and control: a loyalty program may capture personal data in ways the member is not aware of, or does not approve of, and use it for purposes the member may not deem appropriate. The member may also feel they have a lack of control over how their data is captured and used by the program.
Summary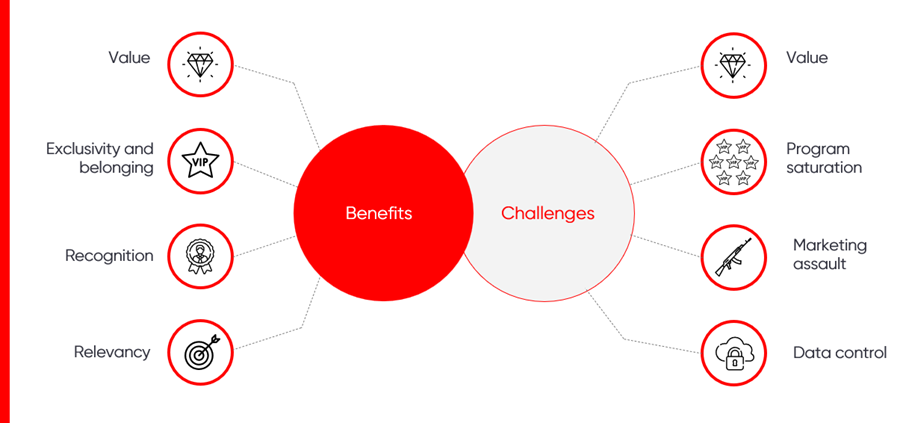 Benefits of loyalty programs

for companies (program operators)
For a program operator, the potential benefits are numerous:
Grow and protect share of wallet: a loyalty program can grow the recency, frequency and value of member transactions by making the engagement process more rewarding. It can also reduce member churn by developing meaningful relationships and introducing barriers to exit.
Better understand members: a program can play a useful role in better understanding members as individuals and tailoring communications, offers, products and services to meet their needs more accurately.
Drive advocacy: a program can successfully turn members into promoters by delighting and rewarding them above their expectations.
Build a marketing database: a program can be an effective way for a company to build a member database and collect zero- and first-party data. In the age of digital marketing, this is one of the most valuable assets a company can possess, as it increases the effectiveness of marketing while reducing advertising costs.
Challenges of loyalty programs

for companies (program operators)
Core challenges program operators face when executing loyalty programs can include:
Expense: designing, implementing and running a loyalty program can be expensive. Companies generally need to hire expertise to design, implement and operate a program. The may also need to plus buy, build or lease the required technology systems and solutions. Additional expenses can include marketing, training, legal, analytical analysis, accounting and customer service. There is also the cost of rewards.
Ability to deliver meaningful value: the key driver of engagement with most loyalty programs is value. Members will join a program because they believe they will access value, and they will continue to engage because they perceive they are accessing value. Some companies do not generate sufficient margin to be able to deliver enough value directly to the majority of the member base to ensure their engagement is maintained.
Disengagement: maintaining consistent member engagement can be challenging. Many loyalty programs have significant numbers of members on their database who no longer engage with the program at all.
Competition: the loyalty industry is incredibly competitive and growing more so every year. Loyalty program operators need to continually innovate and evolve to ensure they remain attractive and relevant to their members, especially when compared to competitor programs.
Summary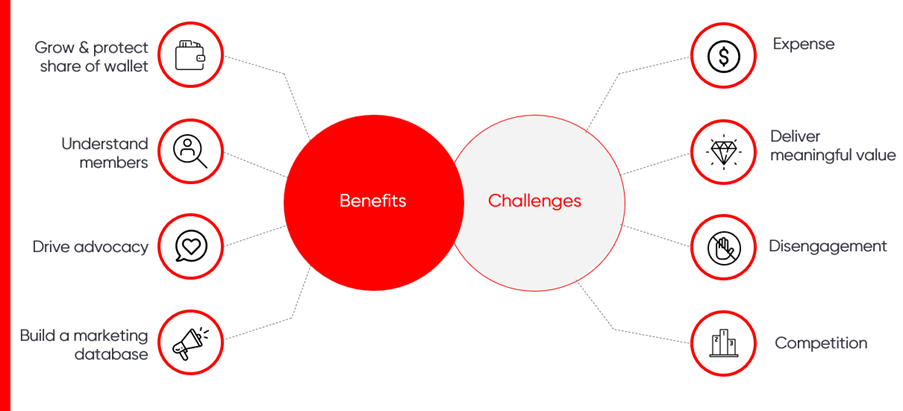 With such a wide range of benefits, it is not surprising that loyalty programs have expanded into most industries and most countries globally. However, many companies struggle to navigate the range of challenges and, as a result, operate at a suboptimal level for both the members and the company.
Loyalty consultancies, such as Loyalty & Reward Co, can be used to conduct health check audits of existing program and recommend strategic enhancements to improve program effectiveness.