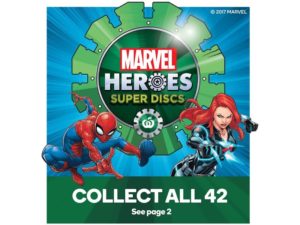 Loyalty & Reward Co have been ardent observers of Woolworths Rewards ever since the tie-up with Qantas Frequent Flyer back in 2009 (with their predecessor Everyday Rewards). There was the break-up with Qantas, the orange ticket fiasco, the back-tracking with the introduction of Woolworths Points and a new Qantas relationship, and now the big Quantium play with their personalisation engine. It all makes for very interesting viewing.
Are the Woolworths Rewards' team finally getting it right? Maybe, but another area of the business is giving them a superior lesson in reward program execution, with the recent launch of the Marvel Heroes Super Discs campaign.
Supermarket shoppers are currently rewarded with plastic collectable discs sporting super-hero faces. These can be scanned by a branded App to access hero details, videos, games and recipes. For most of this year the dominant toy brand at schools across the country has been Pokemon, where kids have spent countless hours swapping cards (10 for $8!) and battling with strange creatures. In the last two weeks, Woolworths has done the unthinkable, unseating Pokemon from the top spot and winning the obsessive hearts of fickle, strange creatures (a.k.a children).
Who wears loyalty best? Let's compare Woolworths Rewards against Woolworths Marvel Heroes Super Discs campaign using the six core elements essential to any quality loyalty & rewards program.
Simple
A reward program should be simple to join, understand and engage with. Both score fairly highly here. Woolworth Rewards join process is easy, and the proposition is simple; earn 2,000 points and choose a supermarket shopping discount or Qantas Points. Marvel Heroes Super Discs is equally simple; spend $20 to earn one disc, then download the App and scan to access exclusive content.
Emotional
A reward program should generate an emotional connection between the member and the brand. Marvel Heroes Super Discs are the most desired collectable in the country right now, and will be for months to come. Did we mention they unseated Pokemon? It's all my kids will talk about, and when it comes to grocery shopping, they may not be decision-makers but they are very effective influencers, such they we've switch from Coles to shopping exclusively at Woolworths right now. Does Woolworths Rewards have such sway? It's hard to feel emotional about a $10 discount for a $2,000 spend. Today I bought a litre of Devondale UHT milk because it came with an extra Marvel Heroes Super Disc, despite the fact I don't need UHT milk. Could Woolworths Rewards do that?
Valuable
A reward program should deliver tangible perceived value to engaged members. Woolworths Rewards earn rate starts at one point for every $1 spent (worth 0.5c), but this increases marginally based on certain product categories and campaigns. If a single Marvel Heroes Super Disc costs Woolworths a maximum 10c then the campaign is cheaper to run than Woolworths Reward. More importantly, the perceived value of a disc is massive. Give one to a school kid and see for yourself. They literally salivate. Some even begin hyperventilating. One fainted and hit their head. There was blood.
Delight
A reward program should positively surprise with unexpected enjoyment and delight.
Marvel Heroes Super Discs 1, Woolworths Rewards 0.
Differentiate
The reward program should positively contrast the business against competitors. At Coles members earn points. At Woolworths members earn points. At Coles, customers don't get Marvel Heroes Super Discs, the most sought-after collectable in Australia. At Woolworths, customers do get Marvel Heroes Super Discs, a reward which has children foaming at the mouth and has unseated Pokemon. Parents are deserting Coles in droves to shop at Woolworths so their kids can access small, coloured plastic disks available nowhere else in the world. The recent 5.1% quarterly growth reported by Woolworths (vs 0.8% by Coles) is nothing compared to what they'll see this quarter. Why have they not rolled the campaign out to the struggling Big W? It could change everything.
Develop
A reward program should evolve endlessly in a quest to achieve ever-increasing member engagement. We're hoping Woolworths Rewards is planning to evolve, although how this is going to happen is anyone's guess, considering a extended coalition loyalty plan doesn't seem to be within their strategic consideration. The immediate challenge for the Marvel Heroes Super Discs campaign is how to harness the massive momentum already generated and extend it for as long as possible. Woolworths has released a line of supportive merchandise including super hero cups, hats, disk boxes, disk books and more, but will this be enough? CEO Brad Banducci would do well to pull together a task force of his finest minds to figure out how to milk this cow for all it's worth.
And the winner is . . .
Woolworths' Marvel Heroes Super Discs campaign shows how it's done. We bow down in awe and praise, and shed a glorious tear at the unbearable beauty of it all.
P.S. If anyone has a Hulk disc, we're willing to swap a Spiderman disc & a Thor disc for it.
Philip Shelper is a specialist loyalty consultant based in Sydney, Australia who obsesses about everything to do with loyalty and rewards. His company Loyalty & Reward Co are a leading loyalty consulting firm.
Let's connect! https://au.linkedin.com/in/philipshelper