The New Zealand Automotive Association (AA) was founded in 1903 as a small group of motoring enthusiasts in Auckland. Fast forward over a century and they boast over 1.8million members. March 1998 saw the introduction of their first points-based loyalty program, where they partnered with 5 outlets and provided members a $20 discount coupon to use on goods and services. Today their program is a little different. Relaunched as AA Smartfuel in Nov 2011– this loyalty program has been ranked the best in NZ in 2021. But why?
How AA Smartfuel stands out from the crowd
With the rising costs of everyday living, any savings on family expenses is a way to cut through the clutter and potentially gain a new loyal customer. Fuel seems to always be increasing. Within Australia there are a number of programs customers can join to save 4c a litre or lock your fuel price. However, this loyalty concept in New Zealand tickets a lot of boxes and to me, seems amazing value.
There are two concepts on saving on AA Smartfuel card:
Straight discount at the pump when you present your card (e.g., 6c at BP)
Scan your card at any of the 1200+ retail partners and accumulate a higher % discount (up to 50c/L)
By scanning your card you can choose to build a huge percentage discount by accumulating discounts across different retailers by simply doing your shopping and scanning at point of purchase. Some examples of retailers include: Bargain Chemist, The Bottle-O, Repco, PetDepot, Countdown etc.
Each retail store has a minimum spend and different discount for petrol that can be accumulated together. What I love about this – retails can increase their percentage on offer can do promotional campaigns to assist in their business strategy and targets. Everything is trackable for the businesses so return on investment is easy to attribute.
Helping to build the percentage discount
SmartFuel provides tips and tricks on how to accumulate the most fuel savings. Customers actually are encouraged to share their tips through social media. My favourite is the accumulation at the actual petrol station. Instead of doing one large fuel purchase and receiving the 6c discount, if you split this into 3x$40+ purchases you will accumulate a multiplier on the discount for future use. The below example provides an 18c accumulated discount to redeem.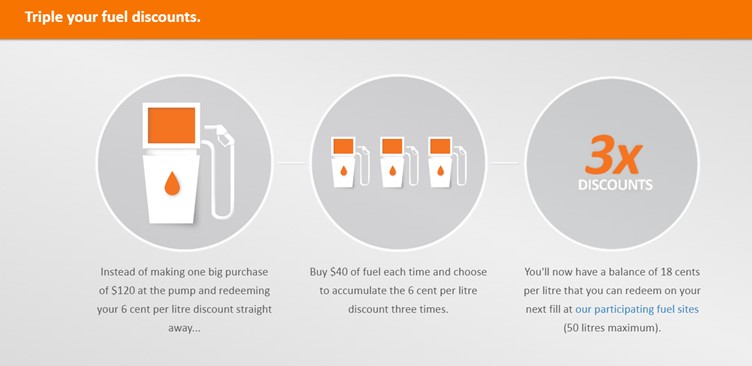 Success has been based on understanding the members
AA have really thought about what their members need – savings for their cars. By partnering with everyday retail stores they show they understand their members. This connection to everyday purchases with a simple scan of their card, allows the member to actively participate and not over complicate the program.
It is also important to point out that by adding the program to routine purchases they are creating a highly engaged member. Further to this, by allowing members to accumulate their points, AA is gratifying some members needs to strive for the highest percentage discount possible.
But how can Aussies use this program?
Anyone can become a member of this program in in NZ and save on fuel. If you travel their all you need to do is either:
you can either download the App or,
grab yourself a free AA Smartfuel card at the local BP.
When on the go, the App allows complete control over the percentage in real time and really provides a sense of control to the member for gratification.
Retailers would be nuts not to want to be involved
This program is highly affordable for retailers. They only pay for points redeemed by members. Also, as AA does not take any cut from the discount provided, retailers can be more generous for the member – which leads to more engaged members. Last estimates showed that the cost to the retailer was approx. 1%.
This marketing cost is low when you consider the reach, audience, engagement, loyalty and purchasing behaviour the retailer will gain. Don't forget the rich insights and data available to allow retailers and AA to optimise the percentage discounts.
But what about non-petrol vehicles?
AA is also ensuring future technology choices for fuel are included. EV Charging stations are included where you can earn $0.25 ChargeNet credits for every 1 cent per Litre.
Final takeaway
The only real drawbacks are:
The limited window to redeem. Redemption needs to occur within the following calendar month from purchase (i.e., you purchase in March, you need to have redeemed by end of April). But families can always plan around this to maximise their savings!
Capped percentage discount at 50c/L. This is generous, however I would love to see them open this up for special promotions to encourage more community gamification sharing.
Overall, this is a program that listens to member needs, continually adapts and brings in new partners to ensure it remains relevant. A lot of fuel for thought for Aussie petrol stations to consider.