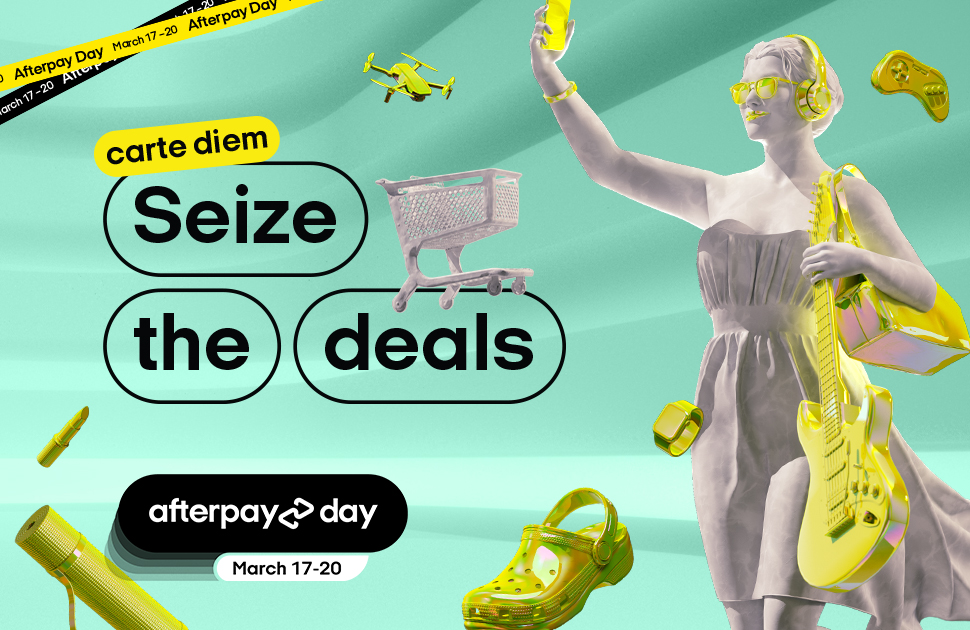 The Afterpay Day Sale was on last week!
Between the seventeenth and twentieth of March, Afterpay users were treated to slashed prices, competitions, and exclusive drops. In the spirit of this deluxe shopping event, I decided to investigate Afterpay, and little did I discover they have a loyalty program called Pulse Rewards. This program had been cleverly tied into the Afterpay Day Sale with members earning extra throughout the sale.
The Sale
So, what is the Afterpay Day Sale? Customers are encouraged to purchase through Afterpay for four whole days. The app offers customers extreme deals at selected retailers, sometimes up to seventy percent off. Customers have been encouraged for some time now to create a wish list of brands and products that they love and are reminded once the sale goes to live to come back and shop for those brands at a potentially discounted rate. This year Afterpay has also partnered with several brands to provide some exclusive Afterpay Day product drops.
One of the downsides for Afterpay with the sale is that brands complete their marketing campaign and provide sales to everyone, not just those that use Afterpay. Afterpay has therefore included a little extra benefit for those that use Afterpay specifically. As an added value for the sale, anytime a customer spends over twenty dollars, with Afterpay, they are automatically entered into a competition to win one of eight, one-thousand-dollar Visa eCards. Being a Pulse Reward member and shopping in-store also gives customers bonus entries.
Afterpay Pulse Rewards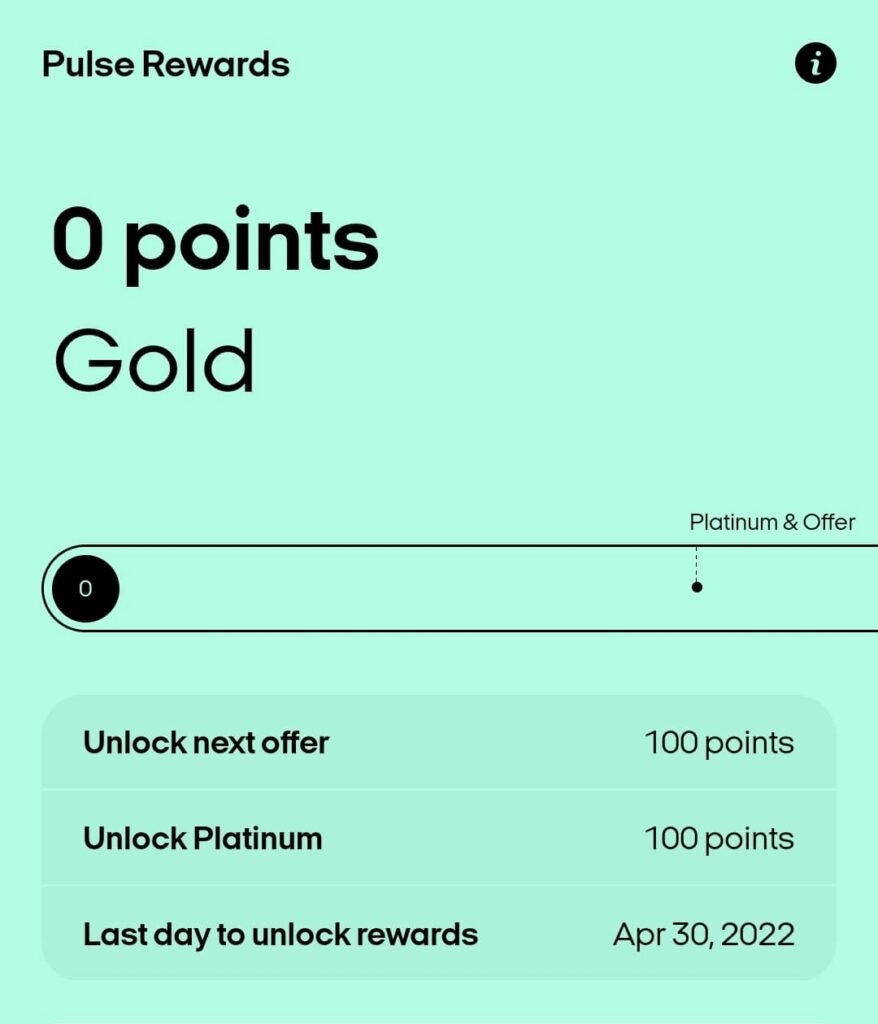 The Afterpay Pulse Rewards program is a tiered member benefits program. To sign up customers must download the Afterpay app and opt-in. To then earn points (the currency of the program to move up tiers) customers must make regular repayments on Afterpay loans. For every on-time repayment of forty dollars or more, customers earn ten points. The first tier of the program is called Gold, and its points range is zero to ninety-nine. To move up to the second tier, Platinum, members must earn over one hundred points. The final tier is called Mint and members must earn over five hundred points. Without bonus points, which is approximately two thousand dollars spent in Afterpay repayments. The program does offer the option to earn bonus points by engaging in extra activities. For example, buying from a small or sustainable business earns you an extra twenty points.
The Model
The Afterpay program is what is known as a tiered member benefits program. Member benefits are company provided rewards that can only be accessed through the loyalty program. A tiered program like this encourages members to further spend with Afterpay to progress through said tiers. Each tier provides benefits that make it easier for members to spend again. It is a brilliant program for Afterpay, an absolute win-win. Members continue to spend, all while redeeming rewards that have little to no cost to Afterpay. In loyalty, we call this phenomenon efficient rewards, which is rewards that are highly valued by a customer but come at little to no expense to the company.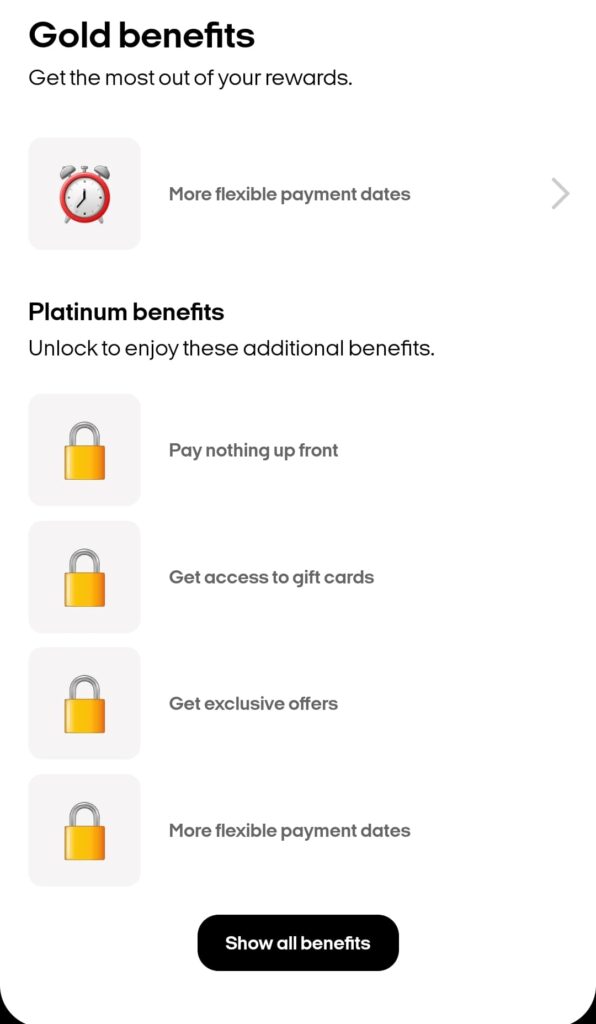 The Benefits
At each tier, members can access certain benefits. These benefits are categorised into three headings, Save, Flex and Access. The benefits under Save include exclusive members only Afterpay deals. Gold or first-tier members receive only a single welcome offer while higher tiers have access to an exclusive offer at every one hundred points they earn. Under Flex, members acquire more flexibility regarding their Afterpay payments. There is the option for no up-front payments and a set number of times a member can delay their payment for up to seven days. The final benefit category is access, which allows members to access sales in the top tiers and buy gift cards that can be paid off in four payments.
Summary
Afterpay has done well to provide a program for their customers. A program like this does well to cater towards those that are already high purchasers through Afterpay but have little to offer in the way of acquisitions. Overall, the program does what it intends, rewards loyal members, and makes them feel appreciated.
Previously, Loyalty & Reward Co's Stacey Lyons has investigated Afterpay's loyalty program. What was said then is still true today, the program needs work. However, tying in the program with the Afterpay sale is a brilliant way to encourage further spending. Looking at this program it is easy to see the potential for the future of the program.