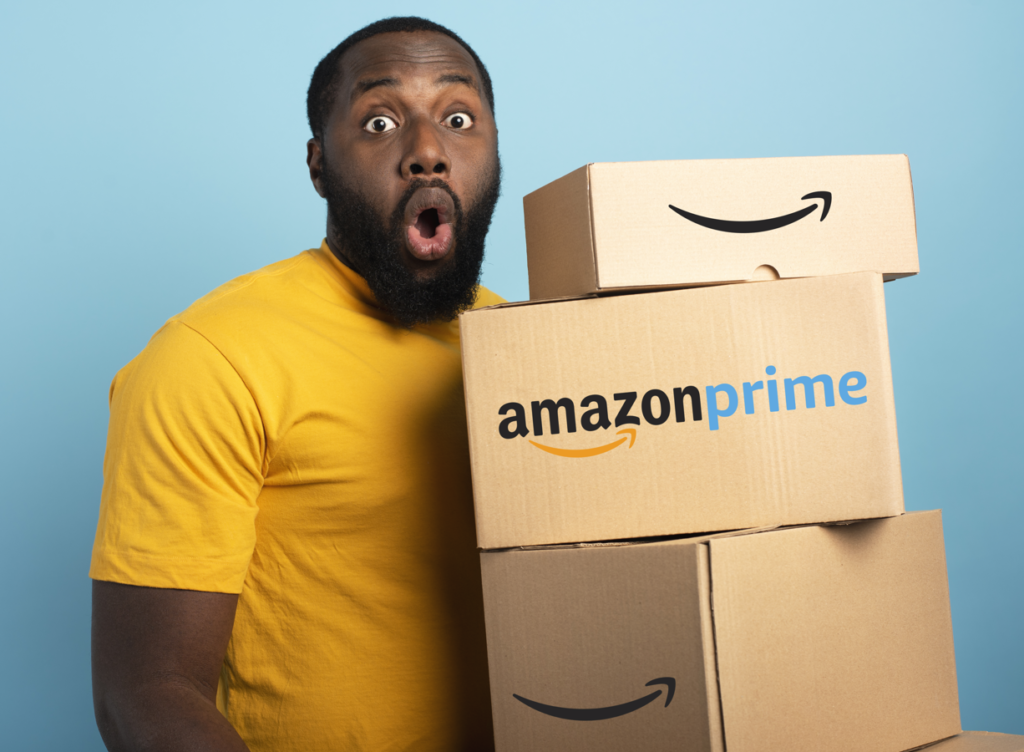 Subscription programs (also known as paid-membership or premium loyalty programs) can be witnessed across a multitude of industries particularly travel and retail.
While acquisition may be a challenge for paid programs due to cost-value equation considerations, a higher derived customer value often ensues from those members that subscribe.
Paid subscription programs provide opportunity to further elevate the overall consumer experience by providing higher-value rewards and deeper personalisation during key touch points.
The exclusivity of being a member of a subscription club can also be enhanced particularly when member is invited to a hidden tier for only high-value high-loyalty members.
While the offering of subscription loyalty programs is small today when compared to free-to-join programs, there is evidence of rapid expansion. Major brands are increasingly buying into the "Amazon Prime effect" and launching subscription loyalty programs in order to fund elevated experiential benefits and a sense of distinction appreciated by members.
There are a number of factors which make subscription programs more suitable to certain brands over others and exploration of a comprehensive set of loyalty program structures is still recommended to ensure brand mission and vision is achieved.
A subscription program offers immediate benefits that can be used at any time in exchange for a membership fee e.g., Amazon Prime.
A free-to-join or traditional loyalty program offers free enrolment however requires members to make purchases over time to earn rewards at a later date (via points/credits/spend accumulation).
Many subscription programs co-exist with free-to-join programs as witnessed in the accommodation industry with Mariott Bonvoy/Club Marriott and IHG Rewards Club/Intercontinental Ambassador. Often the free-to-join program acts as a funnel to upsell the subscription program and in some cases such as with IHG's InterContinental Ambassador, there is an exclusive invite only membership tier (InterContinental Royal Ambassador), for customers displaying high engagement behaviours.
Reportedly[1], the average consumer is part of 14.8 loyalty programs yet only active in 6.7 programs. However, there are limited studies exploring what portion of these programs are paid subscription programs vs. free-to-join.
According to a study conducted by McKinsey[2], there has been an increase in subscription loyalty programs with consumers in 2019 spending an estimated $25 billion to $30 billion on paid loyalty programs (about a 25 to 50 per cent growth rate from the previous year). The report makes reference to the fact that 63 per cent of consumers surveyed were already members of at least one paid loyalty program.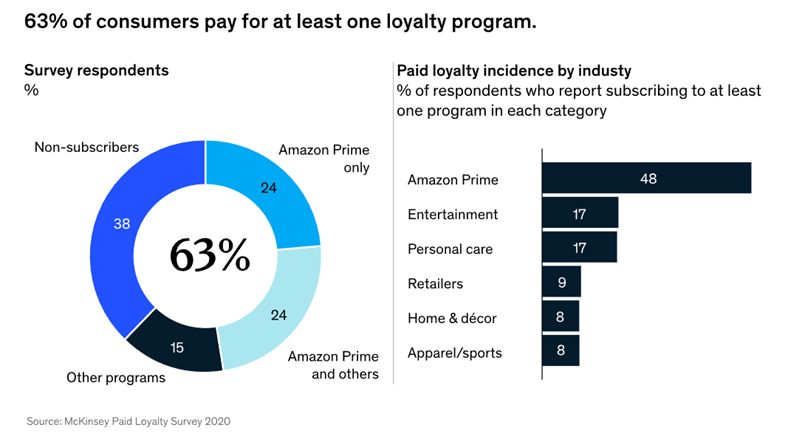 The appetite to join subscription programs has also been the focus of alternate studies. According to a report by Clarus Commerce[3], 76 per cent of consumers would pay for a subscription loyalty program with 81 per cent of free-to-join program members stating they would be willing to pay to join a subscription program with their favourite retailers if the benefits were valuable.
Clarus Commerce highlights that subscription programs are particularly lucrative for generation Z's up-and-coming customers with this age group more likely to be part of a subscription program (70 per cent) vs. a free-to-join program (63 per cent).
There are 4 key types of subscription program:
The COVID-19 impacted economic climate has driven consumers online thus increasing awareness of competitor offerings. There has been greater ease and convenience in obtaining price comparisons and weighing features of competing products and services. Maintaining loyalty to a particular brand is becoming increasingly more difficult. Members of loyalty programs are wanting more instantly attainable benefits and greater personalisation.
A subscription program can be a worthwhile option for a brand for a multitude of reasons:
High margin offering: Brands with substantial margins may wish to explore a subscription program as an extension of their existing marketing strategy to offer valuable rewards to high-net-worth members
Reward valuable customers: Paid membership programs are geared towards engaging your most valuable customers (retention), instead of nurturing potential and new buyers (acquisition).
Pareto dynamics: If a very small percentage of the base account for the majority of revenue, this is fertile ground for a comprehensive subscription program.
Smaller member base: Because membership numbers are lower, it's much easier to learn more about customer preferences and identify potential brand loyalists.
Revenue: The revenue stream available through subscription programs enable brands to fund more attractive, valuable and premium rewards that would ordinarily be too expensive or high-risk to offer more broadly or through a free-to-join program.
Return on investment (ROI): Subscription loyalty programs are more likely to have a higher ROI within a shorter period (after launch)
Cut through price competition: A subscription program may give a competitive edge and drive repeat patronage to businesses that have an undifferentiated line of business such as pharmacies (CVS CarePass).
Sunk cost bias or fallacy: Ashley et at (2015)[4] identified a sunk cost effect in subscription loyalty programs by running a study which demonstrated consumers who pay a fee to participate in a loyalty program have more favourable attitudes, and more positive evaluations of value for the money and benefits than non-paying members. There is a high likelihood of an individual continuing a behaviour or endeavour as a result of previously invested resources. In this case, a member is more likely to engage with a program or exhibit desired behaviour due to the monetary commitment invested. This is supported by a survey conducted by McKinsey indicating that "members of paid loyalty programs are 60 percent more likely to spend more on the brand after subscribing while free loyalty programs only increase that likelihood by 30 percent. In addition, paid loyalty programs drive higher purchase frequency, basket size, and brand affinity compared with free loyalty programs. As a result, paying members can be worth several times more than non-paying members, even setting aside revenue from membership fees themselves."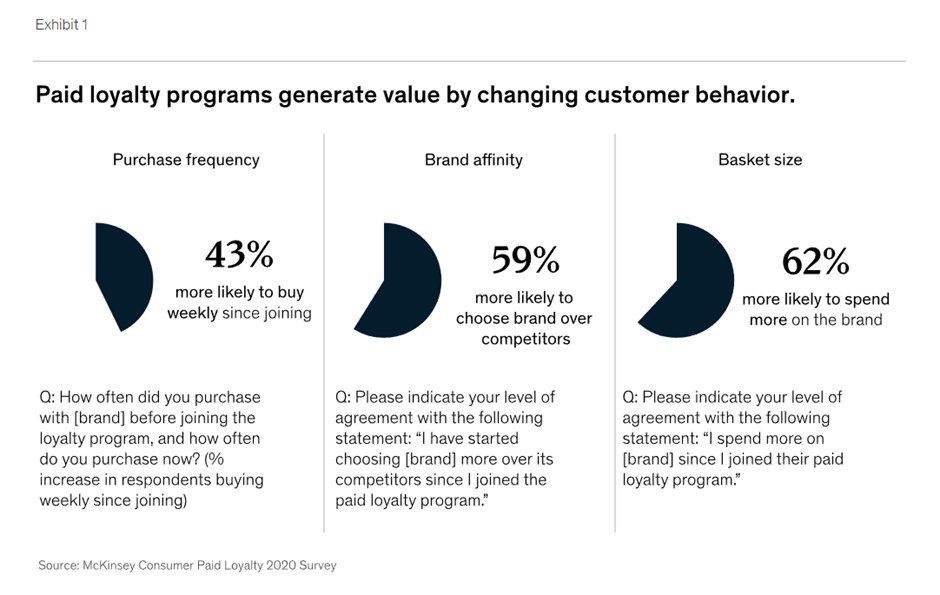 Hyper-personalised experience: Increased engagement means better data capture opportunities in order to service members to a higher standard with bespoke rewards.
Reduces high-value customer churn: The strength of the reward offering, particularly experiential rewards act as an effective retention strategy.
Increased brand equity: By offering exclusivity and greater personalisation, likelihood of retaining valuable customers is increased.
Surprise & delight: Greater funding and data is available to provide richer surprise & delight campaigns.
Some brands may be reluctant or hesitant to explore the implementation of a subscription program for the following reasons:
Churn has a stronger monetary impact than simply disengagement (subscription fee is also forfeited). For this reason, win-back would be significantly more challenging.
Membership rates are usually lower (though displaying higher level of desired behaviour) and there may be dissatisfaction among member base about paying for certain benefits that may have been previously available for free
Personalisation is imperative and expected. Technology and processes must be implemented to ensure capture opportunities are optimised.
Reward experience must be elevated and program will fail if there is not sufficient ability to provide valuable rewards that align with the brand
Insufficient margin
In many ways, a paid program can fail for all the same reasons that a free-to-join program might.
Additional measures that increase likelihood of success are:
Automation of payments processing reducing the resources required to chase renewals.
Consideration to break-up subscription cost into smaller monthly amounts instead of an annual fee
Pareto dynamic
Availability of lucrative rewards (bonus if these are efficient rewards)
Program addresses member pain points
Offering provides variety and rotation of offers
Challenges
Subscription membership programs also have their challenges.
It is critical for the model to be designed correctly to ensure the program will be profitable, as the company could make a loss if the program is too generous (the core reason the theatre subscription service MoviePass failed[5]).
Members who pay will have higher expectations of their value and service experience, meaning an increased level of customer service support.
For an annual fee membership program, additional administration will be required to remind the member to re-subscribe and chase them for payment.
According to McKinsey research "50 percent of cancellations occur within the first year of membership. Consumers' most frequent reason for cancellation was not using the benefits enough to justify the sustained cost. Retaining customers past the critical first renewal requires brands to adopt more nimble and everyday means of rewarding their members, as well as a robust marketing program to keep them engaged."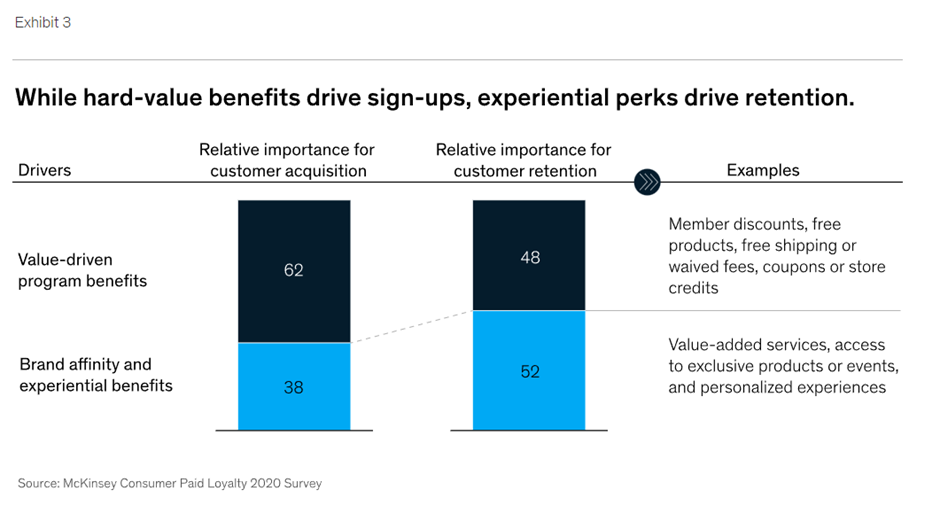 It is worthwhile noting that a subscription program is not suitable for all brands. Some reasons why a subscription program may not be effective are:
If there is not a distinct pareto dynamic
If operating in a mass, undifferentiated market where there are already a number of subscription programs (highly competitive market where brand is "late to the party")
Technology funding and capability is insufficient
Service, loyalty and satisfaction is already extremely high and unlikely to be impacted by a paid program
Continued expansion of subscription programs can be expected in the loyalty space ("Amazon Prime effect") as free-to-join programs are beginning to be monotonous and diluted by an already high level of brand standard (particularly in the travel space).
Likely progression is expected in the following areas:
With the increase in AI technology, hyper-personalisation will continue to give brands more competitive edge
Invite-only memberships to become more common within subscription programs
Surprise and delight elements will become a key retention strategy to drive further affiliation and engagement
Depending on a brands risk adversity, the below launch strategies will likely be witnessed in the future:
High risk-adverse brands: Introduction of a free-to-join program first followed by a subscription program
Medium risk-adverse brands: Introduction of a free-to-join program alongside a subscription program
Low risk-adverse brands: launch of subscription program only with invite only tier despite potential for dissatisfaction from member base (at not having a free-to-join program offered)
Is your brand exploring the potential introduction of a paid-subscription loyalty program? Contact the experts at Loyalty & Reward Co.
---
[1] https://www.claruscommerce.com/blog/17-staggering-customer-loyalty-stats-that-will-change-your-perspective/#:~:text=Consumers%20belong%20to%20an%20average,them%20do%20anything%20with%20them.
[2] https://www.mckinsey.com/business-functions/marketing-and-sales/our-insights/coping-with-the-big-switch-how-paid-loyalty-programs-can-help-bring-consumers-back-to-your-brand#
[3] https://www.claruscommerce.com/thank-you-2021-premium-loyalty-data-study/?aliId=eyJpIjoiYks4Y3h4NlJsK1FLekErMiIsInQiOiIrd0RjbVZKS1c0Slgwd3hSbVRic0t3PT0ifQ%253D%253D
[4] Ashley, C., Gillespie, E. A. & Noble, S. M., 2015, 'The effect of loyalty program fees on program perceptions and engagement', Journal of Business Research, Vol 69, Iss 2, https://digitalcommons.uri.edu/cgi/viewcontent.cgi?article=1051&context=cba_facpubs, accessed 26 April 2020.
[5] Statt, N., 2019, 'Why MoviePass Really Failed', https://www.theverge.com/2019/9/19/20872984/moviepass-shutdown-subscription-movies-helios-matheson-ted-farnsworth-explainer, accessed 30 June 2020.