Most of the loyalty industry focus centres around consumer-focused programs (B2C). However, business-to-business (B2B) programs can also work to drive desirable behaviours from business customers; increased spend, repeat purchase, data capture, relationship development and advocacy.
There are a range of options for companies to develop loyalty amongst B2B customers which do not include a formal loyalty program. This includes providing superior products and services, attractive pricing and exclusive discounts, quality account management, supportive post-sales customer service, events and conferences, and education courses. That being said, companies are increasingly embracing formal B2B loyalty programs as a method to build customer loyalty.
B2B customer commitment
In the same way that commitment (measured as resistance to change) leads to loyalty within B2C programs, B2B programs should strive to build customer commitment to the brand. Gilliland and Bello (2002) identified that attitudinal commitment by a client towards another business motivates specific actions to manage and advance ongoing relationships. This includes a greater willingness to use relational, over contract-based mechanisms to keep behaviours consistent with the contractual agreements. They hypothesised that attitudinal commitment for B2B relationships consists of two components: a rational, economic calculation (calculative commitment) and an emotional, social sentiment (loyalty commitment).
Gilliland and Bello identified three important characteristics specific to loyalty commitment within B2B relationships; it makes it difficult to exit the relationship, partially because loyalty sentiments motivate participants to work out problems rather than leave; it suggests a preference for one company over their competitors when making supply decisions; and, it maintains the relationship even if the decision may be economically irrational. These are clearly desirable and valuable relationship characteristics for a business to generate with a customer.
A well-designed B2B loyalty program can help develop loyalty commitment in order to support the realisation of these benefits.
Characteristics of B2B programs
The characteristics of B2B programs tend to be different to B2C programs in six fundamental ways.
Member base size
B2B programs generally have smaller member bases than B2C programs. Not surprisingly, this is because B2B companies have access to a smaller pool of customers from which to draw members.
The advantage for B2B program operators with a smaller member base is that personalisation of communications and services is much more achievable. B2B relationships tend to involve a greater level of intimacy than B2C models, with face-to-face meetings, social events, tailored services and post-purchase support. This provides a good opportunity to build a positive brand connection and attitudinal commitment.
Member base spend
On average, B2B programs generally provide greater value to members than B2C programs. This is because B2B customers tend to spend more than B2C customers, allowing the company to return more value to their business customers as rewards.
For example, a program providing 1% return on $1m of business spend will be able to provide a much more generous reward than a program where a consumer spends $1k.
Purchasing drivers
Businesses have different purchasing approaches to consumers, which necessitates variations in program design. According to Kaushik (2019),[1] consumers buy based on family needs, fashion and social necessity, they make fast and simple decisions, receive relevant marketing primarily via mass market channels (internet, social media, radio, TV, newspaper ads, etc.) and are reasonably sensitive to technological changes. By comparison, businesses buy to enhance profitability, productivity, payback, and operational ease and maintenance, make slow and complex decisions, receive relevant marketing primarily via direct one-to-one presentations and discussions, and are overly sensitive to technological changes.
Thus, the factors which influence a consumer to be positively influenced by a loyalty program are distinct to the factors which will influence a business decision. Adequate client research is essential to identify those factors and tailor the design accordingly.
Relationships
The complexity of the buying relationship is greater for B2B than B2C, meaning the program needs to cater for multiple member relationships within a single account. Kaushik (2019)[2] highlighted that while a B2C relationship is generally one-to-one, a B2B relationship may be between multiple participants, including owners, initiators, influencers, deciders, users, buyers and gatekeepers. This can make it incredibly challenging to design an effective program.
For example, a B2B program which rewards the business owner or leader may fail to influence purchase behaviour if procurement decisions are made by buyers. Research of individual businesses is required to ascertain which participants the program is best targeted towards.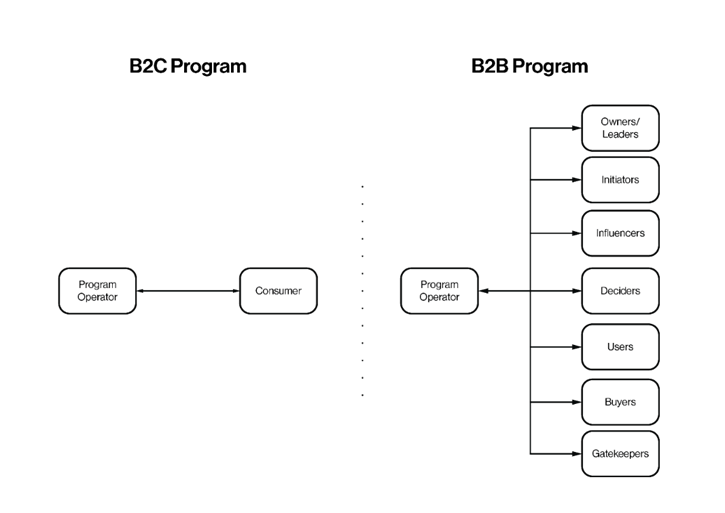 Figure 1: the different relationships between program operators and stakeholders/members within both B2C and B2B loyalty programs.
Fundamental challenges
The design of a B2B program needs to accommodate three fundamental challenges; ethical, communications and employee longevity.
For ethical, a program needs to ensure it is not influencing decision-making in a way which delivers a poorer outcome for the business or their customers. For example, if a buyer decides to purchase a service from one business over another because they will receive a loyalty program reward, ethical challenges arise if the service is more expensive or delivered at a lower quality. In this instance, the loyalty program could be viewed as a form of bribery. For communications, the program design needs to identify which participants within the customer business should receive program information, and the nature of that information. For employee longevity, the program operator needs to quickly identify when a participant leaves the business and update the membership status to accommodate new participants. This can be particularly challenging for larger member programs.
Reward variations
B2B programs tend to have different reward ranges than B2C programs. While they may incorporate consumer goods and gift cards, they also tend to include the businesses own products, direct discounts, free education courses, access to events and conferences, and other benefits more suited to the needs of particular customers.
B2B program design frameworks
B2B loyalty program designs often mimic B2C designs, but with some variations. As with B2C, it is common for a B2B program to combine elements from a number of frameworks to create a more comprehensive design.
Loyalty currencies and status tiers
Members earn points for transactions, which can be redeemed on a set reward range. Members can also achieve status tiers to unlock greater benefits.
Schneider Electric Club Clipsal
Schneider Electric is a multinational company providing energy and automation digital solutions, and Clipsal is a subsidiary brand providing electrical accessories.
Club Clipsal is Australia's largest loyalty club for the electrical industry. Operating on a four-tier membership basis, the program offers members the ability to earn points by purchasing Clipsal products from their selected wholesalers. The program features an earn accelerator, where the higher the tier, the higher the earn rate per dollar spent. Points can then be redeemed via a rewards store for a variety of gift cards and consumer goods.
Members of Club Clipsal also access exclusive functions for networking, social gatherings, and getaways. In addition to the earn accelerator, higher tiers have access to some additional member perks such as discounts on insurance, business management services, and fleet purchases.
Member benefits and discounts
Members can access a bundle of desirable benefits, which may include some form of preferred discounting structure, preferred payment terms, credit lines or invitations to exclusive conferences and events.
Uber Pro Partner Rewards
Uber Pro Partner Rewards[3] program was designed to recognise and reward Uber drivers. Like their B2C program, points and status tiers provide drivers with the ability to reach higher tiers and unlock more desirable member benefits.
Provided by Uber and partner third-party companies, member benefits include economic rewards such as fuel discounts, free coffees, and discounts for business support services, as well as more functional and experiential rewards such as providing drivers with the ability to view trip duration and direction before accepting a job, receive priority airport rematches, 24/7 support and accident replacement vehicles.
An interesting element of the B2B program is that points are earned during a fixed three-month period, with points determining the status tier. Drivers earn points for each trip completed with a significant multiplier during peak times and points reset at the end of the three-month period. Members can continue enjoying their rewards (and achieved status) until the end of the following three-month period as long as they keep their star rating above 4.7 and cancellation rate below 3 per cent.
Ultimately, the design of the program incentivises Uber drivers to behave in ways which deliver benefits to Uber such as completing more trips, ensuring drivers are available during peak times and ensuring passengers receive a high level of customer service.
Merchant funded
Members can accumulate value by transacting with third-party partners, with the cost of the reward covered by the third-party partner.
Nufarm Priority Partnerships
Nufarm is an agricultural chemical company which provides an extensive range of agricultural and crop protection products around the globe. Nufarm's B2B loyalty program[4] allows members to accumulate points when purchasing eligible Nufarm products and transacting with relevant Nufarm suppliers. Points can be redeemed via the Priority Partnerships reward store which hosts over 5,000 rewards including a selection of consumer goods, travel, sporting equipment, events and more.
Rewarding members for ordering through verified third-party suppliers and partners provides an additional purchase incentive to build the feedback loop and reinforce client commitment both with Nufarm and its suppliers.
Surprise and delight
Members receive unexpected delights to recognise and reward them for their business and to build an emotional connection.
Influitive
Influitive is a SaaS product and professional services company which specialises in providing customer marketing platforms and tools to drive customer advocacy and engagement. In December 2016, Influitive created a personalised video messaging tool which allowed their customers to deliver a surprise 1:1 holiday season message to their customers and business partners via one of three fun characters.
The videograms were delivered to each recipient via Twitter, personally addressing both the sender and receiver, designed to 'pack a bigger emotional punch with them'[5] and show customers they care. This surprise and delight initiative cost 'a few hundred dollars in costumes, décor and a few new video cards', but the effort and personalisation is what made the most impact, strengthening the relationship and increasing retention by making both Influitive customers and their customers feel special.
Education, training and mentoring
Members may be able to access online and classroom courses relevant to their industry and career progression. They may also be able to access mentoring support from leaders in the industry.
Know Your IBM (KYI)
IBM's primary B2B loyalty program, KYI[6] targets resellers in its distribution channel with rewards structured around two key components:
Learn & Earn: provides points to members who undertake educational activities and modules, learning about various IBM products and solutions, including skill enhancement courses and certifications.
Sell & Earn: allows members to earn points for selling eligible IBM products, services, or solutions.
Members can redeem their points for products and gifts from participating merchants. Results published by Moviforce[7] indicate that KYI's 2018 results broke all previous year's records. In addition, the 15 per cent of IBM's B2B channel that participated in KYI generated 62 per cent of IBM's overall revenue for all products and services that were incentivised in KYI. They also state that KYI participants outperformed similar profiled non-participants (same geography, similar size and turnover) by a record 800 per cent.
Referrals
Members may be able to unlock benefits by referring other businesses.
American Express Partner Plus
Partner Plus is a referral-based partnership program with American Express. Akin to most referral programs, members are rewarded if they successfully refer a business contact to American Express' Global Commercial Services.
Partners can track the status of submitted leads at any time through a partner portal and receive support from an appointed sales representative. When successful, members reap the benefits as a percentage of the new account volume. Simple and straightforward for members to understand, the program creates a win-win situation for existing and new members.
Summary
B2B loyalty programs are similar to B2C programs, however there are a number of characteristics which differ; smaller member bases, higher spend, different purchasing approaches, more complex buying relationships, reward range variations, and ethical, communication and employment longevity challenges. To achieve customer commitment, these factors must be considered when formulating a design.
The design frameworks and examples highlighted in this article should serve to spark some ideas of what is possible. Here are some more examples of companies that have introduced B2B loyalty programs to check out: MailChimp, Ingram Micro, Trend Micro, WeWork, Lenovo, Thomas Cook, Fujitsu, Countrywide, Cisco, The Iconic and Mercedes-Benz.
---
[1] Kaushik, P., 2019, 'B2B Marketing,' Lecture series, Atharva Institute of Management Studies.
[2] Kaushik, P., 2019, 'B2B Marketing,' Lecture series, Atharva Institute of Management Studies.
[3] Uber, Uber Pro, https://www.uber.com/au/en/drive/uber-pro/, accessed 14 November 2022.
[4] Nufarm, Priority Partnership, http://www.prioritypartnership.co.nz/pp_app/page_public.php?page=about_priority_partnership, accessed 14 November 2022.
[5] Influitive, 2016, 'The Secret to Delighting B2B Customers in 30 Seconds This Holiday Season' https://influitive.com/blog/secret-delighting-b2b-customers-30-seconds-holiday-season/, accessed 14 November 2022.
[6] IBM, https://www.ibm.com/partnerworld/resources/manage/incentives-promotions, accessed 16 November 2022.
[7] Motivforce, 2019, 'Motivforce wins best B2B Loyalty Program with IBM for second year running at Loyalty Magazine Awards', https://www.motivforce.com/blog/back-to-back-award-winning-b2b-loyalty-program#:~:text=Know%20Your%20IBM%20(KYI)%20is,as%20sales%20of%20eligible%20solutions., accessed 16 November 2022.
Headline image: https://prosperlaw.com.au/post/australian-consumer-law-business/, accessed 16 November 2022