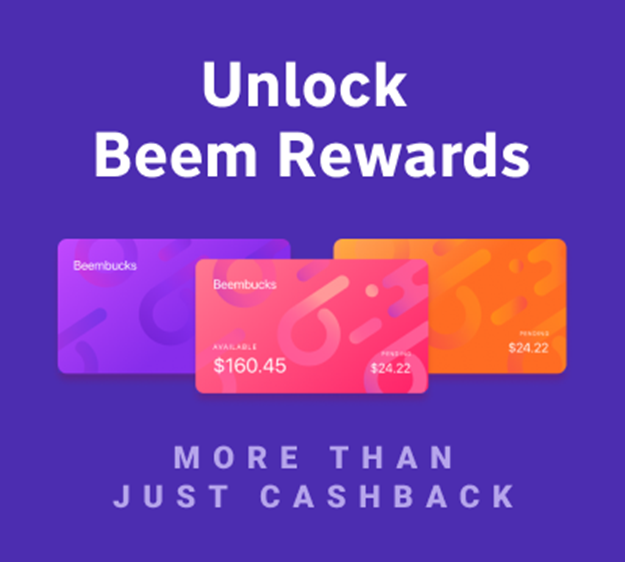 I've been using the Beem It app for a while now. Their referral program got me. $5 straight into my bank account when I referred a friend to the app. The reward no longer exists, but I've used Beem It to instantly transfer money between friends ever since – the original and core functionality.
Beem It is targeted to the millennial/Gen Z population (80% of their userbase) and has been downloaded by 1.5M+ people. So why the hype? The app, available to Australians, has expanded its features for users. With loyalty card storage, split bill payments, and now, cashback rewards, it makes apps like Stocard, Splitwise, and PokitPal seemingly redundant. Beem It aims to evolve into a one stop digital wallet for Australians and their latest addition to the feature set is Beem Rewards, a cashback for purchases scheme.
Beem It Features
Beem It is free to download and use. There are several elements that have been built out by eftpos since it bought Beem It from three of the big four Australian banks in 2020. Beem It currently accepts most debit cards and although it does accept credit cards, for the moment there is limited functionality when using them with the app.
Payments
Pay someone. Request payment from someone. Split expenses with a group of up to 12 people. Transfer funds between different personal cards.
Loyalty
Store loyalty cards in the app by scanning a physical card or entering the card details manually. Present the barcode at a particular retailer for scanning.
Gift Cards
Purchase eGift Cards, personalise them and send as a gift via SMS, email, a messaging app or by printing it out.
Aside from the above, their latest addition is Beem Rewards.
Beem Rewards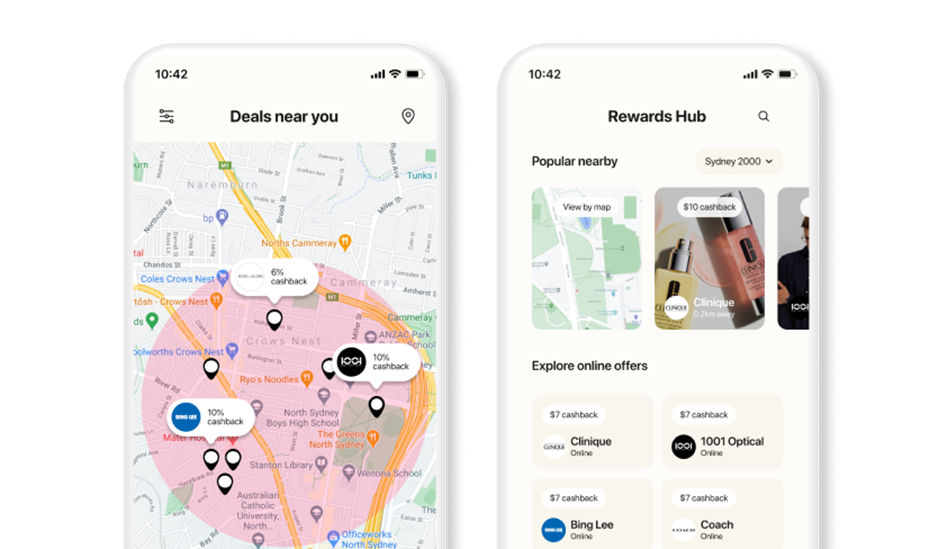 Get rewarded on your everyday spending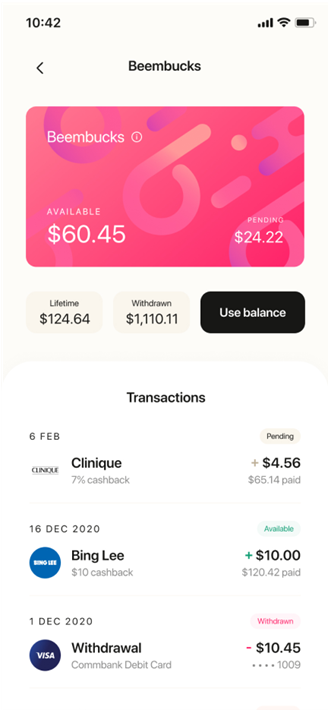 Through Beem Rewards, users can 'link' their bank cards to opt into the program. Once linked, cashback rewards at partner retailers can be earned online (via the app) or in-store by simply using the linked bank card to pay. There are over 600 offers in the app, so plenty of opportunities to build up a nice stack.
Users can link up to 4 cards to accumulate cashback rewards which are stored in the user's personal Beem wallet as "Beembucks". Beembucks can only be transferred back to a debit card once $10 is reached.
Once an eligible transaction occurs, the cashback sits in a pending state – up to a few days for in-store purchases and up to 3 months for online purchases.
Due to the potential for double-dipping on rewards, a user will not be able to link their card if it is registered with another offers program, such as PokitPal.
Gamify
The part I love about eftpos is they're continually evolving their offering and are eager to find more ways to make life easier for users. Beem Rewards is one element in a grander scheme, but it will surely evolve over time.
Whilst Beem It have signaled their intention of becoming the primary digital wallet for all payment needs, loyalty and rewards seem to also be a big part of it. Engaging a younger demographic isn't easy.
Gamification must also become a larger part of the app. Whether it's a mini-game or other behaviours that unlock bonus rewards or boost the cashback, I think there's a lot of potential to attract and retain the millennial/Gen Z segment. More gamification ideas here.
Excited to see what the next Beem It iterations will bring!