Saddle time
99 Bikes are Australia's largest bike retailer with the vision of being "the world's most approachable bike shop". The company opened their first shop in 2007 and have enjoyed tremendous growth even before the Covid induced "bike boom". The holding company, Pedal Group who have Flight Centre Travel Group as a 46.5% shareholder, own 99 Bikes. With backing like that it is easy to see how 99 Bikes have managed to establish themselves as the largest specialist bike retailer in Australia with over 58 stores across Australia and New Zealand but how do they measure up when it comes to their loyalty program strategy?
Taking Club 99 membership for a spin
99 Bikes has made growing their loyalty membership of Club 99 a strategic priority. Whether shopping online or in-store all products have standard pricing and Club pricing shown. Club 99 membership is prominently displayed on the website with other selling points like free shipping for purchases over $99 and their 5% best price guarantee.

To become a Club 99 member requires a single payment of $5 that unlocks a lifetime membership and a 5% ongoing discount, plus other benefits. In the past, Club 99 Gold membership could be purchased for $35 for a six-month membership, unlocking 10% off the club price on most products, plus other benefits but Club 99 Gold is no longer available for new members and all current Gold members became standard Club 99 members as of 28th February 2023.
Pedal through the benefits
Club pricing is clearly the major benefit of joining the bike retailer's loyalty program. To the hardcore bike enthusiast an annual $25 gift voucher, free first tune up bike service, free maintenance classes and access to exclusive sales, discount and offers may provide a little more incentive to join but not much.
Other benefits such as 30-day perfect ride guarantee, 5% best price guarantee, free product transfers between stores, 30-day receipt free returns and the price protection guarantee are mostly hygiene benefits that the average customer expects as standard.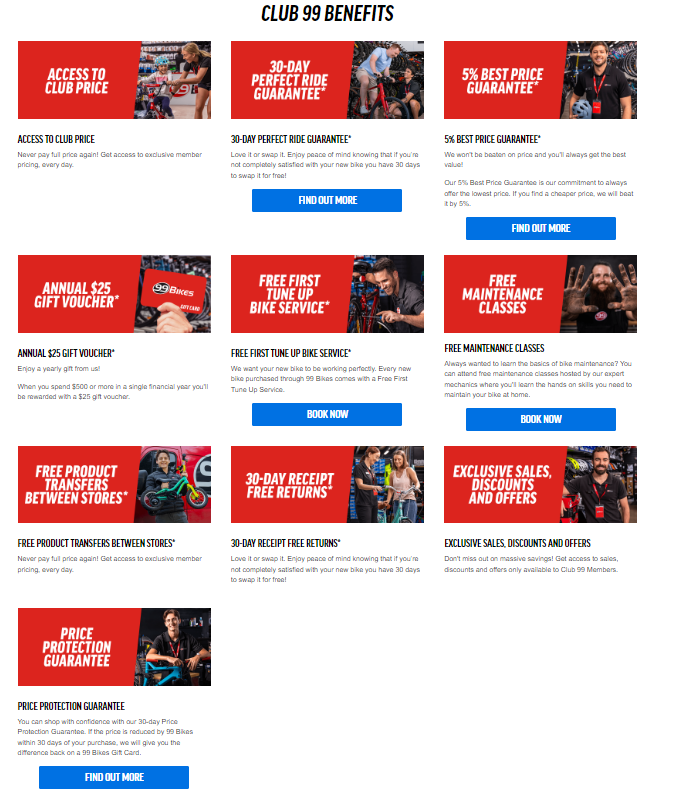 Join the Club
Signing up to this bike retailer loyalty program via the website requires a simple form completion to gain access to the unremarkable My Account section. It also bypasses the $5 membership fee and shopping online immediately qualifies you to receive Club pricing although both elements are not well communicated on the website. There is a vague mention of the other benefits of joining Club 99 and creating an account during checkout.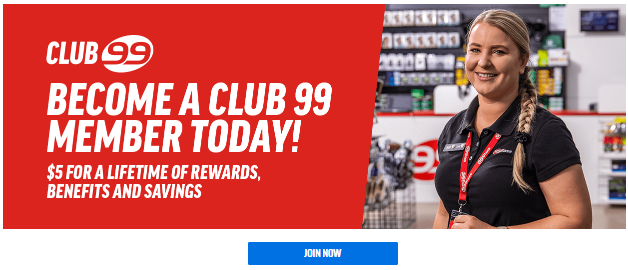 Signing up to this bike retailer loyalty program in-store can be a mixed experience. My first experience involved the salesperson on the floor letting me know about the program without mention of any additional benefits outside of the immediate discount. The same salesperson was sure to add the $5 membership fee to the final invoice at checkout.

The second experience involved the salesperson handling the checkout process mentioning the discount I could access by signing up for Club 99. I provided an alternate email address, the salesperson waived the $5 sign up fee and the discount was provided without any mention of additional benefits.

The $5 fee to join is poorly communicated and inconsistently handled across all channels. It feels unnecessary and sours the overall customer experience.
Cycle through the lifecycle
As loyalty consultants we know that a successful loyalty program design needs a best practice member lifecycle strategy (MLM) and a bike retailer loyalty programs is no different. The communications that form the 99 Bikes MLM do nothing to make a member feel valued or part of any type of club. The initial welcome email is devoid of emotion and highly transactional.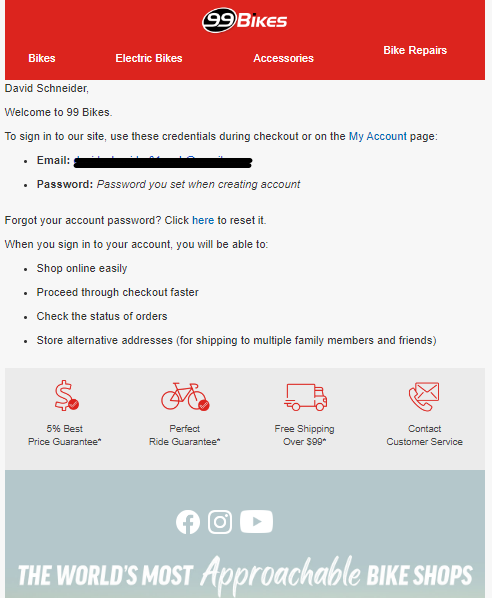 The emails that follow are a barrage of sales and offers. There is nothing to distinguish member communications from non-member communications.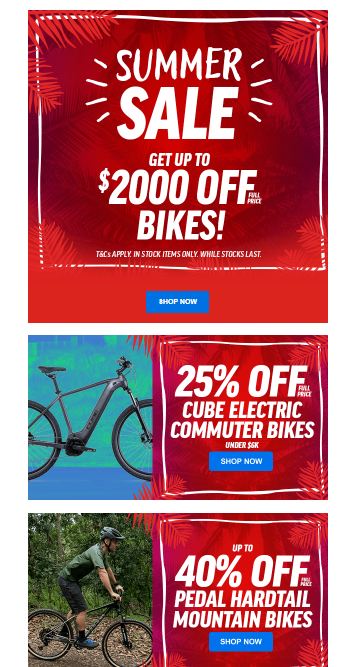 Why go through the trouble of prioritising the collection of customer data if you are not going to use it effectively (or at all in this case)? At the very least incorporate basic personalisation into the communication. How about offers based on past purchase or the opportunities to engage on an emotional level? If a customer has bought a bike for their child, why not celebrate milestones like the training wheels coming off or remind the customer when it might be time for a bigger bike?
The chain has slipped
There are many bike retailer loyalty programs and cycling inspired loyalty programs that are managing to differentiate themselves.
Jenson USA have partnered with Tandym to offer a digital credit card that offers 5 points per dollar on every order, exclusive member offers, discounts and more.
Performance Bicycle VIP program offer 4 tiers of membership with increasing benefits such as free merchandise, increased points earned per $1 spent, increased return policy, and more.
While not a traditional loyalty program (or bicycle store for that matter), Peloton offer a referral program where current members can refer friends and family to join Peloton and receive rewards such as accessories and discounts on future purchases. They also have a rewards program for their digital members where they can earn points for participating in various challenges and events and redeem them for exclusive merchandise.
These are only a few examples, but they clearly show that Club 99 needs a serious overhaul if 99 Bikes want to maintain their lead over other Australian bike retailers. It is time to shift out of granny gear and put some effort in.
Looking for a loyalty program to outpace the competition?
Our loyalty consultants have helped global brands take the critical steps to design unique and effective loyalty programs, as well as support ongoing evolution to meet changing business and consumer expectations. Contact us to learn more about our comprehensive loyalty services and talk with our loyalty consultants to understand how to develop or optimise your loyalty program strategy.