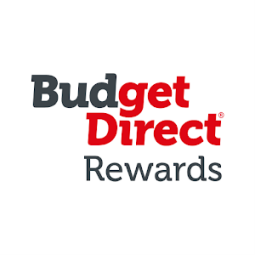 Budget Direct began in 2000 and is an insurance brand of Auto & General, headquartered in Brisbane, Australia. Their insurance products cover; car, home, travel, motorcycle, pet and life, as well as offering roadside assistance.
I have been a customer of Budget Direct for the last ten years and I wasn't aware of their rewards program until last week, when I received a letter in the mail inviting me to join.
The letter also included a brochure that provided a high-level overview of the categories and brands you can access and the potential savings that could be achieved over the year.
There was a conscious effort to promote the everyday spending categories, such as groceries and fuel, to highlight how this program can help with the current cost of living challenges.
Joining the Program
The joining process is very simple and can be completed via their app, using your unique member number and one-time pin that is provided within the letter.
During the onboarding process, you are asked for additional information including your birthday and postcode so that your experience is personalised. Once I get into the app, I can see that my postcode is used to identify and promote benefits around my area, which is always a good feature. It might be worth mentioning this on the page that asks for additional personal information, so I am more inclined to provide this, as you can skip this step if you want.
Once you have completed the sign-up process on the app, you do receive a welcome email that once again outlines the benefits of the program and provides a welcome gift, a $10 Uber Eats voucher.
Unfortunately, when I go to claim the voucher via a landing page, my last name and member number are not recognised, and I can see from reviews within the app that this has been an issue for others.
My advice to Budget Direct is to make sure that all processes are continually tested and running smoothly. What should have been a great surprise and delight initiative has quickly turned into a frustrating experience.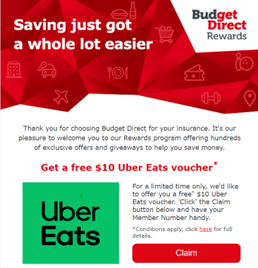 Member Benefits
The program is a traditional reward program, providing discounts across five major categories, including:
Dining
Activities
Gift cards
Take-away
Travel & Leisure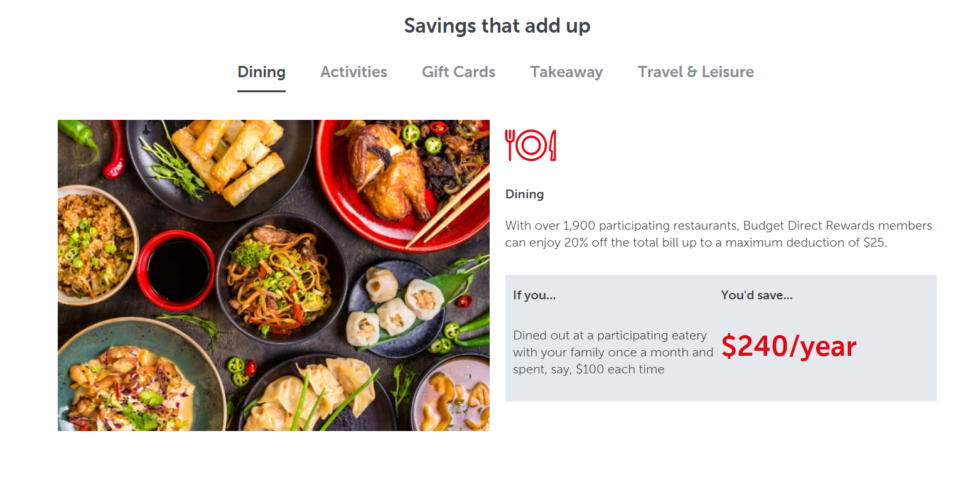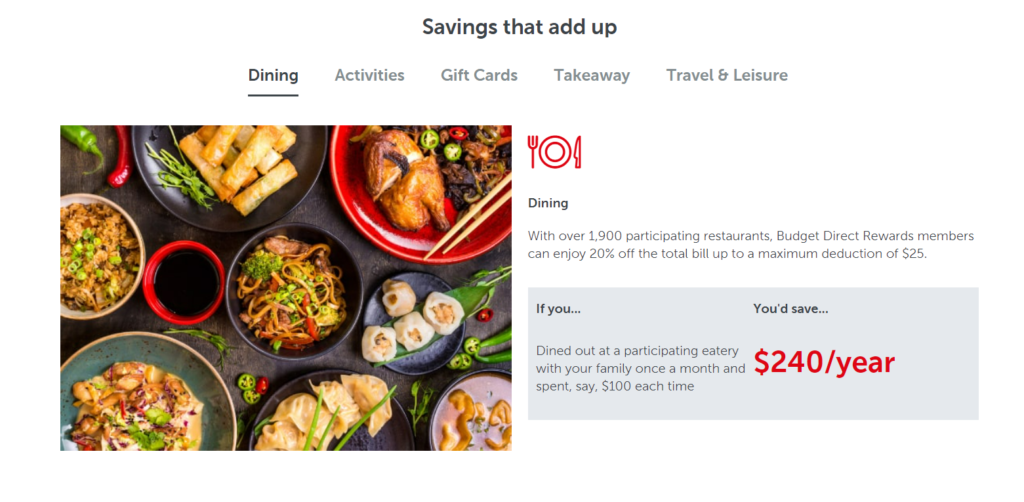 The standout offerings are the dining category and the fuel discount at Shell and Coles Express. What makes this offering stand out, is not the 4c per litre discount, but the ability to stack this discount on top of existing Coles fuel discount dockets to achieve up to 18c per litre off.
The only hurdle with the fuel discount is that you need to download an additional app to gain access to the offering. This is a little frustrating at first, but probably makes sense in the long run when you can easily redeem the fuel offering each time without having to navigate through the main app.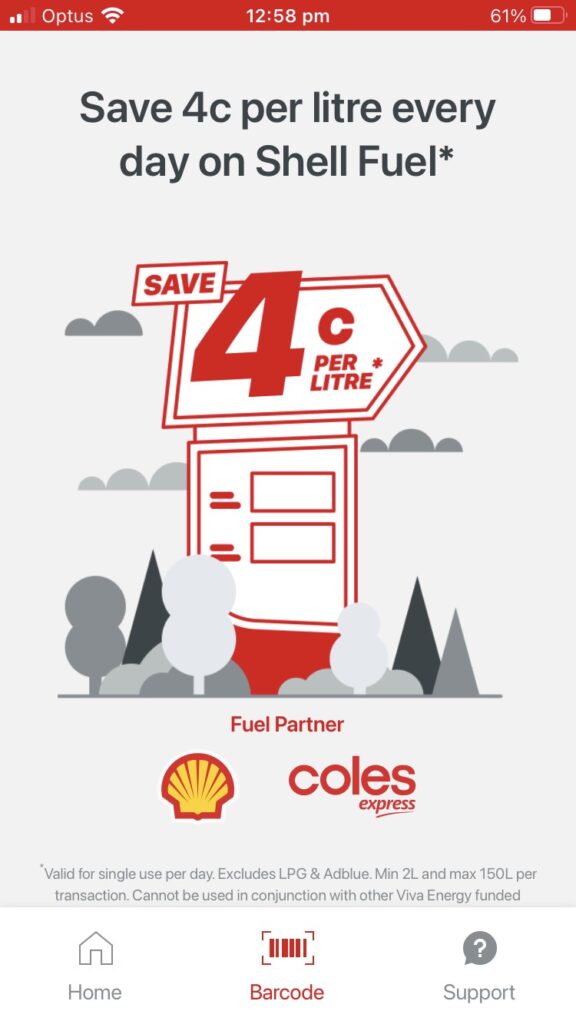 App Experience
The reviews on the app store are scathing, with 1.2/5 from 70 reviews, however, a large portion of these reviews are from one to two years ago.
I find the app easy to navigate and do appreciate the ability to have offers that are close to my home being presented. There are several bugs that I have come across, including blank screens when you go to redeem an offer (Qatar Airlines) and the stats page showing that I have redeemed nine offers, even though I have only gone in to view them.
In Summary
The Budget Direct Rewards program is a very traditional white label offering that is provided by many of the larger insurance, utility and telco companies, as it provides a breadth of offerings that support a varied demographic member base.
The concern I have with this is that we are all customers of these types of companies, hence, we are most likely members of a similar rewards program with similar offerings already. This can lead to program saturation, where consumers may be overwhelmed by the sheer volume of loyalty programs being promoted to them.
I understand why large companies go down this path, but I would like to see them source more offers for their members directly from a brand, like what they have done with Uber Eats. This is one way to stand out in this space and gain best in market offers for your members.