Crunch Fitness is a US-based gym franchisee operating over 400 gym centres across the US, Canada, Spain, Costa Rica, Portugal, and Australia. The brand is popular for its affordable membership rates and currently serves over 1.8 million members globally.
The US branch has implemented a loyalty program known as 'CrunchTime Active Rewards' where members can 'Sweat now. Save later.'
Participate with an Apple Watch
The program is distinctive due to its unique join requirement, that is, members must purchase an Apple Watch to participate in the program. The premise of the program is that members will be able to earn the value of their Apple watch back in credit through weekly exercise.
To participate, members must download the CrunchTime Active Rewards app to synchronise their Apple Watch and Health app. This will enable access to weight and Active Energy data to calculate individual calorie targets. This target must be achieved during each workout to count towards the completion of a personal weekly challenge.
Earn money back with exercise
Members can receive up to $312 (US) in credit when they successfully participate in program challenges and activities. As members become more active, the program will adapt to increased endurance and adjust calorie targets accordingly, meaning challenges will become more difficult to complete as members improve.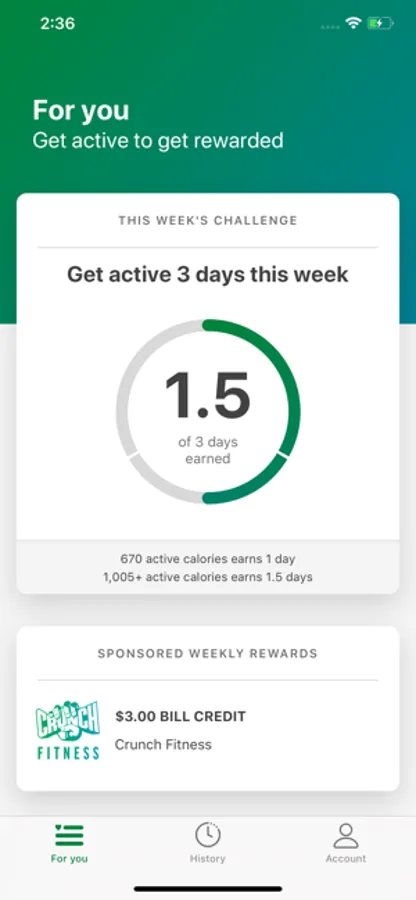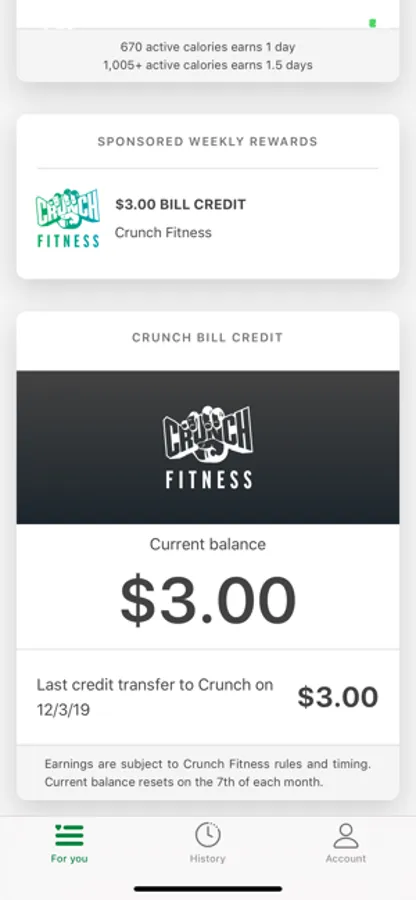 Members can earn a maximum of $3 credit each week and can track progress towards completing weekly challenges per workout each day. The credit earned will then be automatically deducted from their gym membership fee.
Track workouts with human telematics
Crunch Fitness US also provide members with special Apple GymKit enabled equipment to synchronise their watch with machines to track workouts in real-time. Members can hover their Apple Watch to a contactless reader on compatible equipment such as dumbbells, cycling bikes and treadmills to pair their device.
Do monetary incentives work?
Similar programs have been studied to better understand the effectiveness of incentivisation on enhanced performance.
For example, the CSIRO operates the Total Wellbeing Diet Membership, where members can complete a 12-week program to achieve weight loss. Members who successfully adhere to the program are eligible to receive a cash refund on their membership (max $199 cash-back). Members can then choose between either a cash refund or a credit towards a second program.
Through this incentive, the CSIRO found that refunded members lost an average of 28% more weight than others.
Another study by Marco Hafner et al (2020) [1] showcased the effectiveness of a similar Apple Watch benefit associated program known as Vitality Active Rewards. The study showed that 'loss-framed incentives' i.e., an incentive that can be lost if activity goals are not achieved, is more effective in encouraging increased engagement when compared to 'gain-framed incentives' i.e., an incentive that can be rewarded when participants achieve activity goals.
The study revealed that Vitality Active members who only participated in a 'loss-framed incentive' showed an average 34 per cent increase in tracked activity days per month when compared to members who only participated in a 'gain-framed incentive'. In other words, members engaged for an additional 4.8 days of tracked workouts per month.
Evolution in the fitness industry
Loyalty in the fitness industry is rapidly evolving, with many businesses finding new ways to provide delight and belonging to motivate fitness. Fitness brands are also increasingly adopting human telematics to boost engagement and member commitment, as it enables member progress to be visualised in a more measurable, tangible way that demonstrates results.
To learn more about loyalty trends in fitness, read our article on Orangetheory Fitness, another notable program that implements heart rate technology to measure successful workouts.
[1] Hafner, M., Pollard, J., Van Stolk, C., 2020, 'Incentives and physical activity: An assessment of the association between Vitality's Active Rewards with Apple Watch benefit and sustained physical activity improvements', Rand health quarterly, Vol. 9, No. 1, pp23