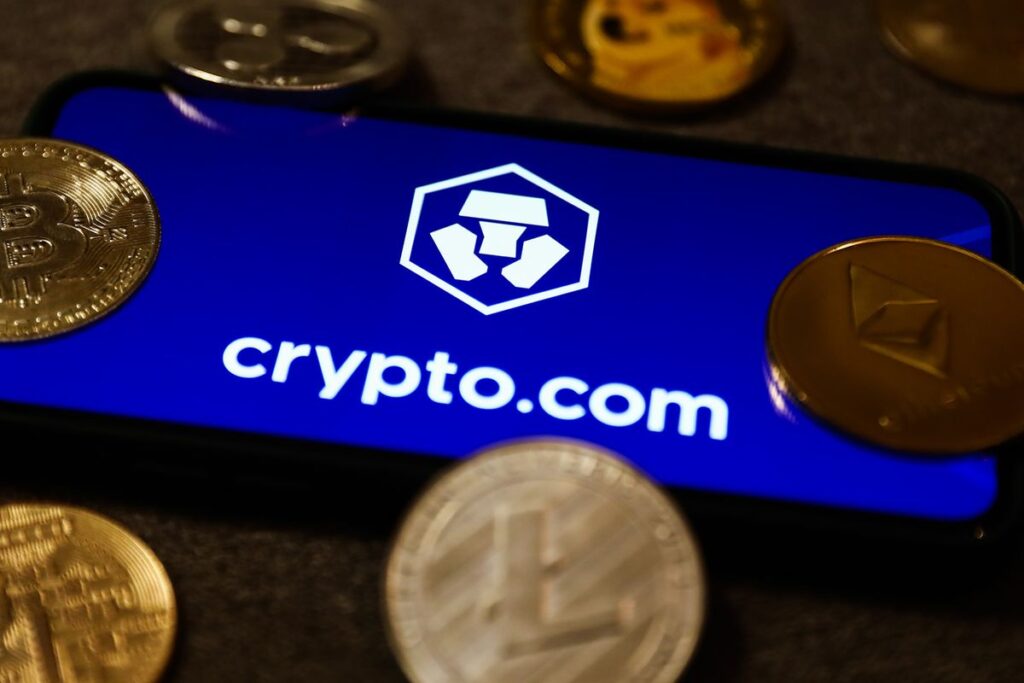 In recent years the interest around cryptocurrency has continued to grow. It is almost impossible to attend any form of social gathering without someone asking, "how's your wallet going?". Even with constant discussions, not everyone has their head wrapped around the concept of what constitutes as cryptocurrency.
One of the most fascinating parts of cryptocurrency is how some platforms, such as Crypto.com, are employing loyalty concepts to promote further investment among their customers.
What is Cryptocurrency?
Cryptocurrency is any form of digital or virtual currency which is secured by cryptography, taking the form of digital coins. Each coin has certified code behind it that works as a unique ledger for each coin – this is commonly referred to as blockchain.
A blockchain is a continuously growing list of records, called 'blocks', which are cryptographically secured and linked into a 'chain'. Blockchain technology allows for the creation of an immutable record verifying ownership for everyone to see without the need for a centralised authority – something which was previously impossible. This enables the ability to produce a trusted digital currency or coin.
For most, coins are created (or "minted") by computers solving increasingly difficult mathematical equations, making it exponentially harder and resource intensive to create additional coins over time.
Some cryptocurrencies will be capped at a certain volume, limiting the number of coins able to be produced and limiting the availability for purchase at a given period – the best-known example of this is Bitcoin. For currencies with a limited supply, this creates exclusivity around the coins and is what can dictate their price. The more in demand a coin is, the higher the price.
There are other cryptocurrencies which have an infinite supply and therefore the value is driven by other factors such as utility. The best-known example would be Ethereum, where the currency is used as 'gas' for paying transaction costs – it is used in running the system. Other factors can be employed such as limiting the percentage of new coins issued each year.
There are currently hundreds of online platforms taking advantage of the hype around cryptocurrency and cashing in on the opportunity to maximise their own profits. One such instance of this is Crypto.com.
Crypto.com
What does cryptocurrency have to do with loyalty? Crypto.com is an app platform that can be used to manage and buy cryptocurrency. Crypto.com uses several loyalty concepts to get customer to stake their coins. Staking coins means holding onto the coin for a predetermined amount of time to drive up the value of the coin, similar to a long-term investment in bank accounts. As a cryptocurrency provider, Crytpo.com not only educates customers to invest in cryptocurrency, particularly their specific coin, they also encourage customers to hold onto their cryptocurrency for as long as possible.
As well as cryptocurrency, Crypto.com have delved into the world of NFTs or non-fungible tokens. Previously, Loyalty and Reward Co's Scott Harrison went into a deep dive explanation about the world of NFT's. Crypto.com have provided a platform to auction, sell and buy a large range of user created NFT's.
Loyalty Concepts
One of the loyalty concepts that Crypto.com incorporates is reward credits. Crypto.com provide promised return rates depending on which coin is purchased. For example, if $5,000 (USD) of Crypto.com coin ($CRO) was purchased and staked for 3 months then Crypto.com promise a return of $300 (USD) per year. That is a six percent return rate which is roughly $5.77 (USD) per week. This promise of guaranteed credit back encourages the customer to stake their money, ultimately driving up the coins value, as there is less risk than free market cryptocurrency.
Crypto.com also use a referral program, allowing members of Crypto.com to refer the app to new customers such as their friends. Each member has a unique referral code they can share with whoever they want, and new customers can enter the code into the app before signing up. This provides both the new customer and the referring customer with a bonus $25 (USD) worth of CRO tokens once the new customer has staked their $25 towards a Crypto.com visa debit card.
Credit Cards
Among the other products mentioned above, Crypto.com have recently expanded into what they call metal visa cards. The cards boast a $0 annual fee; however the member must have staked their CRO tokens (coins) for one hundred and eighty days prior to being eligible for the pre-paid visa cards.
Crypto.com's credit card program incorporates a number of loyalty concepts to reward and incentivise users.
The Value
The rewards of the cards work on a simple tier system. The most basic tier is called Midnight Blue and the top is Obsidian, named after the colours of the cards for each tier. The tiers increase in rewards as they progress.

The top tier, Obsidian, provides some amazing value. The card owner gets eight percent return on transactions. They also get one hundred percent reimbursement for external services: Spotify, Netflix, and Amazon Prime. There are other benefits like Airport lounge access for the card holder and one guest, access to Crypto.com private and even private jet partnership – although, the site does not explain what private jet partnership entails. The only drawback is that to access the Obsidian tier and its amazing perks, a member must have $500,000 (AUD) invested in Crypto.com.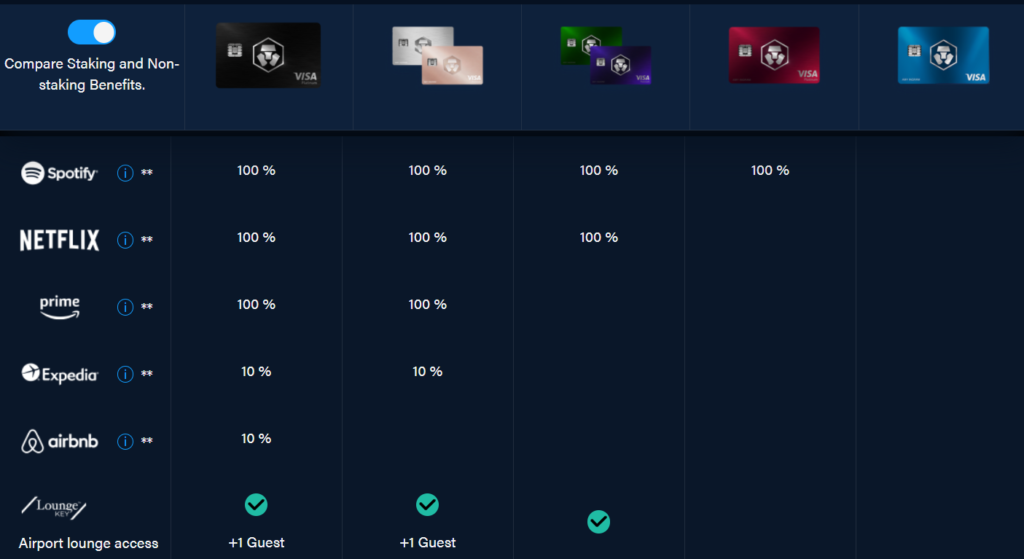 Crypto.com does provide different card benefits depending on if the member wishes to not stake their investment, yet the non-staking benefits are very limited in comparison. The design of any member engagement strategy should always focus on stimulating desired customer behaviours – as staking is one of the primary behaviours which Crypto.com want to encourage, the benefits are weighted to this segment of users.
The Loyalty
The tiers for the metal visa cards begin as low as having a $0 stake, all the way up to $500,000. The rewards for each tier increasing. If customers are already planning on investing in cryptocurrency, then this program encourages them to not only invest with Crytpo.com, but to invest heavily.
Having the cards in a tiered program like this allows Crypto.com to take advantage of the goal gradient effect. The goal gradient effect suggests that the closer a member is to a tier or goal, the more they will spend to reach that goal. For example, if a customer already has $450 invested in Crypto.com and have the option to invest a further $50 to reap double reward points, why wouldn't they?
Another loyalty psychology concept that comes into play with Crypto.com is customer delight. Customers of crypto.com were likely already going to invest. They are then delighted when they are eligible to receive these rewards after investing. This can help to build an emotional bond between the customer and Crypto.com, encouraging the customer to continue to invest via their platform. Given the cryptocurrency market is still in the initial stages of adoption, the ability for a company such as Crypto.com to create delight early in the customer journey has the potential to positively influence long-term retention.
Conclusion
While many may assume that loyalty psychology and concepts belong only to a program specifically, Crypto.com show just how useful these concepts can be. Without providing an actual loyalty program Crypto.com are still able to build a bond with their members and encourage further transactions. This goes to show just how important loyalty concepts are in today's advancing market. Even for products that may seem unable to build loyalty, there is always the chance to create something new.