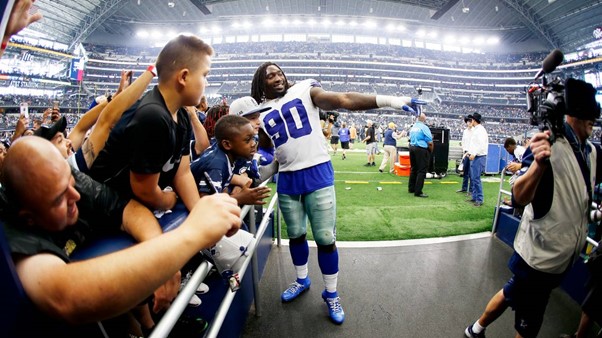 The Dallas Cowboys are a professional American football team based in the Dallas–Fort Worth metroplex. The Cowboys compete in the National Football League (NFL) as a member club of the league's National Football Conference (NFC) East division. The team is headquartered in Frisco, Texas, and has been playing its home games at AT&T Stadium in Arlington, Texas, since its opening in 2009.
According to Forbes, the Cowboys were ranked the most valuable sports team in the world. The team's value increased 23% since 2021 and they are now worth $8 billion.
After reading the article, I was interested to find out whether the Cowboys have a great membership program. You would assume they would be able to invest heavily in their membership program, considering the organisation made over $1 billion in revenue.
The membership program is called Dallas Cowboys United. The official youth membership of the Cowboys, Cowboys Crew, offers the same benefits as Dallas Cowboys United with more youth-focused fan packs and content for fans ages 2-16.
Registering for a membership
The process to purchase a membership is easy and doesn't require too much information. Members need to provide their full name, email and credit card details. Once the registration has been completed, members can log into their member portal to provide their address to ensure they receive their fan pack.
Membership tiers
Dallas Cowboys United members enjoy exclusive content, early entrance to the Cowboys home games, quarterly Pro Shop discounts, and VIP experience opportunities. Each membership level features experiences and content for the ultimate Cowboys fan.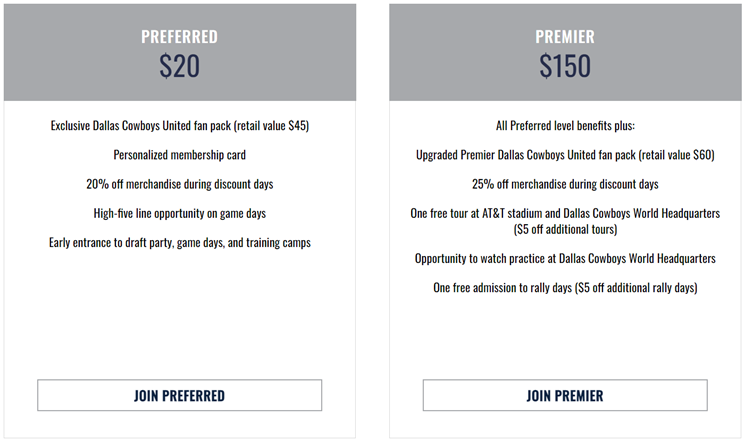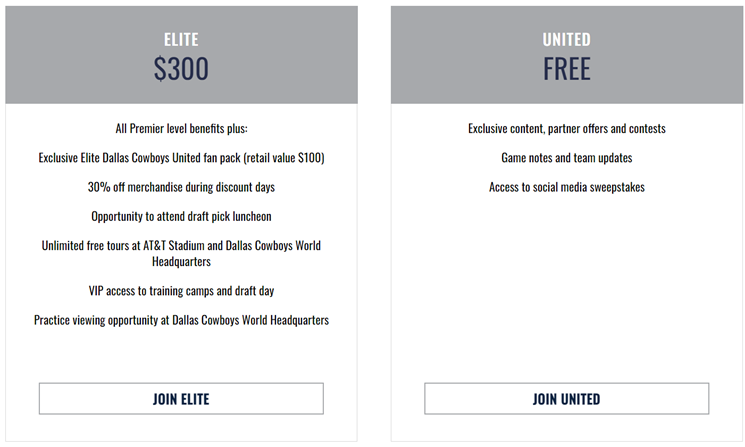 Immediately, I don't see the value in joining the Premier or Elite tier. Someone looking to sign up can see that the Preferred tier offers a fan pack valued at $45 vs. the Elite pack valued at $100. This doesn't seem like a big difference in value when an Elite member is paying an extra $280. Furthermore, Preferred members receive a generous 20% off merchandise during discount days and this only increases to 25% and 30% for Premier and Elite, respectively. To entice members to sign up to a Premier or Elite tier, a recommendation would be to decrease the Preferred discount to 10%.
The VIP experiences and access for members could be more personalised. A diehard Cowboys fan has most likely already toured AT&T Stadium, Dallas Cowboys World Headquarters and been to training camps and draft day. These experiences aren't going to be worth joining the higher tiers for these fans. The Cowboys could consider sending a survey out to members with long tenures to find out what type of VIP experiences they would like to see.
If the VIP experiences and access within the higher tiers are great value, this should be displayed to someone looking to purchase a membership. A way to demonstrate the ROI of the higher tiers would be to display the overall estimated value for each tier or using a table to differentiate the value offering.
Rewarding engaged fans
As loyalty consultants, we know that digital badges can be an effective way to improve fan engagement by providing a sense of achievement and recognition for fans who participate in certain activities or meet certain criteria. Several ways that the Cowboys could provide badges could be for membership tenure, completing actions or challenges on game day, attending key games (playoff games, Thanksgiving, Christmas Day) and the list goes on.
This could be incorporated in the Dallas Cowboys app for members to view and show off their badge collection. A couple of National Basketball Association (NBA) teams, Sacramento Kings and Orlando Magic, have already implemented gamification within their loyalty program design and are leading the way with their innovation.
Last thoughts
Overall, Dallas Cowboys United is a run-of-the-mill membership program. I think for new Cowboys members there are great benefits – generous discounts off merchandise, fan packs and VIP experiences and access. However, as stated earlier in the article, I don't think the benefits would resonate with the long-term Cowboys fans. In 2022, the Cowboys led the NFL in attendance and gamification should be considered to reward their engaged fans.