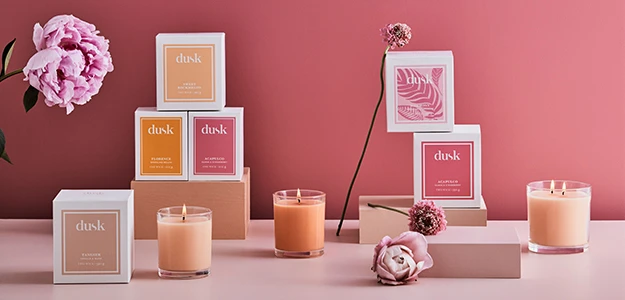 Candles are the perfect gift for every occasion, and are also a great way to de-stress, relax and set the mood. Being so universally enjoyable, one would naturally expect an aroma centric rewards program to pique the interest of many shoppers.
Dusk manages to do this by immediately teasing customers with the display of special member rates right next to non-member prices, successfully tempting them to check out and see what Dusk Rewards is all about.
Dusk Rewards is a paid membership program costing its members $10 to join. But before you turn your nose up, note that the amount is returned to members in the form of a voucher. The fee also covers a two-year period, plus, there are plenty of opportunities for members to get their money's worth through special benefits.
The rewards:
10% off full priced products
5% off any sale, bundle or promotional items
50% off all shipping
A $20 birthday voucher (with a min $40 spend)
A $10 voucher join bonus
60 day returns
Access to exclusive member VIP events
Subscription programs can often be a clever way to create a lock-in effect by exploiting the sunk cost bias, while also generating an additional revenue stream for the business. For the member to commit however, the value must be there.
Looking at the rewards above, the value equation is instantly accessible for members who would use the $10 join voucher, allowing them to re-coup the cost of their membership fee after the first purchase. From there, the member will view all additional rewards and purchases as bonus perks, increasing the chances that they will return.
Is there value?
Value is definitely present in the benefits offered, especially with the always-on discounts that are accessible with every store and online visit. Dusk also has a minimum spend required to access free postage, which in this case is a staggering $100. For many shoppers this would be highly inaccessible, so the 50% off shipping is a nice bonus, reducing the cost of standard shipping from $12 to $6.
Overall, considering that Dusk is likely considered one of the more expensive and specialised candle retailers in Australia, I believe the value in benefits are highly appropriate for the cost of membership.
Is there exclusivity?
Members will have access to exclusive discount prices, but will also receive emails for special VIP events such as:
Triple the rewards, triple the love – 30% off all full prices items and 15% off all sale items
Free delivery on all orders over $50
These discount opportunities are highly valuable as there are no limits placed on product collections, giving members a great chance to grab a decent bargain across the entire Dusk product range.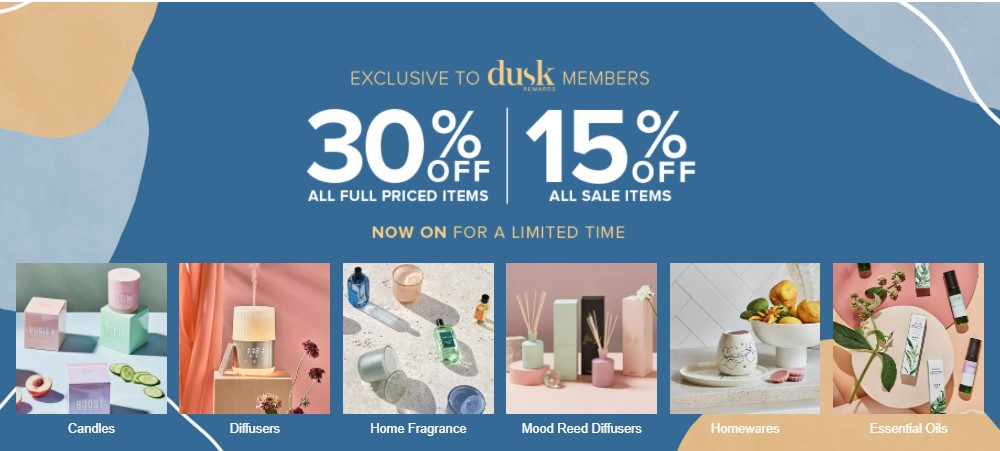 My thoughts:
The program is pretty good, however the rewards desperately need some variation. There is room to incorporate more stimulating elements such as gamification, competitions, testing opportunities, increased personalisation and more. Adding incentivising elements which are more exciting, and experiential will help to encourage more emotional as well as behavioural loyalty.
The value currently showcased by Dusk are almost entirely made up of discounts and monetary rewards, which are great, but not very impactful when candles are not high on the member shopping list.
Additionally, although the $10 biannual payment is an easily relinquishable cost, it may not necessarily warrant the member's exclusive share of wallet. I believe it could potentially be worth increasing the join fee to better play on the sunk cost effect, which would encourage members to invest more exclusively with Dusk and better capture loyalty, particularly from those with wandering eyes. This, with the integration of more experiential rewards, I believe has the potential to really optimise the effectiveness of the program.
Should you join?
I think that the Dusk Rewards is one of the more monetarily valuable member benefits programs available in retail today, giving candle enthusiasts great opportunities to save a couple of dollars through exclusive discounted events and always on benefits. It's a program definitely worth running your eyes over.