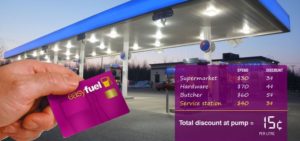 Small-to-medium enterprises (SME's) often struggle to run a loyalty program which returns value, the essential ingredient for meaningful member engagement.
Even if a customer is shopping on a regular basis, the retailer needs to sacrifice a fairly sizeable percentage of margin for the member to access an attractive reward. And building up the value can take time, which risks member disinterest and disengagement.
Many larger businesses gravitate to coalition programs such as Qantas Frequent Flyer, Velocity Frequent Flyer, flybuys and the bank programs. While the member might not be earning enough points from the individual retailer, the amount earned contributes to a larger balance which is valuable. In addition, the retailer has the opportunity to access the program's marketing database which is likely to be many multiples of their own and significantly more powerful.
The challenge for many SME's is that often big coalition programs aren't interested in talking with them, primarily because the partnerships aren't viewed as profitable enough (negotiations start with the retailer being required to commit to buying hundreds of thousands or millions of dollars of points annually).
Enter EasyFuel, a coalition program catering to SME's and beyond. Here's how EasyFuel works:
New members can easily join online by activating a card they picked-up at a participating merchant. Alternatively they can register and they'll receive a card in the mail.
By shopping and scanning at participating merchants, member accumulate fuel discounts which are automatically stored on the card.
Members can access their fuel discounts by presenting their EasyFuel card at a participating service station or alternatively fill up at any service station in the country and through the EasyFuel smart phone app, have the monetary value of their discounts paid into which ever account they nominate. Fuel discounts redeemed through the app are now being directed to pay utilities bills, phone airtime, KW of power or cash back. All fuel discounts are a 'cents per litre' savings up to a maximum 50 litre fuel purchase, with no minimum required to use a discount.
EasyFuels' discounts can last up to 60 days. Members can track the cents per litre savings they've accumulated online, through the EasyFuel app or at any participating EasyFuel outlet.
Loyalty & Reward Co spoke with EasyFuel General Manager Chris Hammond. 'We designed EasyFuel after identifying several gaps in the market which the major coalition programs were failing to address. Firstly, a program which was affordable for SME's and didn't require a financial commitment beyond their means. Secondly, a program which delivered a tangible reward quickly to members, rather than them having to build up points over several years. And thirdly, a program which was super-easy for merchants to set-up; no scary contracts and no expensive IT development.'
EasyFuel now has over 600 merchants in Australia where members can earn discounts, with more being added on a regular basis. The value is clearly being delivered, with an average discount of 23c per litre being applied for each redemption, equating to an average $11.50 saving. Additional earn options are being developed, including the ability for members to earn via online shopping at a wide range of merchants. For participating merchants EasyFuel delivers new and repeat business and by providing consumers with 'instant gratification' on a grudge purchase EasyFuel certainly encourages consumer loyalty.
Hammond has plans to expand EasyFuel overseas. 'We're in advanced discussions with a number of companies in the UK, USA and NZ, where similar loyalty dynamics exist. With fuel prices on the rise, and fuel being a grudge purchase, discounts are always going to be popular.'
To find out more about EasyFuel, visit www.easyfuel.com.au, or contact Chris Hammond at chris.hammond@easyfuel.com.au
Philip Shelper is a loyalty management consultant based in Sydney, Australia who obsesses about everything to do with loyalty and rewards. His company Loyalty & Reward Co are a leading loyalty management consulting firm.
Let's connect! https://au.linkedin.com/in/philipshelper