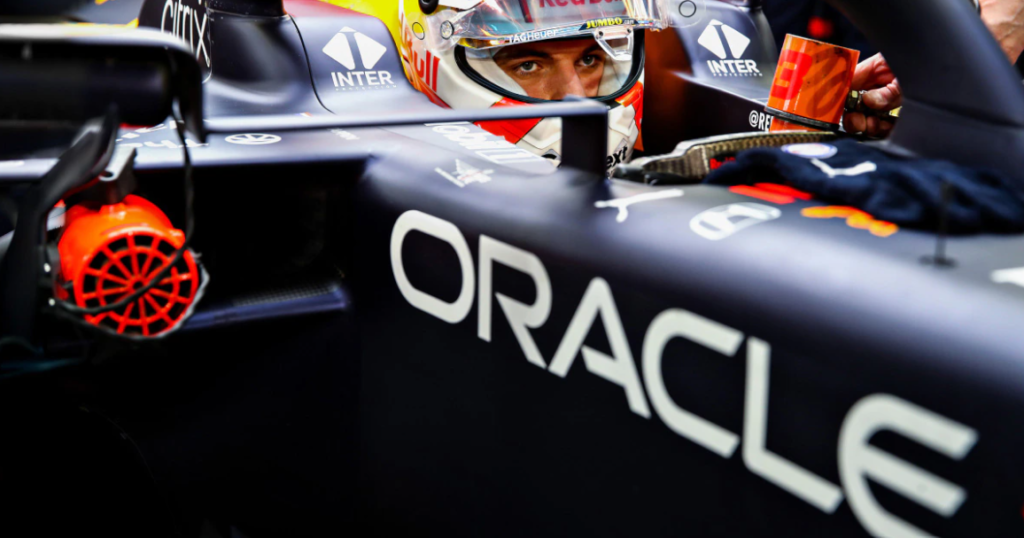 The hysteria around Formula 1 (F1) continues to grow rapidly each year, with TV audiences of approximately 1.55 billion and nearly 19 million followers on Instagram. F1 has even entered reality TV with their Netflix series 'Drive to Survive' that gives fans an inside look into the world of the most prestigious class of international racing.
Like the previous year, the 2022 season will deliver 22 races in 21 different countries (the US has bagged two races this year), and will see the world's best drivers going head-to-head to earn the number 1 spot. Now fans can get an even more exclusive look into F1, thanks to the prominent Oracle Red Bull Racing team who have created the first F1 loyalty program, The Paddock. But how does The Paddock create loyalty in the Auto Racing industry? Let's find out.
The program
The Paddock is different from the standard loyalty currency program in that it rewards members based on their activity and not their spend. After completing activities, members earn lifetime points which they use to progress to higher tiers where more benefits are promised.
The tiers:
Oracle Red Bull Racing Driver = 0 – 7499 points
Race Winner = 7,500 – 14,999 points
World Champion = 15,000 – 24,999 points
Oracle Red Bull Racing VIP – 25,000 + points
Red Bull Racing has purposely used the naming convention of the tiers to further immerse members into the world of F1 but to also create motivation to achieve that VIP status.
The program creates further exclusivity through it's 'team tales', an online series where members can hear from the Red Bull Racing team following each event.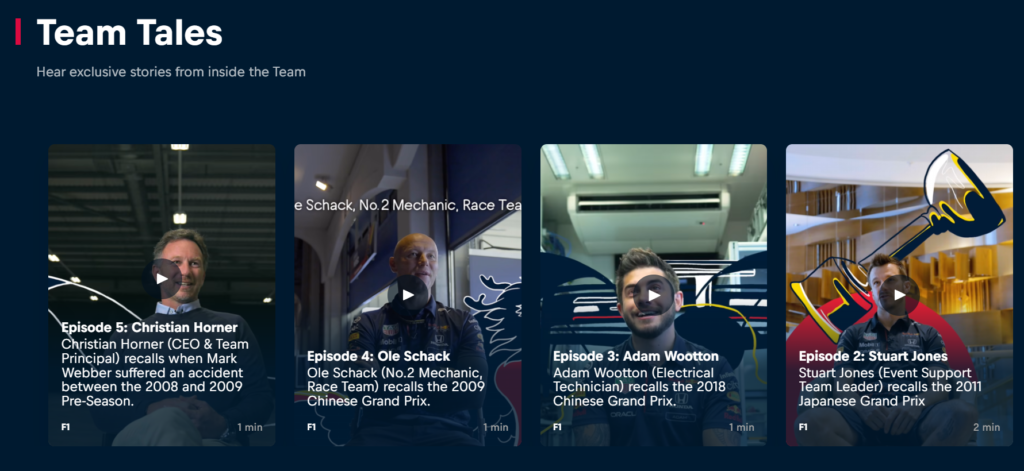 Earning points on activities
The basis of this program is that members can earn points by engaging in activities that top fans would do anyway. Simple right?
Accruing points involves the member immersing themselves into Red Bull Racing's online web content. Here activities range from:
Reading articles
Listening to Red Bull Racing's podcast 'Talking Bull'
Completing surveys
Clicking on their social media pages.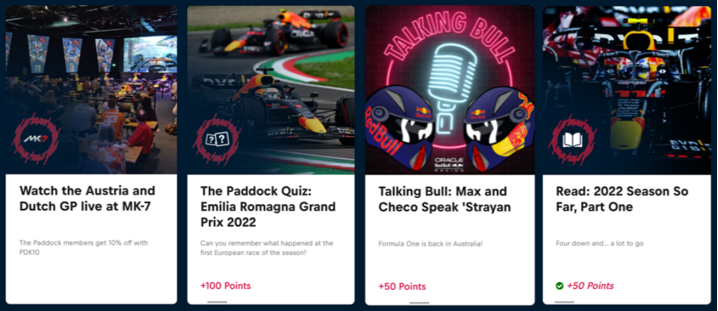 A challenge for brands that base points off activity is that members can easily collect points without engaging with the content. For example, when I clicked on 'check out our Instagram' for 25 points, the link took me to the login page but when I went back to my profile, the 25 points had already been awarded. Here lies the trouble with solely activity-based programs that allow members to earn all of their points without actually engaging with the brand.
The only activity that requires actual engagement are the surveys where members only receive points if they get at least 7 of the 10 questions right.
What are the rewards?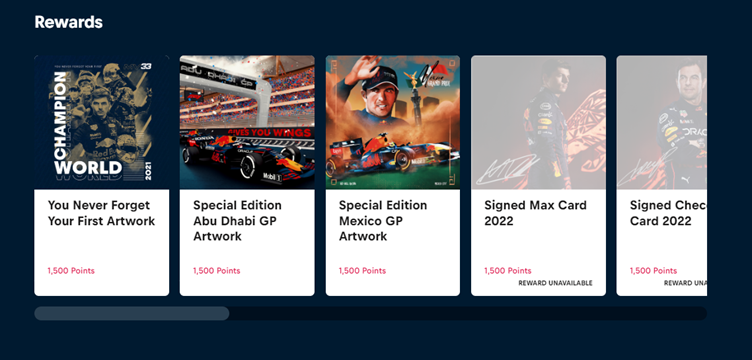 The rewards primarily include different memorabilia, some of which are signed by the team's top driver, Max Verstappen (2021's champion). The only reward that is determined by which status tier members sit in, is the discount for the Reb Bull online shop. The base tier is offered 20% and the top tier is offered 50%.
The discounts are generous, especially when you consider that there is no required spend. But the effort required to earn the rewards is considerable. For instance, to get a 'Signed Max Card' members need to earn 1,500 points or engage with 30 activities worth 50 points. On my account dashboard there are currently only 23 activities. Granted some are worth up to 150 points, but it means that there is only enough for me to earn one reward. It's unclear what the timings for getting new available activities are but if members are forced to wait then it's likely this will lead to disengagement.
Conclusions
The program provides an online forum for fans to get an inside look at the world of F1 racing, an opportunity that is usually reserved for the rich and famous.
But are the rewards worth the effort? Other than creating a strong sense of community and giving members exclusive content, the program fails to create substantial incentive to join. It would mostly suit those already loyal to the Red Bull Racing team.
Possible improvements to the program could involve offering members discounted tickets to events, meet and greets with the drivers, or introducing transaction based earning opportunities.
Despite the challenges, it's great to see such a renowned team take the steps to create a program that everyone can join. By bringing exclusive content to an inclusive community, that doesn't exclude those who aren't big spenders, shows how Red Bull Racing values their fans over financial gain.