Project Overview
Frasers Property Australia are one of Australia's leading diversified property groups. They develop commercial, retail, and mixed-use properties as well as residential land, housing, and apartments, and have delivered over 145,000 homes during their legacy.
Loyalty & Reward Co were engaged by Frasers in 2020 to assist with an audit and re-design of their residential loyalty program with a focus on:
Converting single property owners to multiple property owners
Growing member contribution margin to protect against the uncertain property environment
The re-launched Frasers Property Care & Reward Program is now an industry-leading customer care and loyalty rewards program. It's built around generosity and community for members and delivers real results for Frasers Property across engagement, spend, retention and advocacy.
The Solution
The solution was a re-design and re-launch of the tier based program to enhance value via:
Repeat purchase rewards
Member benefits
Referral rewards
Surprise & delight treats
Targeted promotions to boost sales at strategic intervals
The program is now centred around the heart of the Frasers Property brand philosophy of belonging, community, and culture of care. It provides better connection between members and their rewards via an enhanced UX/UI and communications approach and an increased focus on recognition and delight.
The Impact
Frasers Property Care & Rewards program has been extremely successful to date, delivering the following results:
49% member growth
35% of total stock sold each year is to program members securing sales prior to public release
Of member sales, 43% are repeat purchases and 57% are referrals (FY22)
Gift 2 Get 2 two way referral incentive campaign has continuously been a highly effective lever. In FY22 it delivered a state BU yearly target in just 5 months, generating 724 referrals (3 years' worth of referrals), revenue and contributing 29% of national sales. The total cost of the promotion was just 2% of revenue generated
What Frasers have to say
Frasers loyalty project leads Kesree Jones and Mercy Bailey talk about the strengths of the program:
'One of the greatest rewards we can offer our customers who get to become members are benefits to achieve their own property ambitions or help their friends and family achieve theirs, by recognising their loyalty and advocacy we see people create their beloved communities where they want to belong.'

Quote from Kesree Jones – General Manager Sales & Loyalty
'When I started in this role I recall how do we convert people in to multiple owners or leverage a loyalty program in a high involved product and where leading property market analyst like CoreLogic suggests, people hold on to their homes to the average of 11 years before moving on to the next, why would Frasers Property Australia need an affinity program? Doesn't the infrequency with which we buy homes seem counter intuitive to loyalty? but you'd see we've learnt that the power is both in caring, quality and advocacy and more importantly knowing how to utilise our database and understand our customer needs and this has certainly helped us in the position where we are yielding those results and at the heart of the brand and the ambition we share with our customers.'

Quote from Mercy Bailey – Senior Marketing Manager and loyalty project lead
Sample of personalised app dashboard and Gift 2 Get 2 promotion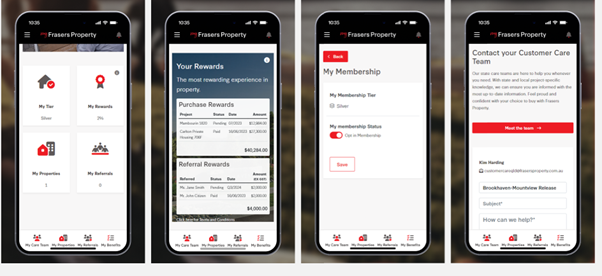 Congratulations
Congratulations to the amazing team at Frasers Property on recognising that there is absolutely a place for a quality loyalty program in the property industry and for investing in reinventing the Frasers program to align with their core philosophy of belonging, community and culture of care with meaningful and generous rewards.
We're delighted to have been able to play a role in helping guide the strategy towards the industry leading program it is today.