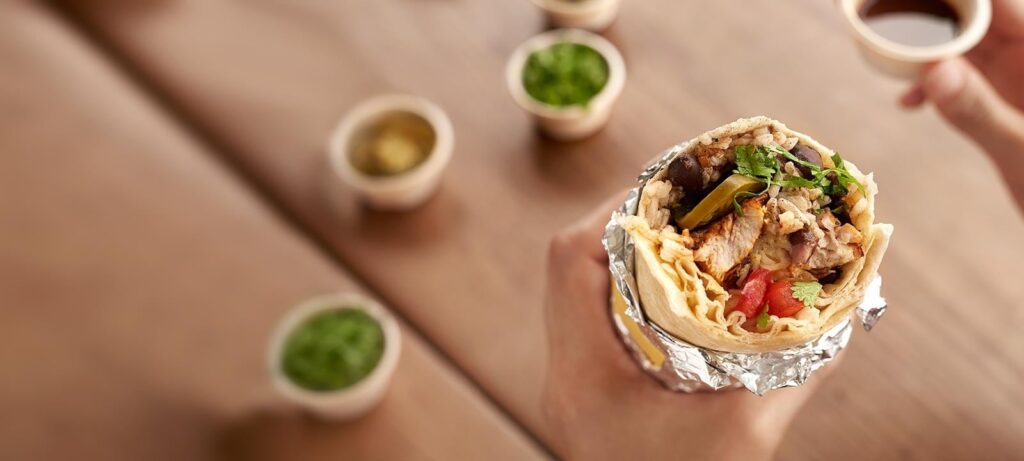 I'm a big fan of Mexican food.
I mean who doesn't like that sweet blend of sour cream, cheese, meat, rice and guacamole all tucked into a flour tortilla?
I'm also a big fan of value for money.
I guess that's why Guzman Y Gomez (GYG) stole my heart. They're the obvious stand-out in terms of taste, speed, convenience, quality and quantity at a reasonable price. Don't believe me? Just ask Steven Marks – the charismatic Founder and CEO of GYG, he's sure to win you over.
Whilst Steven may have no trouble convincing you about his product, I am sure he would stumble if grilled about the GYG loyalty program (named GOMEX).
Sign me up!
To become a GOMEX loyalty member you may:
Pick up a physical GOMEX loyalty card in store (must be activated with email online before any redemptions)
Download the app (sign up with email required)
Consumers may transfer their GOMEX points and/or $GYG from the physical card to the app, which saves on physical wallet space.
The other benefit of the app is that you can see your account balance in terms of GOMEX points and $GYG (reminding you how desperately far away you are to that next burrito – more on this below).
The sign-up process is basic, only requiring an email address and a password to set up an account. It is easy to complete and somewhat reassuring that GYG won't make me give away my identity for a few GOMEX points.
It is important to note that the member profile section allows consumers to fill in the following details:
First and Last name*
Mobile*
Gender
Birthday
Postcode*
Regular GYG restaurant*
I assume the asterisks indicate compulsory fields, however, my account runs smoothly without having provided a mobile or regular GYG restaurant. Is this a ploy to push me to fill in more information?
To earn GOMEX points consumers must scan their card (or barcode in the app) when ordering in store. GYG also allow you to bypass the cashier by ordering from the app and picking it up – in this case the GOMEX points earned for the purchase are automatically added.
In terms of GOMEX point calculation, any amount over 50 cents is rounded up to the nearest whole dollar and any amount under 50 cents is rounded down.
$GYG can be redeemed instore as a whole or partial payment of the order. However, if ordering through the app, $GYG can only be redeemed if the $GYG is greater than the order value. Additionally, no GOMEX points are received when redeeming $GYG.
Points breakdown
Simply, the program rewards GYG consumers for any menu purchase.
$1 spent = 1 GOMEX point
Once the GOMEX points hit 150, they are converted to $GYG.
150 GOMEX points = 10 $GYG
Therefore, $150 (spent) = 150 GOMEX points = 10 $GYG = $10 (to spend at GYG)
Yes, you read that correctly. $150 spent = $10 to spend. This equates to GYG returning about 6.5% of the spend to customers. Not terrible, but not great by any means.
GOMEX points are redundant until 150 points is reached, and they are converted to $GYG.
To put the $10 spend in perspective, a regular Burrito is $11.90 (without guac) in store and an Enchilada is $15.00. So, after spending $150, the cost of a common menu item is still only partially covered. If you're looking for good value at GYG, it seems the GOMEX program is not the place you'll find it.
The GYG website makes some intriguing indications as to where they'd like the program to go in the future.
"Initially, your $GYG will only be redeemable for food and beverages offered in the restaurant but will soon include Latin concert tickets, merchandise, Mexican art, salsa dancing… the list goes on!"
Hmm. My dancing skills have taken a back seat during the lockdown.
Room for improvement
1. Tough progression for consumers
GYG make it quite difficult for loyal consumers to reach their reward and when they do, they are given a mere $10 to spend.
Taking advantage of the 'endowed progress effect' (the further along the journey you are, the more likely you'll want to finish it) may help GYG gain some more traction.
Not much, if any, joy is added throughout the customer experience. What you see with the program is what you get – that is, sub-par value. I assume that is why none of my friends have bothered to join.
However, from my experience, your friends' lack of interest in the program may be a bonus for you as there is no limit to the number of times a card or app can be scanned. Therefore, ordering with friends, for friends or just simply tapping your GYG card/app for a friend's order will build up those GOMEX points quickly.
2. Poor promotion
The program is not regularly promoted or advertised in store or externally for that matter.
In store, I am very rarely asked if I am a member or if I would like to join. I have had incidences in the past in which my order has been put through before I can notify the cashier of my loyal allegiance to the GOMEX program.
I am not sure whether to put this down to poor staff training in relation to the GOMEX program or see it as an indicator of how frequently the program is used by consumers.
In GYG's defence, they did warn me in the terms and conditions. "While GYG will make reasonable effort to remind you of this, it is not GYG's responsibility to do so."
Great company. Great product. Sub-par loyalty program.