The loyalty program that started for a laugh is actually no joke. Launching next week, and whether it was fully intentional or not, this program has some brilliance built in.

The program design as described by Hamish Blake in the podcast:
"They (the store) understand that when I (Hamish) buy something, I get 10% off and then I immediately give 5%, so half of that 10%, straight back to the store. They win, I win, they get it. Why wouldn't a company accept the card?"
"It's the card the stores love" (as per the card catch phrase)."
The program design as described by me:
Framework: member discounts
Member experience:

Why this program works:
They've overcome the chicken and the egg conundrum
When it comes to building a merchant network from scratch, the merchants won't come unless there's members and the members won't come unless there's merchants. Through plugging the program on their wildly popular podcast, then running a test on air calling a random retailer, Total Tools, to see if they accepted the card, merchants felt fomo and rushed to participate. A huge and hilariously executed success.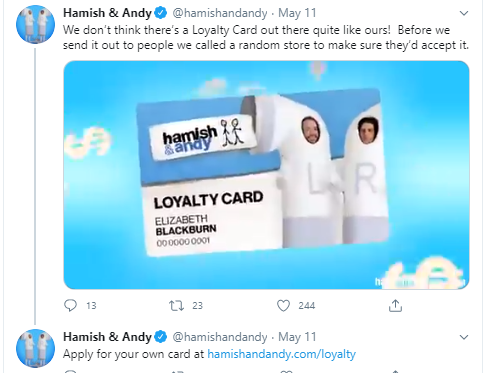 The Loyalty Card will now be accepted post lockdown at the entire Chapel Street Precinct in Melbourne and the list of registered stores honouring the card currently sits at 332! Here's the full list of partners accepting the card and a full list of 'stores having teething problems accepting the card' (i.e. they don't accept the card and they are being publicly shamed for it)' – https://www.hamishandandy.com/loyalty/
On Twitter, Hamish & Andy followers are even tagging their favourite brands to see if they'll be joining the program soon, creating a Loyalty Card Army!
They've built on the scarcity bias
Tens-of-thousands of member applications for the Loyalty Card were received in just a few weeks. As a result, the Loyalty Card issuance has been capped at 30,000 members due to such high demand! Now in scarce supply, each Loyalty Card holder will have something they can present to others with attached trophy value, a self esteem boost and a sense of exclusivity and belonging (a level of delight most loyalty programs fail to deliver).

The program is simple to join, simple to understand and simple to engage with whilst delivering immediate tangible value and instant gratification to members through discounts.

Terms and Conditions are usually boring, but these ones are brilliant. And honest.
*By registering for a Hamish and Andy Loyalty Card, you agree and understand that any in-store discount is solely at the discretion of a participating store and may or may not be honoured. The loyalty card is solely for humour and the "up to 10% discount" is an arbitrary value (based on 5% benefit to you (the card holder) and 5% benefit for the relevant participating store (being custom in-store)). Participating stores will determine the associated conditions of use and eligibility criteria in their store. Only valid for the period specified by the relevant participating store. May not be valid in conjunction with other in-store discounts or promotional offers. Not redeemable for cash or prior purchases. Online purchases not included.
While this program was created 'soley for humour', I registered half for the humour and half because it's pretty smart, pretty simple and pretty valuable. Hamish & Andy Loyalty Card for the win.