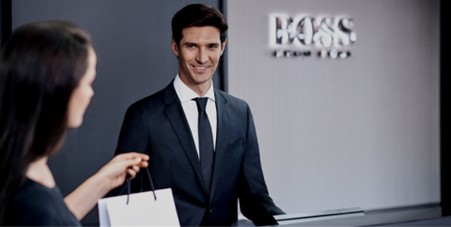 Hugo Boss is a renowned fashion brand that offers premium clothing and accessories for both men and women. The brand is known for its high-quality products, attention to detail, and sophisticated designs. Hugo Boss has two main brands: BOSS and HUGO, each catering to different customer groups with their distinctive attributes and styles. BOSS primarily focuses on business outfits, offering classic and elegant clothing options for professionals. However, in addition to formal wear, BOSS also offers casual styles and athleisure options for customers seeking a more relaxed and contemporary look.
The Hugo Boss Experience loyalty program was designed to reward customers for their brand loyalty and provide exclusive benefits. Hugo Boss has steered away from the traditional points model and provide exclusive member experiences, early access to products, and more.
Joining the program
The sign-up process takes less than a minute online and it is free to join. Members will need to provide their full name, email address and DOB.
Members can log into their account to define their preferred brands and their interests: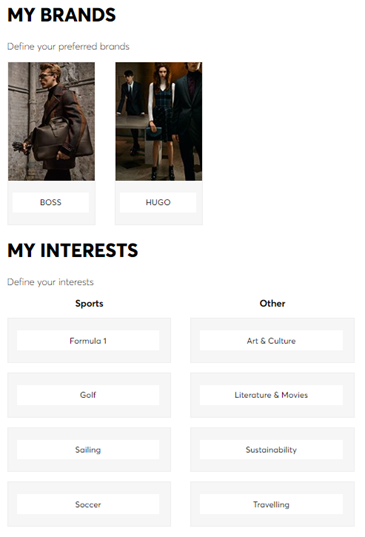 Benefits
Hugo Boss Experience epitomizes the essence of exclusivity, catering to the desires of customers seeking higher-class treatment. The program offers a personalized experience that is readily available across all channels. Hugo Boss understands the importance of personalisation, ensuring that members feel valued and enjoy a taste of exclusivity.

Instant Perks: Unlike traditional tiered programs, Hugo Boss Experience does not rely on points or levels. Instead, all benefits are instantly available for every member from the moment they join. This approach provides instant gratification that modern customers seek. Therefore, members can enjoy the perks and rewards, without the need to accumulate points or reach specific tiers.
Complimentary Alterations: Members can benefit from complimentary alterations, ensuring that their purchases receive the perfect fit and finish. This personalised touch enhances the overall shopping experience and reflects the company's commitment to exceptional craftsmanship and customer satisfaction.
Exclusive Gifts: High-end customers seek to be pampered and rewarded for their loyalty. Hugo Boss understands this desire and presents members with exclusive gifts that hold higher value. These gifts go beyond what is typically offered in loyalty programs, reflecting the brand's dedication to providing an extraordinary experience.
VIP Experiences: Hugo Boss aims to provide a highly personalized and rewarding journey for its members, ensuring they feel esteemed and appreciated at every step. Members receive exclusive invitations to private events, such as fashion shows, product launches, and special in-store experiences. These events provide an opportunity to immerse themselves in the world of Hugo Boss, interact with industry professionals, and get a firsthand look at the latest collections and trends.
Personalisation
To keep members updated on the latest offerings, Hugo Boss encourages participants to enable newsletter and personalized offers communications. This ensures that customers receive tailored information about new collections, events, and other relevant updates, allowing them to stay connected with the world of Hugo Boss. Members are treated to personalized shopping experiences with dedicated stylists or personal shoppers. These experts provide valuable insights, advice, and assistance in selecting the perfect outfits and accessories tailored to the member's preferences and style. This personalized attention ensures that members enjoy a seamless and delightful shopping experience.
Last thoughts
Hugo Boss Experience loyalty program sets a benchmark in the luxury fashion industry with its focus on exclusivity, personalization, and instant perks. By forgoing traditional points-based systems and tiered approaches, Hugo Boss ensures that every member can immediately access the exceptional benefits of the program. Complimentary alterations, exclusive gifts, and personalised communications further enhance the overall experience for program participants. Hugo Boss continues to demonstrate its commitment to customer satisfaction and loyalty by providing a loyalty program that truly reflects the brand's values and dedication to delivering exceptional fashion experiences.