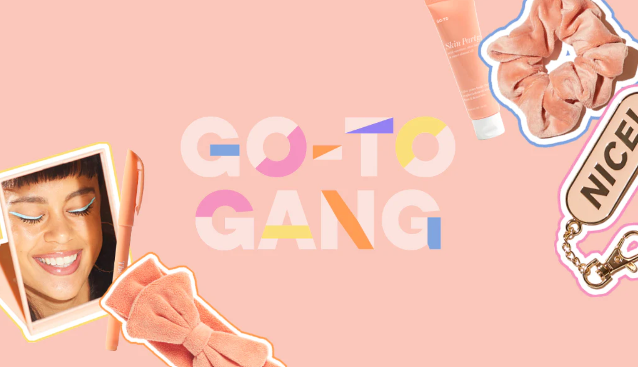 Clients and colleagues are always interested in what my favourite loyalty program is. Whilst I love Mecca Beauty Loop dearly, I think I might have found a competitor program to love that little bit more.
This little gem is called Go-To Gang from Aussie born beauty brand Go-To Skincare.
Here are all the reasons why It's been crowned the new favourite
Design
The design is on point with all the best-practice principles. It's a simple tier model based on lifetime spend (not quarterly spend like Mecca), meaning members never lose the progress they've made towards a tier and they don't ever get downgraded once they reach a tier.
This type of model would typically be hard to make work commercially, however the beauty industry have the benefit of being able to access very efficient and cost effective rewards due to having high margin products, the ability to produce/access low cost samples and leverage strategic partnerships.
The most exciting part about this program are the valuable 'Little gifts available with every order'. This is the piece of the puzzle that makes the model work to successfully stimulate loyal behaviours such as frequency, recency and spend. For example, members in the Mate tier (base level) are motivated to reach the $500 threshold to access this benefit, and members which have reached this tier feel compelled to purchase more often in order to extract the most value from this benefit. Poetic.
The design is cost effective because Go-To only need to provide free gifts and free samples to members when they place an order, protecting the program from cost blowouts due to being directly linked to revenue generated (unlike the Mecca program).
Lastly, by having a constantly evolving selection of reward gifts, this keeps the program fresh, always leaving members with a sense of excitement and anticipation about what free gift could be around the corner. This is one of the only programs I have seen which successfully incorporates surprise and delight into their framework in a way which can maintain the element of surprise. This can have very powerful positive effects from an emotional loyalty perspective.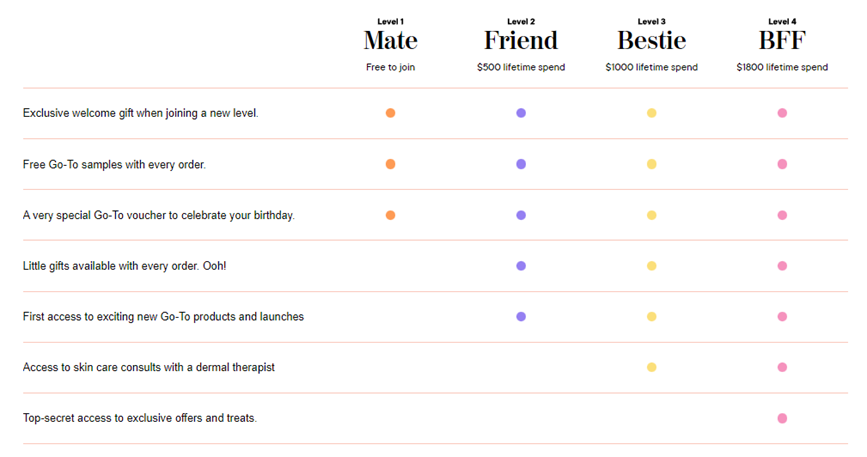 Rewards
The actual rewards are excellent. As a Friend, I have already received the following gifts:
Go-To branded face spatula (as my welcome to Friends tier gift)
Go-To mini travel kit
Go-To branded hair ties
Go-To mirror sticker pack
Go-To full sized Shower Party product
These branded gifts are strategic for a number of reasons. They either introduce me to new products and/or they introduce Go-To branded merchandise to my home or to my person.
I also have to note that while some other brands say that their members will get soft benefits such as exclusive access to new products and VIP access to sale/offers, Go-To are one brand which consistently deliver on these rewards.
Smarts
The program is operated with all the smarts.
They've allowed their gifting system to be slightly gamed by members. For example, if I add products to my cart, I can see what free gift will be added to my order. This is likely not by accident and here's why:
I have to be logged in to view the gift
The gift itself could temp me to checkout to receive
The fact the gift is different every few weeks keeps me coming back to check
If it don't checkout, I am reminded via a cart abandonment email that my cart is waiting
Go-To now know that products I am interested in buying, so can send me additional information about them
Member Lifecycle Management
Finally!!!! A company with a quality Lifecycle strategy. Not only are all their automated communications hilarious, quirky and on-brand, they're also timely and effective in driving desired behaviours.
Here's some examples:
Welcome email: explains how it works and what I'll get super simply

Birthday email: arriving on my birthday

Tier progression email: sent immediately after I made a qualifying purchase to welcome me to my new status and encourage me to get my first free gift by making a purchase

Post purchase reminder: asking me to review to win more product leveraging the norm of reciprocity (as humans we will feel more compelled to provide a positive review if we will be rewarded for it)
Go-To are not only my Go-To skincare brand and Go-To gifting brand, Go-To Gang is now my Go-To example of a best-practice loyalty program and I don't issue that title easily.