I am a shameless Mecca Beauty Loop fan girl and blogging enthusiast. For background, my article The Beauty Behind Mecca Beauty Loop explains all the reasons I love the program.
This blog is all about their latest development, the launch of a new program tier, Level 4.
I now know two things for certain:
I am not alone in my love for this program
Loyalty programs absolutely work
About Level 4.
The main difference between tier benefits are the quality and frequency of the samples and gifts members receive within their Beauty Loop boxes and on their birthdays.
Members who spend $3,500 or more at Mecca per year can now reach Level 4. This was applied retrospectively at launch to current members who fell within this spend bracket.
For such a standard and natural extension to the program, this has worked wonders already with the member base who've gone absolutely ballistic for it.
Feedback from members.
It's been overwhelmingly positive for all involved:
Mecca: Level 4 members are sharing endless proud and positive stories and envious lower tier members have challenged themselves to spend more as they strive to reach the exclusive new tier
Members: have been requesting a higher tier and are absolutely gushing over the quality of their Level 4 beauty boxes and gifts
Beauty brands: are provided with a unique opportunity to micro target the big spenders and are already seeing conversions
Some jaw dropping examples to illustrate.
This Level 4 member is so overjoyed with their Level 4 gifts they felt compelled to share (this is just one of maannnnyyyy of these types of posts):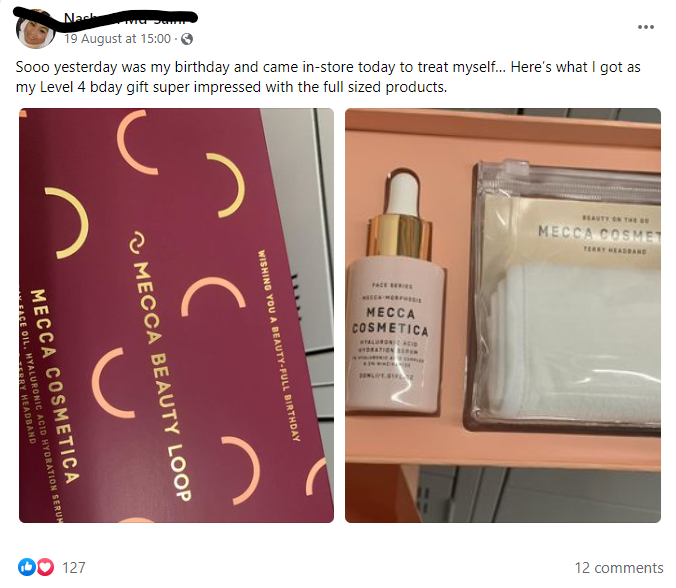 This Level 4 member is taking on her Level 4 status as part of her own identity (as per social identity theory) stating 'she's a level 4' and receiving 793 likes and 285 comments from jealous peers: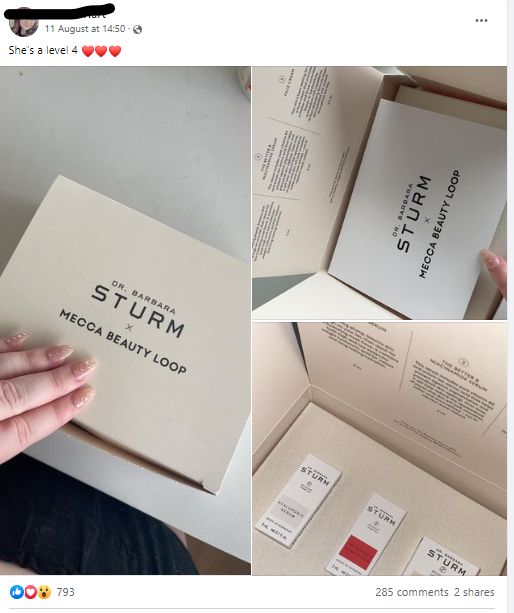 This Level 4 member is already stressed about not maintaining the Level 4 status level (the perfect depiction of the loss aversion bias and endowment effect bias at play):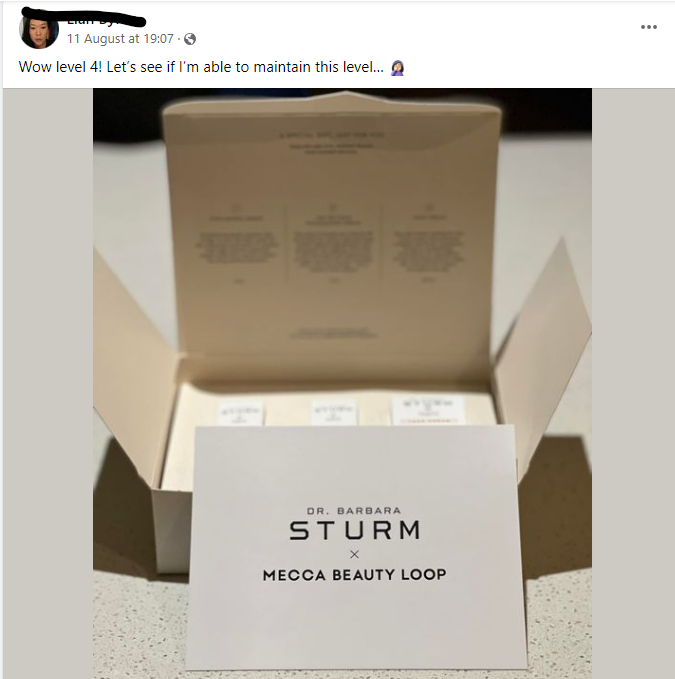 This Level 4 member purchased some extra (and very expensive) items instore when they visited to collect the Level 4 welcome gift: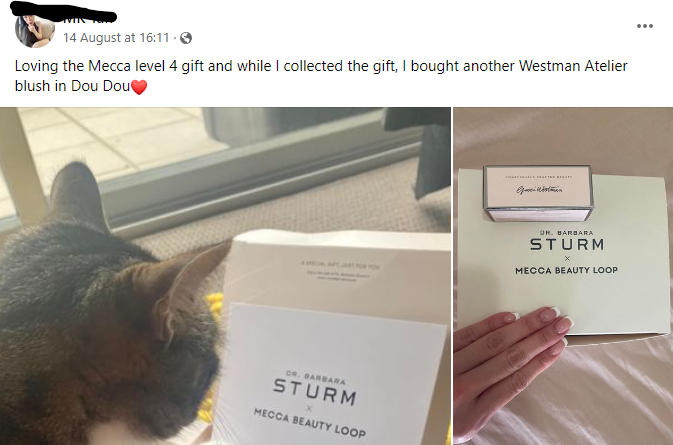 This envious Level 3 member plans to spend $679 instore when they visit next just to reach Level 4

This Level 3 member has literally accepted the challenge to reach Level 4 even though she's $1534 away: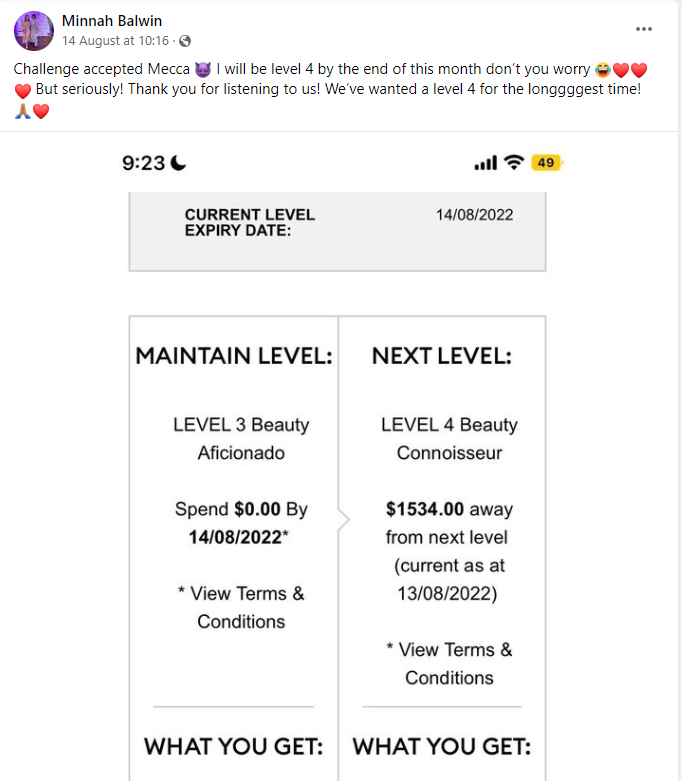 This member is asking her peers for recommendations for how to spend over $400 in Mecca to reach Level 4. There are 92 comments in response from other members assisting her:

This Level 4 member is delighted to have received a sample box with 3x 3ml samples (which would last 2-3 applications each at best). Someone has worked out that is equates to $80 of value given the full-size face cream or serum alone cost over $400 each. They have used this is justification for the worth of being a Level 4!!!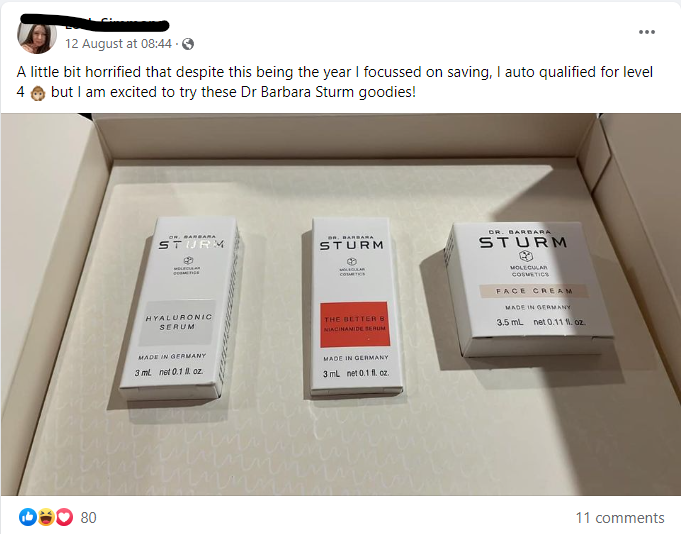 This member actually went ahead and bought the $400+ full size product after trying the samples, sharing the positive before and after results. An absolute win for the beauty brand!
There are also comments stating that if members were to use these products and nothing else, they would be able to reach and maintain level 4 given the price. It's literally all about the Beauty Loop program!


Is it me or is this level of loyalty absolutely astonishing?
Mecca Beauty Loop have achieved all the things a loyalty programs are designed to do including driving engagement between a Mecca and its members and building relationships that manifest in increased visits, spend, brand affinity, advocacy, retention and market share.
In summary, loyalty programs can absolutely work if they're engineered and executed as well as this one.
---