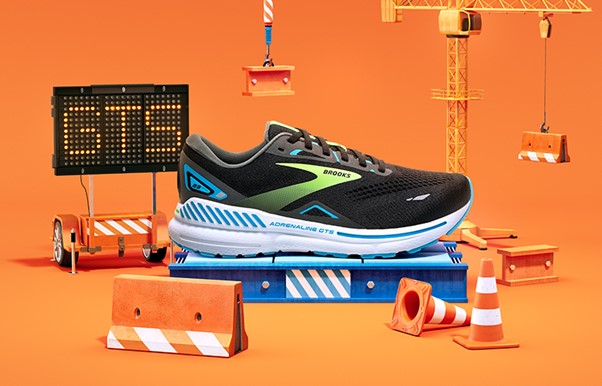 Brooks Running was founded in 1914 and is a prominent American athletic footwear and apparel company with a deep-rooted dedication to the running community. Renowned for its high-performance running shoes, Brooks places a strong emphasis on innovation, comfort, and support, catering to runners of all levels and body types. Brooks Running fosters a vibrant running culture, promoting inclusivity and empowering athletes to achieve their personal bests while contributing to environmental sustainability through responsible manufacturing practices.
As many weekend warrior runners are aware, it's a big step (pardon the pun) in your life when you decide to move sneaker brands. After a 20-year relationship with ASICS Kayanos, I made the move to the Brooks Ghost 2-years ago, and I haven't looked back.
I wasn't aware that Brooks had its own loyalty program, the Brooks Run Club, until recently, when I was on their site looking at the latest shoes and saw a banner promoting the program.
Joining the Program
The joining process is very simple and can only be completed online, by providing your name, email address and birthday details. I was happy to provide my birthday details and I could clearly see that part of the program includes a birthday gift, which is always a positive.
Once you have completed the sign-up process, you do receive a welcome email that once again outlines how the program works, the benefits of the program, and clearly promotes the 10% discount you will receive on all purchases for being a member.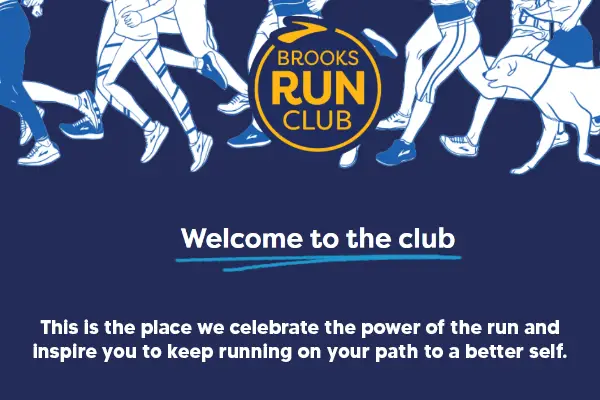 Member Benefits
The Brooks Run Club is a traditional tier-based loyalty program, in that you unlock more value as you move up the tiers, which is achieved through engagement with the brand. As highlighted in the diagram below, the program includes three tiers; Blue, Silver and Gold. To remain on your tier or progress you need to earn "metres" per year.

Members of the program earn metres by performing activities. The list of activities that members can perform to collect metres include: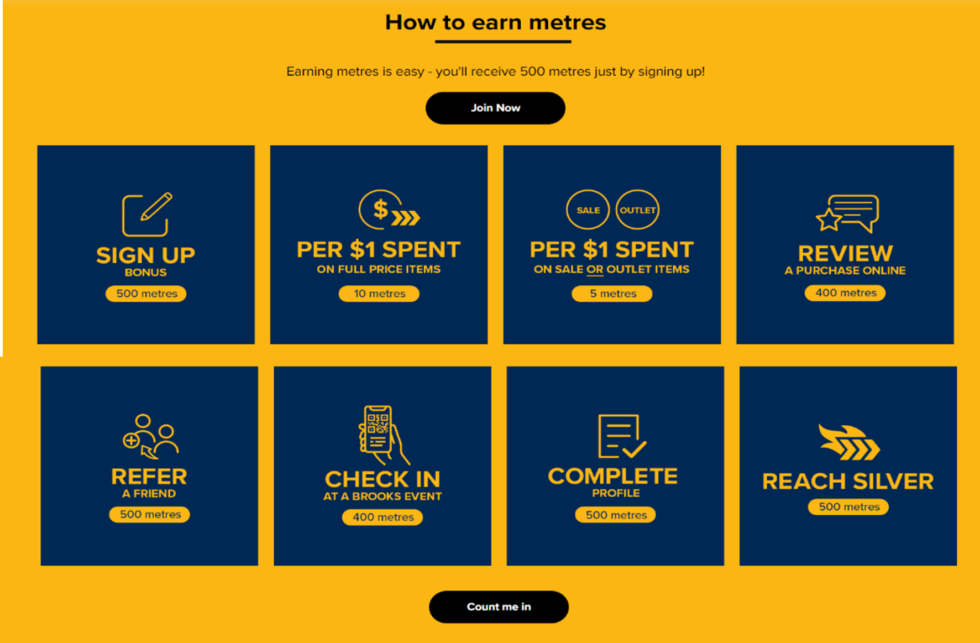 I personally like the combination of transactional and non-transactional (gamification) activities available for members to earn metres. Not only does this provide an on-going opportunity for the member to earn metres and stay engaged with Brooks, but it also provides Brooks with the opportunity to continue to communicate and market to members. Many loyalty programs will only reward members for transactional purchases, whereas the Brooks Run Club has multiple touch points which are all helping to build a connection with the member and move them towards becoming a true brand advocate.
The benefits of each tier are:
Blue: 10% off full price clothing, $25 birthday voucher, access to pre-sale/exclusive offers.

Silver: 10% off full price clothing, $25 birthday voucher, access to pre-sale/exclusive offers, $50 voucher code upon qualification, one free return, free express shipping on orders over $250, and road tester consideration for new releases.

Gold: 10% off sitewide, $50 birthday voucher, access to pre-sale/exclusive offers, $100 voucher upon qualification, free returns on all orders, free express shipping on all orders, and gift with the first purchase after qualifying.. Additional benefits may be offered at Brooks discretion.
What I really liked about the welcome email and the beginning of this program is that you receive 500 bonus meters for signing up and an additional 500 for completing your profile, which sets you on your way to reaching your next tier and unlocking more rewards.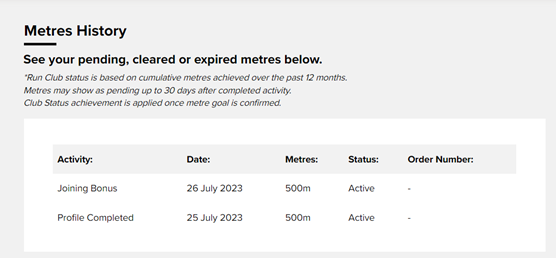 This is a great example of tapping into the psychological phenomenon of the Endowed Progress Effect, in which individuals are more inclined to engage with a loyalty program once they have made initial progress. Many brands adopt this theory as part of their loyalty strategies to inspire members to strive towards specific goals, ultimately fostering repeat business.
Furthermore, the Brooks Run Club has utilised the Goal Gradient Effect, which states that the tendency to approach a goal increase with proximity to the goal. This behaviour is evident in loyalty points programs where members tend to intensify their consumption as they near the next status tier, aiming to achieve it quickly. This strategic approach aims to stimulate an increase in discretionary purchase behaviour among members.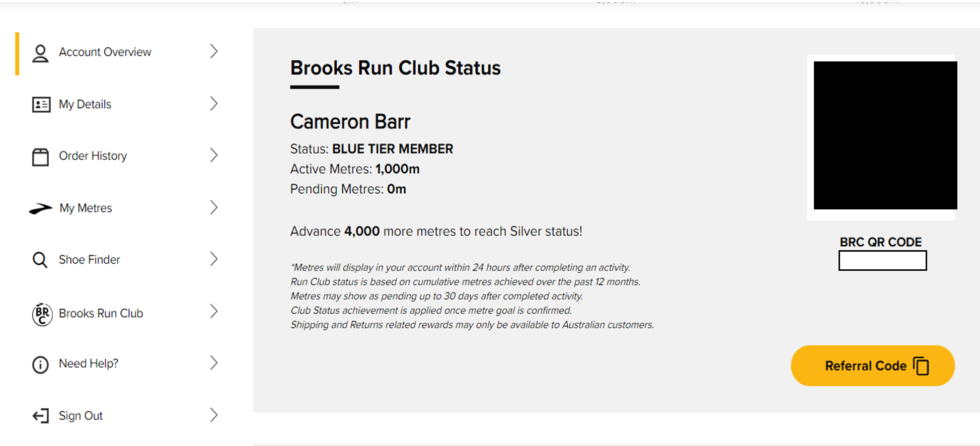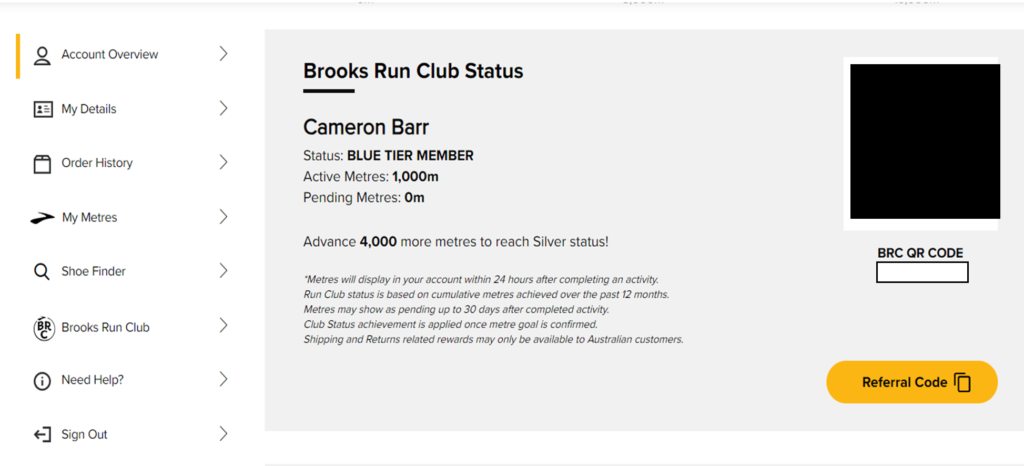 Email Communication
Since joining the program, I received one email welcoming me to the program and reiterating the 10% off full price clothing I receive as part of the program. I then received a second email wishing me a happy birthday with a $25 gift voucher, as I had updated my birthday details within my account profile, to be the day after I joined. This isn't really my birthday, but this can be our little secret.
A few days after joining the program, I start receiving an email every three or four days for the next month promoting different products and sales. I can see within my account that I have been auto enrolled in the email newsletter.
A better solution may be to send the initial reward specific emails over the first week, followed by an email that asks the member a few specific questions around what they would be interested in hearing about to better tailor future correspondence and enhance the member experience.
In Summary
I really like the Brooks Run Club and the tiered based program that uses both transactional and non-transactional activities to reward members. The best loyalty programs have a deep understanding of their members, and this can only be achieved through personalisation. Brooks is well on the way to achieving this through the model they have employed and I look forward to staying a Brooks Run Club member over the years to come and to see how this program evolves.
Looking to enhance or build a loyalty program?
Our customer loyalty consultant experts can help you measure your loyalty opportunity and develop a comprehensive loyalty program or enhance your existing one. Discover our wide range of comprehensive loyalty services. Get in touch to learn more about our wide range of loyalty services and kickstart your journey to building loyalty with your customers.