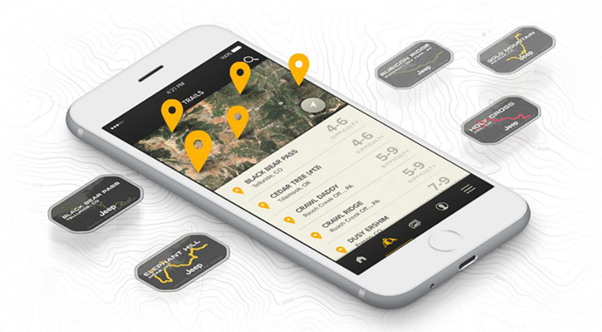 Micro communities can make brands. That's because brands which successfully create a connected micro-community of engaged members can suddenly find themselves with a powerful and influential platform which generates mass engagement, social promotion, word-of mouth, community participation and feelings of exclusivity and belonging.
These outcomes sound pretty great, and actually deliver to almost all of the objectives our current clients are looking to achieve. This is a summary of where our clients objectives have been heading lately when it comes to their loyalty program goals:
'we want to transition our customer relationships from transactional to emotional'
'we want to build emotional bonds and connections with customers'
'we want a two-way connection between our brand and customers'
'we want to create customer stickiness and lock in effects'
'we want a truly loyal customer base'
Well, micro-communities is one way to get there, and I want to highlight the Jeep Badge of Honor program as a trailblazer in this space.
The Jeep Badge of Honor program:
Launching in 2013, the program is based around its brand-sponsored mobile app for Jeep owners. The program awards physical badges to members who complete off-road trails across the United States. Members use the app to find new trails, track where they've been, upload photos of their adventure or interact with tens of thousands of their Jeep community friends.
Jeep owners publicly display their 'Badges of Honor' on their cars as a symbol of pride. This is a key program design element which has heavily contributed to the success of the ever increasing Jeep micro-community.
While the badges are the program's primary benefit, they are not the only thing members can earn. Members can also earn points by posting photos of their trail experiences to the app, and commenting on pictures others have posted.
Those who check in for a trail receive 200 points, while posting a photo is worth 20 points and each comment earns 10 points.
As members accumulate points they also progress through the ranks, another fun way to show off within the Jeep off-roading community.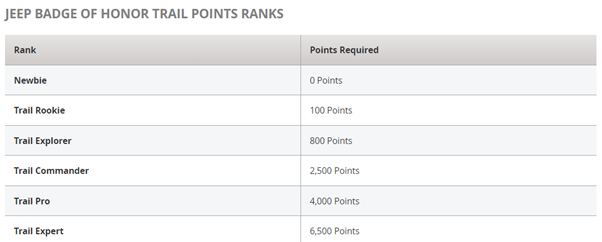 Why this program is the pinnacle of micro-community power?
Simple registration: users download the app, set up their profile by entering some simple details including their mailing address (for badges to be sent) and vehicle identification number (to verify they're a Jeep owner) and immediately gain free access to the program. They are then presented with a personalised app home screen showcasing trails near them, trail difficulty and current weather conditions, encouraging them on their Jeep journey.
Rewards with trophy value: the physical 'Badges of Honor' are not only a genius idea, but they're also genuinely great quality. When an earned badge arrives at a member's home, it will have the name and location of the trail they've completed engraved in silver, with a colour coded line across it representing the trail journey and the difficulty level (etched using the Google Earth map – green (easy), yellow (medium) and red (hard).) This makes each badge within the suite unique and turns it into a collectors item with trophy value which each Jeep owner wears on their car as a literal Badge of Honor.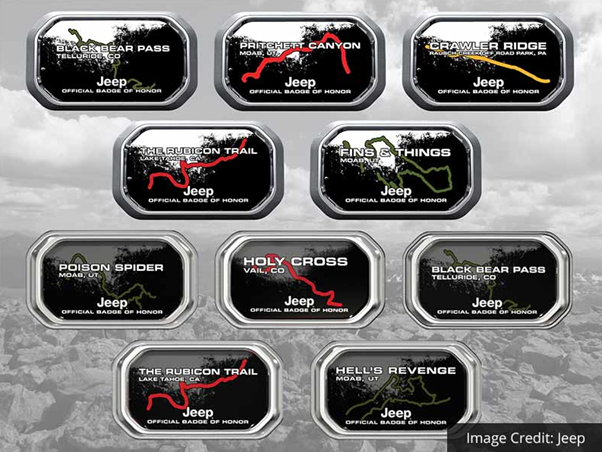 Gamification: the app tracks progress towards 'collecting' badges, points earn, rank progression, as well as check-ins, comments and other community participation events which all act to effectively gamify the full experience of engaging with the program. Full sets of badges have even made their way to Ebay as collectors items!

Exclusivity and belonging: everything the program does provides members with a self-esteem boost and fosters feelings of exclusivity and belonging. Celebrating achievements, providing rewards which are publicly displayed and labelling members as trail Commanders, Pro's or Experts, all work to deeply connect members to the Jeep community and their Jeep cars, leveraging Social Identity Theory.
Community participation: the program directly rewards behaviours which stimulate community participation. This has resulted in user endless user generated content (photos, comments, tips) and social promotion (linking social media accounts, checking in, social sharing). Brands would usually have to allocate a significant amount of marketing budget to creating their own content or obtaining this level of exposure on social media.

Evolving: new trails and badges are forever being released to ensure there are always exciting new ways for members to continue to participate and grow their engagement. Jeep usually release 5x new trails/badges per year.
Creating micro-communities is not an easy task. It takes a crafty design, careful nurturing and constant maintenance, monitoring and motivating of members to generate the mass engagement required to make a micro-community work.
However, for those brands who invest in designing a program tailored towards building a micro-community, then use the community to build out the community and their brand, they will see exponential success just like Jeep.
---