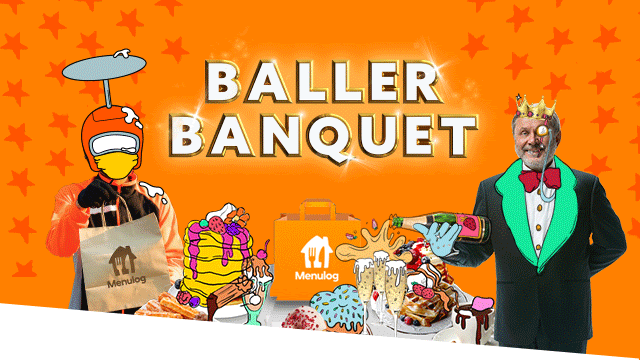 Menulog's biggest party has kicked off, and we're all invited!
The online food delivery service has recently launched a new promotional campaign titled the 'Baller Banquet'.
App users can 'join the party' to earn Menulog Tokens for completing various challenges. They can then redeem the tokens for rewards and discounts. It's a fun idea which gamifies the task of ordering food online and rewards users in the process.
It's also a means to differentiate. The number of services vying for a share of Australia's $756 million food delivery market has significantly grown in recent years, with a big tug-of-war between UberEats, Menulog, Deliveroo and DoorDash. Strong growth is forecasted to continue over the next five years due to technological proliferation and increasing demand for convenient meal options. This shift has been accelerated by the impact of COVID-19.
Earlier this year, UberEats launched a rewards feature for users to earn Restaurant Rewards by meeting spend- or order-based targets set by individual restaurants; this sits alongside the brand's wider encompassing Uber Rewards loyalty program.
Now, Menulog seeks to deliver a unique and personalised member experience to differentiate itself in a crowded and homogenous market, albeit for the duration of the promotion.
Completing challenges
Baller Banquet utilises gamification to encourage and reward customers for completing several desired behaviours via the Menulog platform, including usage of the app, targeting specific times of day (e.g. order on a Monday or breakfast between 8am-10am), spending over a certain threshold or ordering different types of cuisine.
Customers who choose to participate are provided with a personal dashboard and a total of 16 challenges to complete. People don't like to leave things incomplete; when you put something in a set, the human brain is compelled to gather the entire collection.
Multiple challenges can be completed in one order, which is a nice touch in terms of the customer experience. Tokens are visualised via a progress tracker and issued every 24-48 hours to deter gaming the system.
A full list of the current challenges include:
25 Tokens – Order Breakfast 8am-10am
25 Tokens – Order Lunch 11am – 2pm
25 Tokens – Order Late Night 9pm-12am
25 Tokens – Order on Monday
25 Tokens – Order on the App
75 Tokens – Spend $75 in a Single Order
100 Tokens – Spend $100 in a Single Order
420 Tokens – Spend $420 in a Single Order
25 Tokens – Order Pickup
25 Tokens – Order Vietnamese
25 Tokens – Order Indian
25 Tokens – Order Japanese
25 Tokens – Order Chinese
25 Tokens – Order Thai
25 Tokens – Order Pizza
25 Tokens – Order Grocery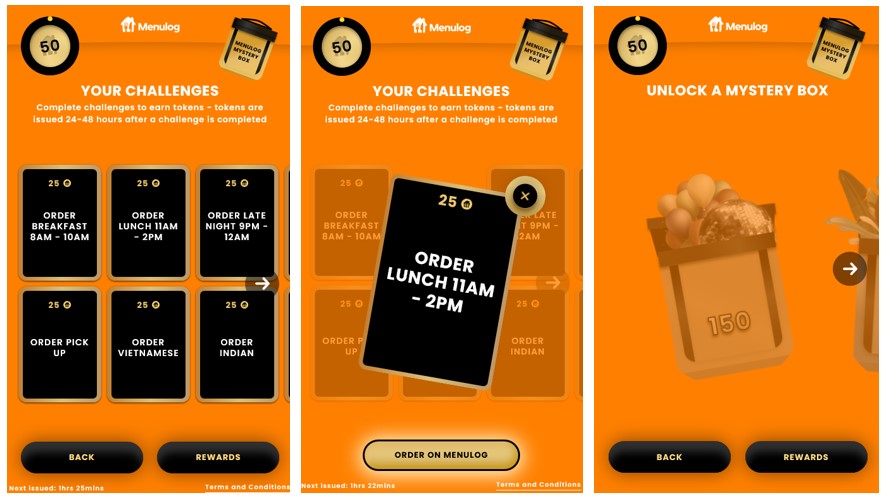 The more orders a customer makes, the more challenges they complete, and thus the more tokens they earn to spend on rewards. Menulog has given each banquet guest 50 tokens to kick off the promotion, providing endowed progress towards claiming the first reward.
Unlocking mysterious prizes
Rewards are shrouded in mystery, hidden away in Menulog Mystery Boxes. A Mystery Box can be unlocked for 150, 200, 300, 350 or 700 tokens, where the bigger the mystery box, the bigger the potential prize.
This adds a layer of surprise and delight, as well as curiosity, tapping into the powerful motivator and psychology of randomness or variable reinforcement (i.e., changing the reward that is given for a given action). Elements where a person does not know when an event will occur creates excitement and suspense. A limit of opening one box per day can further propel customers to aim for the bigger prize.
Menulog Baller Banquet Prizes (Updated):
Users across the web have been reporting a variety of different prizes (discounts) based on the type of Mystery Box they have unlocked.
Here are all the prizes that have been reported*:
150 Tokens – $10 discount off a $30 spend
200 Tokens – $15 discount off a $35 spend
300 Tokens – $20 discount off a $35 spend
350 Tokens – $25 discount off a $40 spend
700 Tokens – $50 discount off a $51 spend
Other users have reported different discounts which suggests prizes may vary based on individual minimum spends. It appears the discounts have changed since the Baller Banquet originally begun – they have decreased the rewards.
150 Tokens – $7 discount off a $25 spend
200 Tokens – $10 discount off a $35 spend
300 Tokens – $20 discount off a $40 spend
350 Tokens – $15 discount off a $35 spend (decreased to $12 for 350 Tokens)
700 Tokens – $40 discount off a $50 spend
Don't forget to keep an eye out for special offers in your emails and the 'For you' section in the Menulog app. Hidden mystery boxes are popping up in users' Baller Banquets for mystery prizes, available only to those that find it first, including:
Hungry Jack Mystery Box – $10 off Hungry Jack's when spending $25 or more (for the first 1,000 or 4,000 number of customers). This has occurred twice.
The gamified challenges are a great way to incentivise customers to not only try Menulog, but also complete activities they typically do not do.
Some challenges incentivise ordering more adventurously, and in doing so, customers may discover new dishes or restaurants which are only available on Menulog. Spend targets may motivate an individual to splurge a little, be the hero of the party and take over ordering duties or encourage their mates to buy into the joke of balling out like Snoop Dogg on the $420 – someone will do it.
Join the party
Menulog has suggested the banquet will evolve and become more 'baller' as a customer progresses and completes challenges over time, so perhaps more surprises are in the works.
The entire campaign is running until the end of 2020, which leaves plenty of time for customers to invest a significant amount of their own time (and money) completing challenges and begin a habit-formation with Menulog, rather than competitor platforms.
It turns the monotonous into fun, and it's got me intrigued.
It made me consider an alternative delivery provider and dust off the cobwebs of the Menulog app, even when there is credit sitting in my UberEats account.
I know exactly what is happening, but I can't help it… What is inside the mystery box?